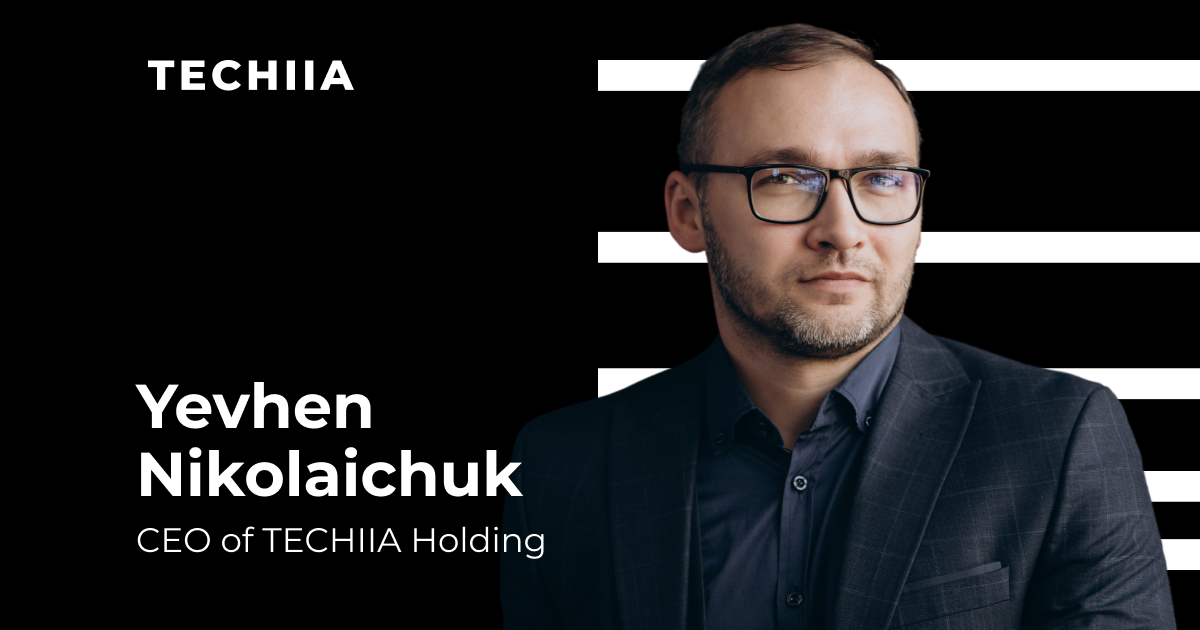 The managing partners of TECHIIA have appointed the first CEO in the holding's history – Yevhen Nikolaichuk, the financial director of TECHIIA.
---
Following russia's full-scale invasion of Ukraine, the TECHIIA holding began another stage of transformation. The holding companies terminated all agreements with clients from russia and belarus, and shifted their focus even more toward western markets. At the same time, the holding launched a large-scale project to support the Defense Forces of Ukraine through the Techiia Foundation NGO.
"The changes we are implementing require a new approach to the structure of the holding, to our companies, and management. We need a person to lead these processes – and such a person has been formed within the holding for over 4 years – it is Yevhen Nikolaichuk," says Yura Lazebnikov, managing partner of TECHIIA.
Yevhen Nikolaichuk has over 10 years of practical management experience in media, consulting, finance, and corporate business. Since the founding of TECHIIA in 2019, Yevhen has held the position of Chief Financial Officer of the holding.
During this time, he, together with his team, created a corporate finance department from scratch, set up planning and analytical reporting systems, introduced corporate project portfolio structuring, implemented an investment project evaluation process, and launched an automated accounting system. Yevhen is listed in the rating of the best financial directors in Ukraine according to the "TOP-100. Ratings of the greatest" magazine.
"This is a time full of challenges – for Ukraine, for the world, and for the holding. It is also a time of great responsibility – to shareholders, partners, teams, and society. My primary goal as CEO is to build teamwork based on shared values of TECHIIA and a culture of mutual assistance, as well as to create conditions under which teams will maximize their potential," said Yevhen Nikolaichuk, CEO of TECHIIA holding.
As CEO, Yevhen Nikolaichuk will be responsible for the general management of the holding, the formation of a portfolio of projects and products, strategic development, and financial efficiency of the holding's activities.