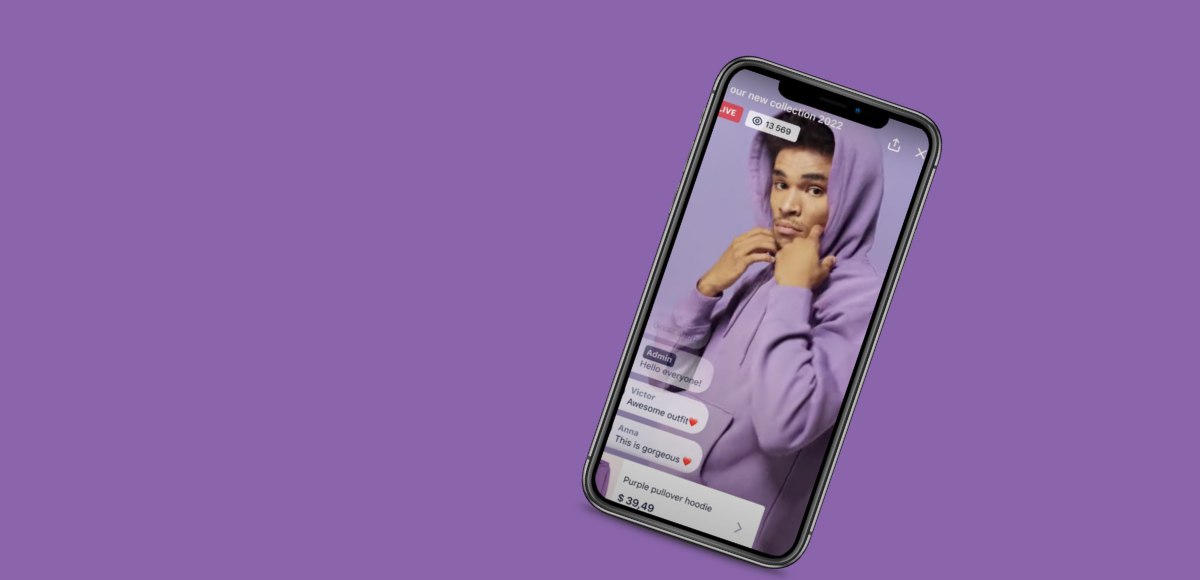 Компанія JMIND випустила власну платформу для live-commerce – Infinite. Та чи буде вона у нас так само ефективною, як і в інших країнах?
---
"Oh my gosh, you just have to have this, girls,'' shouts a Chinese boy with painted lips pointing at a ton of cosmetics.
That's how almost every live stream on the Taobao streaming site, hosted by influencer Li Jiaqi, known in the beauty community as the Lipstick Brother, begins. Last year, he set a record by selling $2 billion worth of cosmetics in 12 hours of streaming.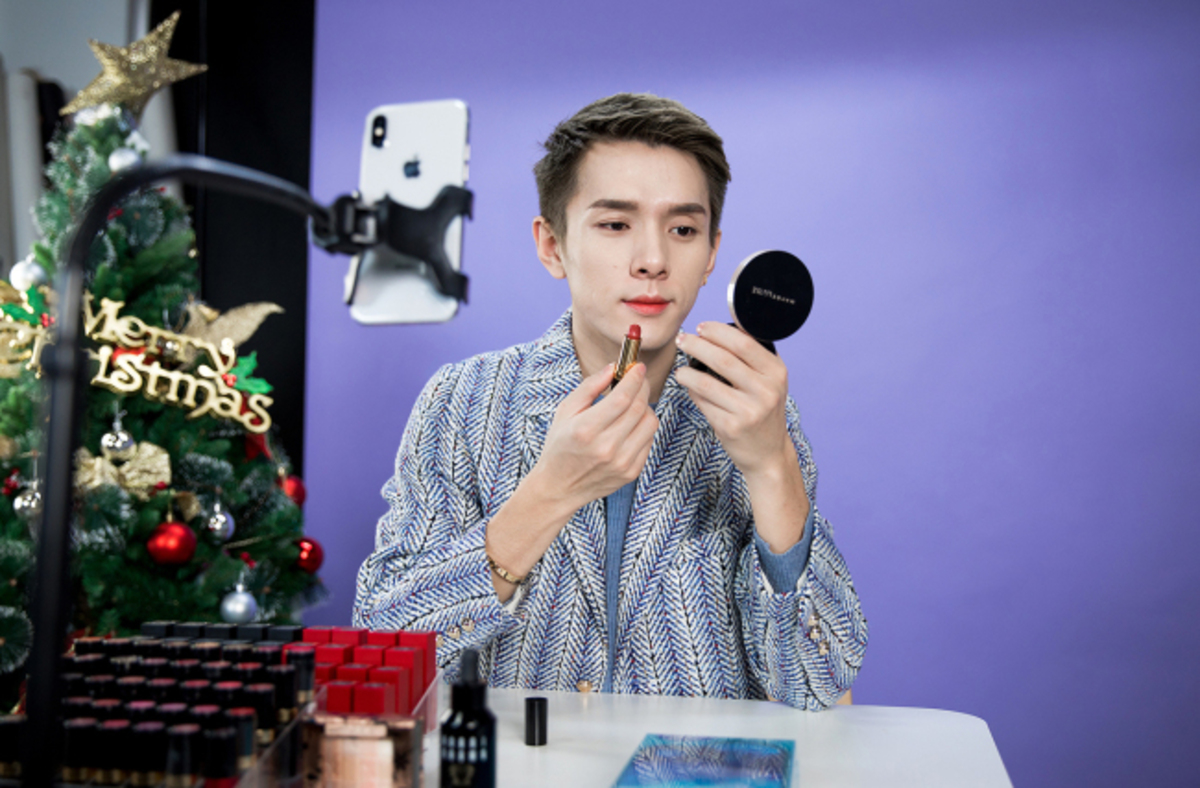 Unbelievable numbers, you might say. But they are true. This is a new reality, the reality of live commerce or live shopping. This is the latest invention in the e-commerce segment, which allows you to increase the performance of online retail significantly, regardless of geography.
For Ukrainian entrepreneurs working during the crisis caused by the war, this trend is a chance to expand the audience inside and outside the country and increase income. When convenonal tools don't work or don't perform as effectively as before, live commerce can attract consumers and boost sales.
In the spring of 2022, we at JMIND launched our product for live shopping — Infinite. I will talk about how technology benefits online sellers and why the usual platforms for live sales cut efficiency. And you can also discover more about live commerce and its possibilities at MMR MRKTNG MRTH on October 27.

Bringing back the spirit of pre-online shopping
How did it become possible for Chinese bloggers to break the glass ceiling with live sales? In fact, that's not that difficult.
The main success factor of live commerce is the deep cultural roots of shopping. Purchasing new goods is not only an attempt to get the necessary items but also a way of communication and socialization.
When shopping began to shift online, it stopped providing users with an overall shopping experience. It became not so easy to chat with the seller about the quality of the product, personal user experience, and just to simply chitchat about life.
The situation changed in 2016 when Alibaba launched the Taobao Live streaming service. It offered viewers a novelty — a mixture of streaming and e-commerce. Streams on Taobao Live take the form of shows, during which famous hosts entertain the audience. They also answer questions in the chat and talk about products that can be purchased immediately with just one click.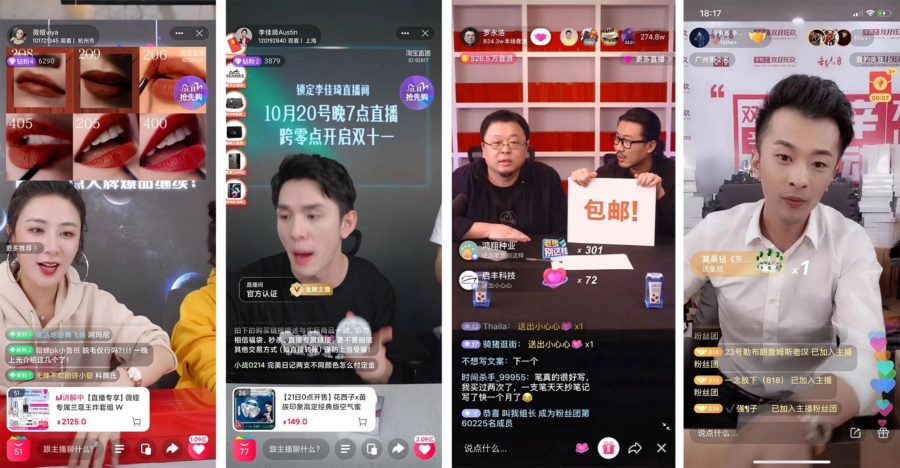 Thus the Chinese have brought back the features of traditional shopping: the possibility of communication and greater engagement of the buyer in the process of product selection. Streams have brought e-commerce to a new level of popularity. The value of the live shopping market may reach $500 billion already this year.
Social network live streams are not exactly live commerce
The live shopping trend has been picked up by many Ukrainian brands. The most common and already familiar option is live streams via social networks.
Social networks have advantages. For example, they provide a ready-made free streaming tool that you can use to reach your existing audience. But there is one thing. Most social networks simply broadcast the picture, only reactions and comments are provided from the interactive interface. And even by themselves, videos that talk about the quality and advantages of products are not yet full-scale live commerce.
Instead, more and more companies in Western Europe and the US are adding live sales features to their sites. A vivid example is Douglas, the German leader in the trade of perfumes and cosmetics.
In 2020, the retailer launched a live section on its website. In 2021, more than 1.2 million people watched live broadcasts on the website, and the conversion rate sometimes was hitting 50%. Today, the live section is available on Douglas's websites in Germany, Austria, Spain, Italy, Romania, and Poland.
Another example is the American chain of hypermarkets, discount department stores, and grocery stores Walmart. At Walmart Shop Live, you can buy anything from a coffee machine to a Lego set live.
Most of the e-commerce sites that have added the live shopping functionality to their site note a significant increase in the conversion of buyers during the live sessions. According to research, the average conversion rate in e-commerce is 2.86%. That is, out of a hundred visitors, only three will make a purchase. Unboxing videos, which are often used by trading platforms, add a few percent due to an additional channel, and will not make a huge boost, even if they are broadcasted in real-time.
The conversion in this way can increase tenfold — up to 30%.
Instead, live shopping allows you to communicate with the seller in live chat and show product icons with active links directly in the video stream, which can be used to immediately go to the product order page. The conversion in this way can increase tenfold — up to 30%.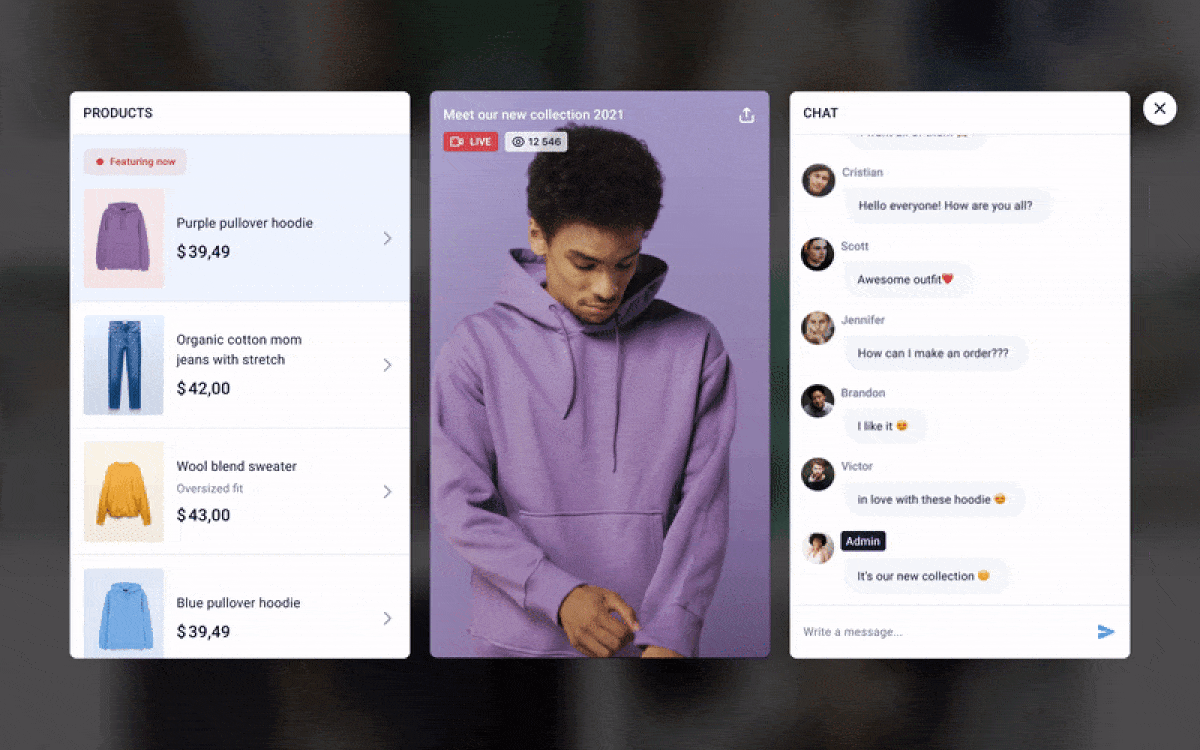 Live streams with no middle-men
Today, many Ukrainian retailers make live streams on Instagram or Facebook. However, using these platforms, companies lose the opportunities provided by a specialized live shopping service. For example, Infinite will help you to:
Reach the maximum audience with the multi-streaming function, by simultaneously broadcasting on the company's website and via social networks. For example, YouTube, Facebook, Instagram, and TikTok do not allow restreaming of the event on other platforms.
Manage traffic. Social networks do not drive traffic to your platform. That is, the viewer can see only those products that are presented on the stream. With Infinite, you give users the option to buy both from the stream on social media and directly from the e-commerce platform, where a much larger product catalog is available. Thanks to the built-in floating player, buyers can watch the stream and browse the sections of the site at the same time. Such a convenient format allows you to significantly increase the time on site and, again, increase sales.
Use the recorded stream. In case the stream is moderated by a business owner, they will be able to save the stream on his website, and all those interested in the products can get the necessary information at any time in the question-answer mode. At the same time, the recorded stream can be downloaded and cut into short clips that could be placed on product pages and shared via social networks.
Get analytics of the streamed episode. Platforms like Infinite allow you to see information about products that are clicked on the most or events that customers respond to more actively. Social networks do not provide such information.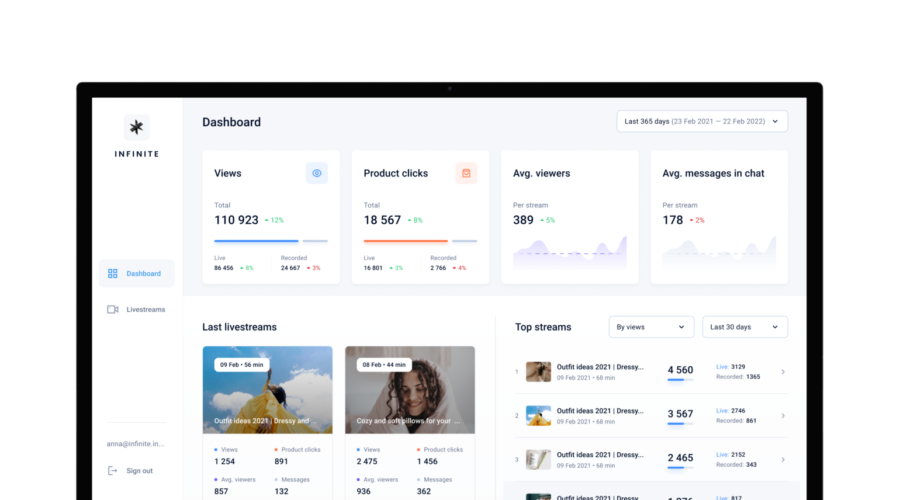 Not all live commerce solutions are equally beneficial
The main factor for small and medium-sized e-commerce projects is service convenience: they do not have to spend money on a specialist who has to monitor the operation of the software.
Top solutions for live shopping are created in the form of SaaS platforms that do not need to be installed and maintained.
It is for these reasons that top solutions for live shopping are created in the form of SaaS platforms that do not need to be installed and maintained. For example, our support service integrates the code into the customers' sites in a few minutes, after which they can shoot video in high quality using Open Broadcaster Software (OBS) or from their smartphones through the Infinite application. At the same time, we got rid of the restrictions inherent in other platforms, and we allow the first two broadcasts to be streamed free of charge.
Live commerce deserves attention from Ukrainian companies because it opens a new page in our as well as global e-commerce and can become an effective anti-crisis solution. This segment is developing quickly, which is also great because the competition of live shopping platforms generates new features and profitable offers for sellers. You just need to follow trends and new developments and try them.
Source: MMR.