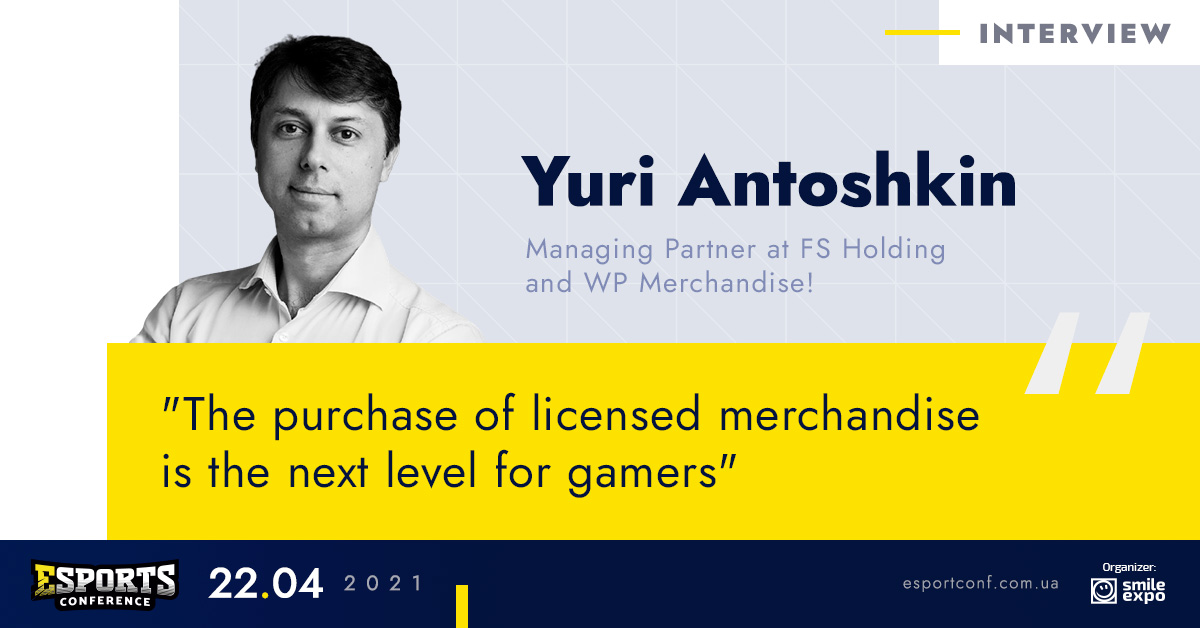 How did the quarantine affect the sales of TECHIIA's companies' products? How are esports merch manufacturers going to deal with counterfeit goods? And what are the advantages of having your own merch for your team? The Managing Partner of FS Holding and WP Merchandise!, Yuri Antoshkin, told about this in an interview for eSPORTconf Ukraine 2021.
---
Yuri is a specialist in the creation and implementation of the brand strategy for international technology companies, as well as he is an expert in the creation of production facilities, international distribution of IT devices, and licensed esports merchandise.
How Yuri came to esports and became involved in managing companies that produce and distribute esports merchandise, read further in the article.
Interviewer: eSPORTconf Ukraine (eSPORTconf)
Respondent: Yuri Antoshkin (Y.A.)
ЕSPORTconf: Tell us about your professional activities. Why did you decide to link your work with the esports industry?
Y.A.: I have been working with technological products since my student days. In particular, I spent 10 years in the international company Asbis Enterprises PLC. At the beginning of my career there I was in charge of AMD processor distribution, and then from 2006 to 2014, I was growing the Prestigio brand.
It was that time when I came across esports for the first time. Prestigio was planning to sponsor one of the esports teams. It was at the beginning of 2014, and it was already clear that esports is a potentially huge market. I was able to fulfill my interest in 2016 after FS Holding was created.
ЕSPORTconf: What do FS Holding and WP Merchandise do? What are the main differences from your competitors?
Y.A.: FS Holding is a group of companies that design and creates merchandise for esports teams and various products under licensing agreements with companies such as Blizzard, Ubisoft, Warner Bros. In addition, we distribute other manufacturers' merchandise from the Blizzard universe, Marvel universe, League of Legends, and many other universes.
The holding also includes the FragStore international network of stores. It represents the third direction of the company's growth - retail.
WP Merchandise! specializes in the designing and sewing of licensed plush merch. It complements the first strategic direction - manufacturing.
Actually, this is the only production of this kind in the world that creates such highly detailed toys. At the same time, the production line of the holding is not limited to the designing and sewing of toys in Ukraine. In other countries, we sew licensed hoodies, jerseys, polos, and bags, we make carpets and other products.
Our difference is that we use the vertical integration principle. Each holding's direction is part of a complete cycle: production - distribution - retail. From the moment of obtaining a license, design creation, and manufacturing, to selling it to the end consumer, whether it is online or offline. There are only a few companies in the world that work with that approach, but they are located in the USA and Europe. And we have no competitors in the CIS.
ЕSPORTconf: FragStore's slogan is 'Your next level!' What does it mean?
Y.A.: The idea is that we have a specialized FragStore shop at VDNG where the customer can get any advice on the selection of gaming devices and everything related to esports and the gaming industry. This information will help the gamer improve his/her gaming skills, upgrade himself/herself - that is, to take it to the next level.
Also in FragStore, our client can try on merchandise, test gaming furniture and gadgets, find out the latest news from the world of esports, discuss gaming news and just relax. This is how we immerse ourselves in the industry and connect the emotional experience.
ЕSPORTconf: Did the quarantine affect the sale of products developed by companies within TECHIIA holding? How many customers went to buy online?
Y.A.: Oh yes it did affect. If stores are closed five months of the year, business is affected. We were able to shift online, which helped us increase FS Holding's turnover by 30% in 2020. And if our stores were able to operate offline, these figures would be even higher. During the crisis, we reorganized many business processes. For example, we began to operate more actively not only through our online stores but also through marketplaces, and this turned out to be the right decision.
ЕSPORTconf: You said that you are planning to bring licensed merch in Ukraine to a whole new level. What are your actions for this?
Y.A.: Firstly, we will fight against counterfeit and unlicensed products, of which there are quite a few on the market. We plan to monitor the market, find manufacturers of counterfeit merchandise, and then, with the help of our legal department, protect the rights of copyright owners and our rights as a manufacturer of licensed products.
Secondly, we will work with customers. Purchasing licensed merchandise is the next level of evolution for a gamer. The fact is that when you buy a licensed product, you pay not only for materials. You help the game creators to make new products because we pay royalties for each unit directly to the copyright holder.
On the contrary, buying a cheap, unlicensed thing, you sponsor pirates - and not a single penny reaches the creators of your favorite universes. Our task is to help understand this chain as many people as possible.
ЕSPORTconf: How is the product line of plush toys produced in Kyiv being formed? What is the basis for making decisions to produce merch with a particular character or esports brand?
Y.A.: We assess the character: we analyze the market, search queries, game forums, interact with the community. Players like certain characters, and we assume that it would be interesting for them to have them, for example, in the form of a toy.
Further, we negotiate with the licensor. During these negotiations, we agree on the production launch date and the date of entering the market. This is not a quick process, it takes up to six months to create one toy. But look at the result - Scorpion from Mortal Kombat or the main characters of Assassin's Creed is already on sale.
ESPORTconf: Why would esports teams and organizations make their own merchandise?
Y.A.: It's simple - teams and organizations have fans. And fans always want to identify with their favorite teams and players, to support them in public. Therefore, it is logical to give them this opportunity through merch. Plus, merchandise is an additional source of income. The money from this channel is usually being spent on acquiring new players, holding bootcamps, and so on. So it's two sides of a coin, both emotional and commercial.
ЕSPORTconf: What will you tell about at eSPORTconf Ukraine 2021?
Y.A.: I will tell everyone about the experience of opening FragStore shops around the globe, about our mistakes and our expertise.
Spoiler alert: The esports store should be a dedicated space. Having resources and being safe. As for resources, this means that here you can get a new resource in a form of experience (I'll tell you what kind of experience) and purchase everything you need (I'll tell you how we form a list of goods). Safe means that here you can discuss games with sales consultants, argue, and even play Dota. A few more tips on how to change the space so that people would want to constantly examine it, how to make lighting, and how to train staff.
On April 7, Yuri will speak at eSPORTconf Ukraine 2021. Join us to obtain the unique knowledge and skills of the leading industry representatives!

Original article on esportconf.com.ua