The holding launches a construction technology project and focuses on revenue-generating markets.

---
Mind.ua continues its series of publications on how IT companies are going through the rashists' invasion. This industry is one of the few that has promptly resumed full-fledged work and can support Ukraine's economy with foreign exchange income. IT companies in 2022 may bring in more than UAH 20 billion in taxes. Last year, exports of Ukrainian IT services increased by 36% to $6.8 billion. The IT industry paid UAH 23.5 billion to the state budget.
In this publication, you will find the case of TECHIIA holding, which employs more than 1,000 professionals on different continents. It is one of the 30 largest IT companies in Ukraine having more than 10 companies in its structure.
WePlay Holding — esports corporate group; flagship company — WePlay Esports, organizer of international tournaments, including last year's WePlay Animajor with Dota 2 in Kyiv.
ENESTECH Software — a software development company with its main product SENET (a LAN gaming center management software used in 58 countries).
JMIND — a service and product IT company, with its latest development Infinite, a video streaming platform for live commerce.
WP Merchandise — a manufacturer of premium souvenirs, licensed by Warner Bros., Wargaming, Bandai Namco, Ubisoft, etc.
Culver Aviation — a provider of ground surface analytics services based on data collected by own-designed SKIF drones.
TECHIIA Motorsports — an American car rental service, operating in Los Angeles.
P2P Seller — a global professional network for online retailers that allows them to build and scale their infrastructure.
Techiia Foundation — a non-governmental organization that implements charitable and social projects (one of them is the fight against childhood cancer and equipping medical centers. Since 2018, TECHIIA's co-founders Oleg Krot and Yura Lazebnikov have invested over UAH 17 million in these directions).
The holding also includes several startups that are being tested for hypotheses.
Before the war in Ukraine, about 915 specialists were working in the offices of Kyiv and Ivano-Frankivsk and TECHIIA's companies had more than 30 vacancies open. And what is the situation today? Where did you create the hub for employees? How did co-restrictions help you get back to work quickly? Are there frozen projects and lost customers? To whom and why did Culver Aviation donate six SKIF drones? Oleh Humeniuk, Chief Operating Officer of TECHIIA Holding, told Mind about these and many other things.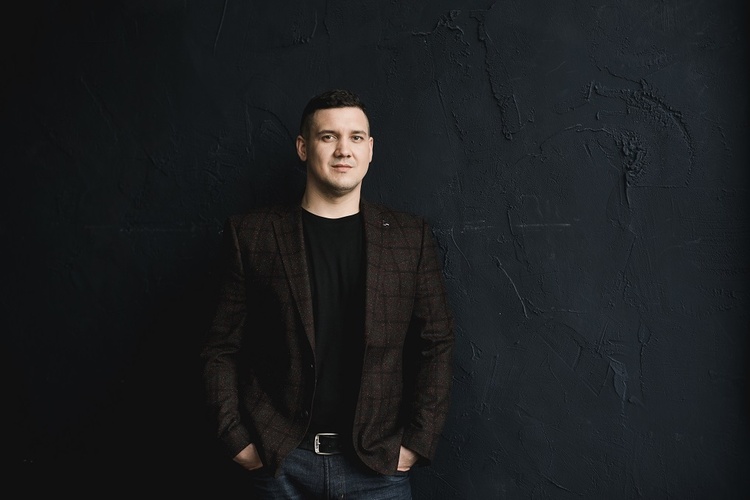 On relocation, prepayments, and "hybrid" mode
We did not conduct a centralized evacuation. Most of the colleagues took care of their "wartime locations" themselves, chose countries and cities, and moved their families. We were just supporting them with information and advising additional options. For example, in the first months of the invasion, the holding company organized temporary housing for employees in the Zakarpattia region.
In March, Culver Aviation partially moved its employees and production to the western part of Ukraine. We also made a hub in Ivano-Frankivsk for employees who need to be in the office. There were no difficulties with corporate premises, the regional government helps businesses to settle in a safe place.
In addition, employees were given the opportunity to receive the 2-3-months income in advance so that they would have enough funds to relocate and support their families.
Of course, in the first days of the invasion, we all had to make quick decisions, sometimes emotionally and chaotically, but quickly orientated. Currently, employees are located in different countries and cities, but they work in the same companies. Covid restrictions have taught us to work in hybrid mode. It's just that now it's even more "hybrid".
On priority projects
Already in March, we've returned to projects that had to be put on hold on February 24. We didn't have an opportunity to work in full for the first several weeks as employees were moving to other locations. In addition, TECHIIA dived into humanitarian aid from the very beginning. The NGO Techiia Foundation focused on the "Support for the Freedom of Ukraine" project. This is turnkey assistance in three stages:
Our founders invest their own funds and attract partners, plus we have a tool for collecting donations;
We buy gear and equipment for Ukrainian defenders from manufacturers or direct suppliers;
We organize shipments from abroad to the forefront.
We also help peaceful Ukrainians affected by the war. As of May 31, the total amount that the NGO Techiia Foundation directed for assistance' purposes exceeded UAH 600 million. Today, the humanitarian direction is a systematic work of a specific team of TECHIIA managers and volunteers.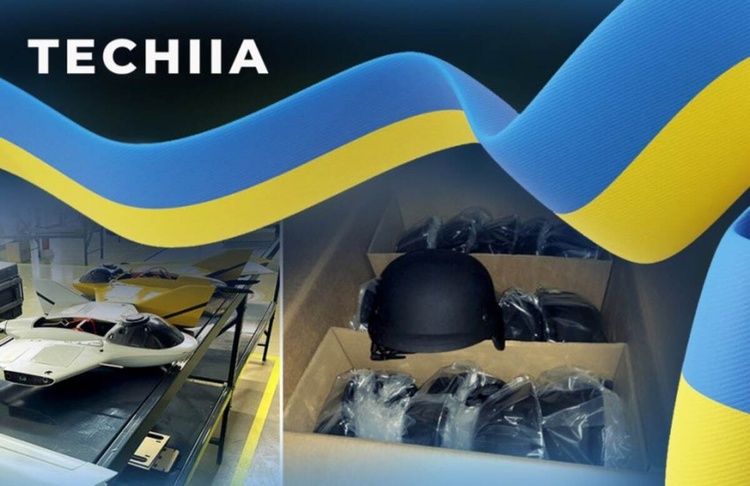 Also, each holding company helped with its skills and products. For example, Culver Aviation donated six SKIF drones to the Armed Forces for air reconnaissance purposes. JMIND has created an application that connects war victims with those who want to help. WePlay Compete has launched a series of daily online tournaments Play for Ukraine with the prize money being directed to foundations that purchase humanitarian aid.
And can't even stress enough how many our employees volunteered in every way possible. Our colleagues have been buying equipment for the military, transporting humanitarian aid, looking for suppliers, joining the IT army, evacuating people, helping with the settlement, baking bread, and giving free professional consultations.
Now there are simply not enough hours in a day for work and full-fledged help. And it would also be nice to have time to bounce back. Therefore, colleagues had to reduce volunteer activity but not cancel it.
And also some of our colleagues serve in the Armed Forces and the Territorial Defense.
On the new business focus
There are no frozen projects, there is a shift in directions and markets. We have been forced to suspend certain activities in Ukraine that are currently irrelevant. We pay more attention to the American business segment and other markets that are currently able to generate income. Most of the partners stayed with us, the inconspicuous minority curtailed their investment plans.
We shall talk about new projects soon. I can just hint that they are related to construction and construction technologies.
As for relocation, we choose where and how to develop the holding's products and businesses and who is better to relocate.
Today we follow official recommendations. For example, Kyiv's officials call on everyone to wait before coming back, and we broadcast the same to our colleagues.
On new vacancies
We started hiring again in March. For example, after leaving the russian and belarussian markets, ENESTECH Software shifted to the markets of Asia and South America, and therefore now is looking for new specialists.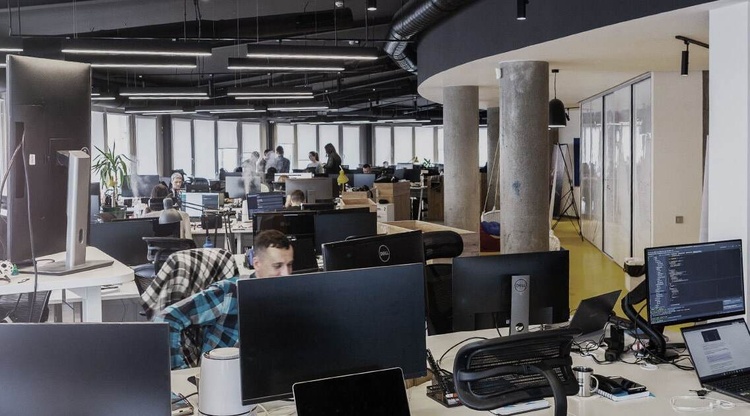 Currently, the holding's website has up to ten vacancies in various companies and areas: design, marketing, support, etc. But we will have a more systematic hiring picture once companies finalize growth during-the-war strategies.
On salaries
Starting from February 24, the salary review was frozen, but an opportunity to receive financial assistance from colleagues who needed it most was provided. Soon we will finalize an updated TECHIIA development strategy and restore the usual HR procedures.
On the IT industry sustainability and future forecast
I don't have final numbers, but we can focus on interim results. The NBU estimates that in the first quarter, the export IT industry provided $2 billion in revenue. Half of this quarter we had war, mobilization, evacuation — and we still have this record. Many companies pay taxes in advance. The industry has proven to be a stronghold at a time when literally everything is falling apart. I think this status will be preserved.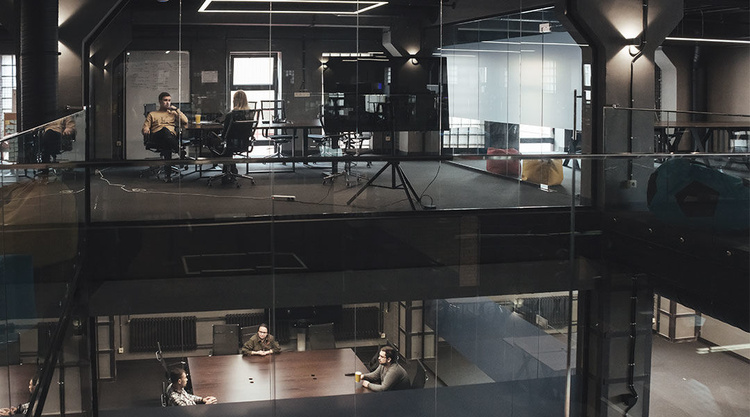 Market turmoil will depend on the military situation. Any predictions during the war are a mug's game, which usually only leads to disappointment. There are too many factors. That's why we are working in full everyone in their places. Not forgetting to develop our own products. As for the help for the industry, I would say what I usually say: do not interfere and be careful with subtle legal movements.
Original article on mind.ua