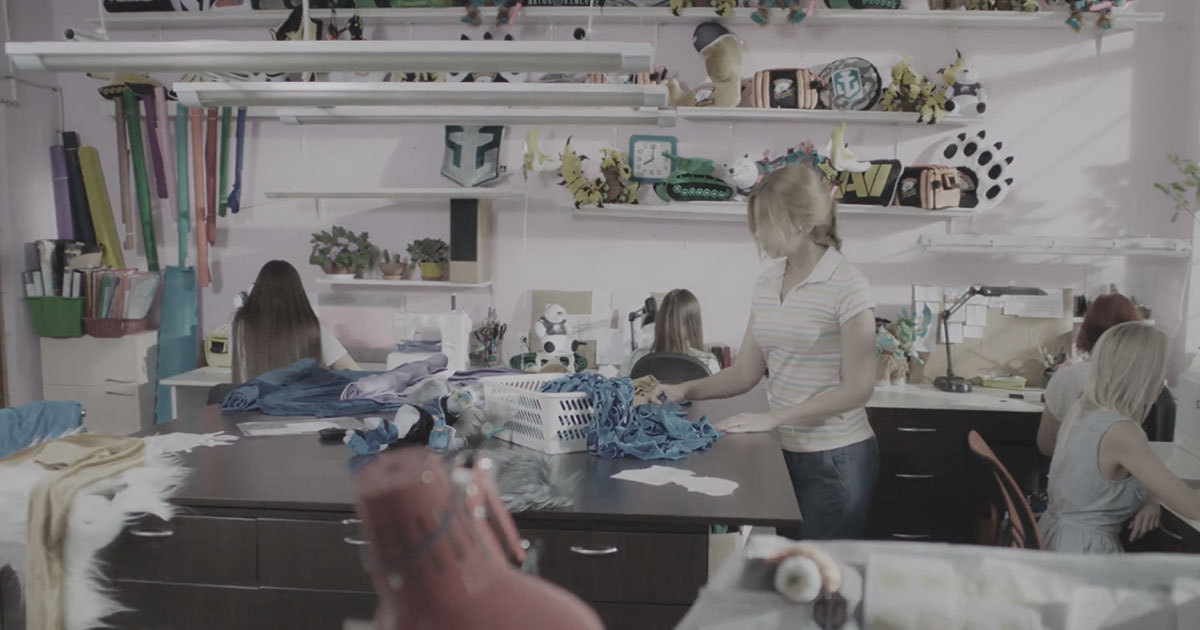 Brand merchandise has existed since the last century and is now in its heyday. Marketers call brands a new religion, big brands generate a significant part of revenue by selling merchandise, and the largest ones — from Pokémon to Star Wars — generate up to 90% of it.
The market of plush merchandise is quite conservative. Companies have been mastering it for decades, but the Ukrainian WP Merchandise literally in a few years of its existence managed to start working with the top 10 world brands of the gaming industry. A bold approach allowed them to find an empty niche and produce a product of great detail, which was considered impossible to exist in the plush.
Who are WP Merchandise and how they managed to achieve recognition so quickly — Maksim Bobranitskiy, CEO of the company, explains.
---
If you want to do something well, do it yourself

The idea of making plush attributes came to the future founders of WP Merchandise in 2009, when they decided to organize their esports championship in Kyiv and create a mascot for it. At that time, the choice of gaming merchandise, not only plush one, but in general, was quite poor, and even of bad quality. The organizers sewed a plush beaver, which they and the audience liked a lot.
Then the market research started: not to enter the market immediately and conquer it, but rather to taste the waters. At the same time, while working with WePlay! Esports, the founders used to go to esports tournaments: DreamHack in Sweden and Gamescom in Germany. There's a massive audience of 200,000-300,000 people, and apart from gaming novelties, you can always find everything from T-shirts and figures to plush and handmade.
WP Merchandise analyzed everything they saw, compared it to the conducted research, and realized that plush merchandise is, in general, of poor quality and cheap. If a T-shirt or a hoodie can be bought and worn, then figures or plush toys are souvenir items that decorate the house and should be of appropriate quality.
The whole research period, which is nearly ten years long, is a time of development, attempts to make an exciting product and turn it into reality. But for a long time, the idea of making quality merchandise did not evolve: merchandise was made for the internal needs of WePlay! Esports and for partners or sponsors with whom they worked.
At the same time, there were attempts to cooperate with Riot Games (developers of League of Legends), Valve (owners of online platform Steam, developers of Dota 2 and CS:GO), and Wargaming (developers of the World of Tanks/Warplanes/Warships series). But the actual result of these negotiations was in 2016 — this is the year when WP Merchandise began to exist as a separate business; when the experience gained was enough to sign an international contract with Wargaming. The company developed a collection of 19 items and went through a full cycle: from the creation of a prototype to the retail sales. In 2016, WP Merchandise started cooperation with affiliate networks, online stores (primarily Rozetka), and offline stores.
In 2017, two contracts were already signed: with FS Holding, the holder of licenses for esports teams NAVI and Virtus.pro. Especially for them, the company developed a collection that contains both team mascots and everyday items: cushions and slippers. In the same 2017, WP Merchandise made a prototype for Epic Games: a plush lama from Fortnite (perhaps the most popular game in the world). WP Merchandise didn't manage to get the license for the product but began to produce toys for internal orders of Epic Games.
None but the brave deserve the fair
On average, companies work in the merchandising market for 15-20 years — it's usually a minimum period, after which the company may already have a stable existence, collect orders, and have wide representation in the international market.
The success story of WP Merchandise has evolved much more rapidly. In 2016, they signed their first contract with Wargaming; in 2017, they were at Gamescom with their booth in the b2b zone and received positive feedback from several international companies: Bandai Namco (with which they are now working), Ubisoft, Kalypso, Abysse Corp.
"In 2018, we continued to come to our clients — esports companies, developers, publishers. Sometimes it may seem that after the praise, progress should be instant, but in real life, of course, everything is not so bright. The start of negotiations — correspondence, calls, meetings — takes from one to three months, the GameDev industry never had a reputation of being fast in terms of business processes," Maksim shares.
In WP Merchandise, there are two pillars on which the whole structure is based: a trading house and production (with "production in production" — R&D department). In the R&D department, designers invent or select existing models and then try to recreate them as accurately as possible in a plush form. And if it is possible to produce them by using templates rather quickly, the development of a prototype from scratch lasts for months. The main task of the R&D department for 2018 was to develop as many prototypes of the existing models as possible to try to get a license for them later.
The uniqueness of the WP Merchandise production is that they make a serial handmade. To recreate a character that contains more than 100 applique details and 120,000 stitches of embroidery in more than 1,000 copies seems impossible.
"We examined our European production, lived in China for a month, talked to both plush and equipment manufacturers, and usually heard: "Do you sew T-shirts? No? Plush toys? Then you have to simplify, remove half of the details, and it will be real". But this answer did not suit us because it meant producing mediocre products, and the market is already full of them", says Maksim Bobranitskiy.
Usually, plush merchandise is produced simply and fast and sold cheaply. In WP Merchandise, they began to make complex products of the highest quality, which are sold at an appropriately high price. That is why the average retail price of their toy of 35 cm and more will start from $100. The company classified five categories of the complexity of the toys: from a small cushion to a detailed character in full uniform of 160 pieces with 120,000 stitches.
The second pillar of WP Merchandise is a trading house, which was fully assembled in 2018. Its task is to sell and promote products created by R&D and production. The trading house consists of several teams: business developers — separately for Ukraine and local markets, and separately in Europe and the USA; marketing, design, PR, plus all the operational part, which allows the company to function. WP Merchandise coordinates with TECHIIA holding to define PR and development strategies.
When the trading house opened in 2018, WP Merchandise had 3 contracts signed: with Wargaming, Epic Games, and FS Holding. At the end of 2019, they also got contracts with Bandai Namco (for the games Dark Souls, Soulcalibur, and Tekken 7), Ubisoft (Assassin's Creed), Warner Bros. (Mortal Kombat), and Valve (a limited-edition collection for the Dota 2 Minor in Bukovel). At the same time, negotiations with several esports organizations are in progress, and some potential contracts have to be kept on hold while finalizing the production details with current customers.
In 2019, WP Merchandise managed to visit the licensing expo in Las Vegas, Spielwarenmesse (Nuremberg Toy Exhibition), as well as Gamescom in Cologne and E3 in Los Angeles.
The trading house employs over 20 people. Production is scaled up, and in the next half a year, it will be expanded to 300 people. In the R&D-department, there are 10 people. It will also increase twice. There are also regional managers abroad. In terms of quantity, the production plant will grow to 3,500 m2, and the number of toys produced will reach 15,000 per month.
Travel off the beaten path
The wrong work with the client ironically determined the current success of WP Merchandise. One can't come with a ready-made prototype to a potential customer and sell it. Usually, it happens as follows: you contact, prove your decency to each other, start discussing sketches, and then, after about six months, sew the prototype. And WP Merchandise came with a ready-made product and offered to start working immediately. The only thing they didn't take into account is that one can't show anything made before the agreement with the customer and the signed contract. Even to fly to the USA, you have to sign a declaration that says you can't carry anything illegal, including merchandise.
The company's business model is production and distribution with import and export. Therefore, it has no direct competitors. First of all, as mentioned before, no one tries to make such detailed plush toys. Secondly, some foreign competitors eventually become partners, as WP Merchandise distributes their products to Ukraine, and gives its products to international local sales networks. This is a reverse system. WP Merchandise also distributes products under licenses from Blizzard (World of Warcraft, Overwatch), Valve, Ubisoft, Star Wars, WH40K, Marvel, and Disney.
In general, WP Merchandise products are more in demand in the West, so the distribution of sales between the Western and local markets is close to 80/20. Among Western markets, the most significant business interest is, of course, the States. WP Merchandise is planning to enter this market through large networks — Amazon and Walmart, and this year they are launching sales on Amazon.de to understand better how the platform works. But at the same time, we can't say that expensive products in Ukraine are sold badly. For example, a 3.5 kg and 80 cm high souvenir figure, which costs 15,000 UAH in retail, is bought very well, although not very often. But the positive trend is evident, and the average merchandise check in Ukraine increased from 300 UAH in 2016 to 1500 UAH in 2019.
But despite all the positive moments, the weak point is poorly defined rules of the game. As a result, when entering an international market, the most challenging thing for a Ukrainian company is not to earn a reputation and sign contracts with foreign players but to properly formalize business here. There is no specific information collected that would cover this issue. If you need to certify products, you have to read a lot of documents in search of answers. To mark products with an international GTIN code, you have to look for clues on the forum, because no one can provide such a service: the price and timing are as clear as mud. It is impossible to understand how to perform a foreign economic activity, how products should be certified, which codes should be obtained. In such conditions, it is complicated to know how to make a company working legally, even when you are very eager to do so.
All foreign economic transactions must be confirmed and justified. It is not enough to be a manufacturing company that sells goods abroad. It is necessary to pay for the license contract, which will not violate international copyright treaties. Still, for the bank, this reason is poorly justified for payment, although at the same time, the customs control staff will undoubtedly ask about such a contract. And let's not forget that to make the first export delivery, the director of the company needs to attend the customs control personally and explain what kind of products you are carrying and how you produced them.
As a result, Europe compromises and offers favorable conditions for business. Plush toys can be sold with a zero fee if you show a certificate of origin and prove that more than 45% of raw material costs are in Ukraine. At the same time, in Ukraine, we have to tilt at windmills.
You can read the original article by clicking here.