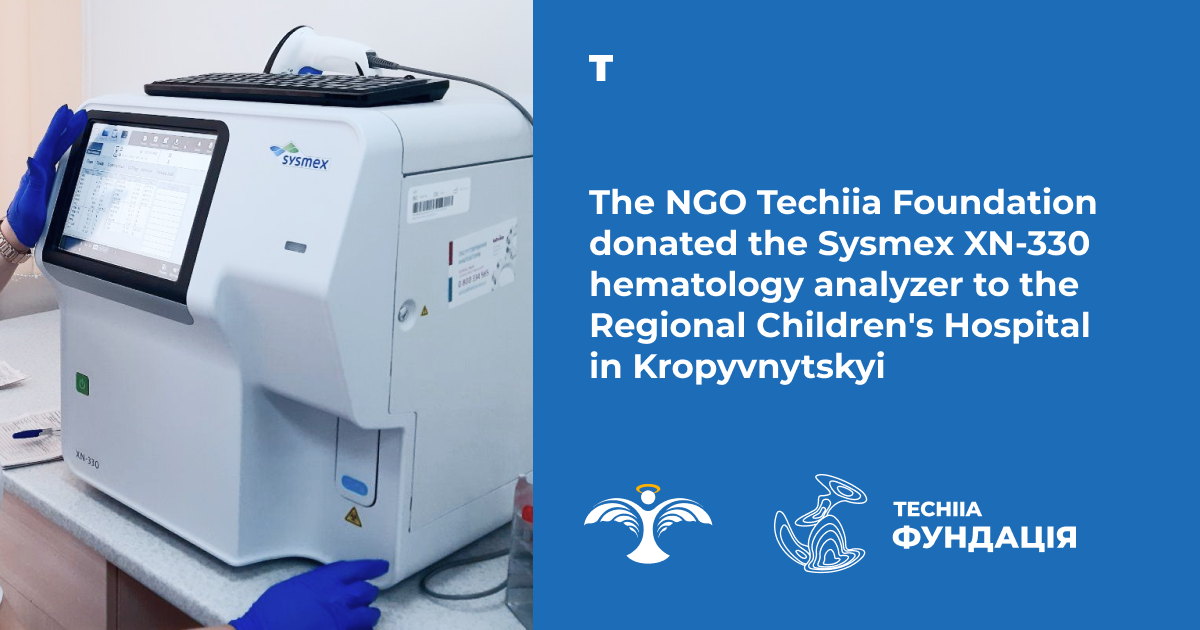 The hematology analyzer Sysmex XN-330 started operating in Children's Hospital in Kropyvnytskyi. It was purchased for the hospital by the NGO Techiia Foundation for UAH 580,000.
---
The device is used for general blood tests. It allows doctors to analyze the sample for more than 50 hematological parameters with a capacity of 70 tests per hour. Its feature is high-precision results and it's easy to use.
The analyzer will work both as an emergency in resuscitation and for control in pediatric hematology, where children are treated for cancer. The blood of every child who enters the hospital passes through it.
"We are very glad to have this device because Sysmex is a leader among hematology analyzers in the world. Once the device was installed and configured, we started working with it. Today, we perform approximately 60-70 general blood tests a day with it, provided that the hospital is not fully loaded.
It gives the usual parameters, formula, and even a preliminary diagnosis. It has no analogs — neither in quality nor in durability. We expect that it will work for more than a decade," comments Anastasia Matvienko, the Head of the clinical laboratory diagnostics department.
"We are glad to see how the Children's Hospital in Kropyvnytskyi is turning into a technological medical hub, where patients receive professional and high-quality treatment with the help of new equipment. I am convinced that if philanthropists from different parts of Ukraine join forces, together we can make medicine in Ukraine modern and technological," said Oleg Krot, the co-founder of the NGO Techiia Foundation.
It's worth mentioning that since 2018, the NGO Techiia Foundation has updated equipment in Ukrainian hospitals to the amount of over UAH 14 million. Modern devices were provided to medical institutions in Kyiv, Odesa, Kharkiv, Rivne, Sumy, Cherkasy, Bila Tserkva, Kropyvnytskyi, and Zhytomyr. The NGO Techiia Foundation also fully funds the activities of the Eva Inclusion and Correction Center, which helps children after cancer surgery and children with disabilities.