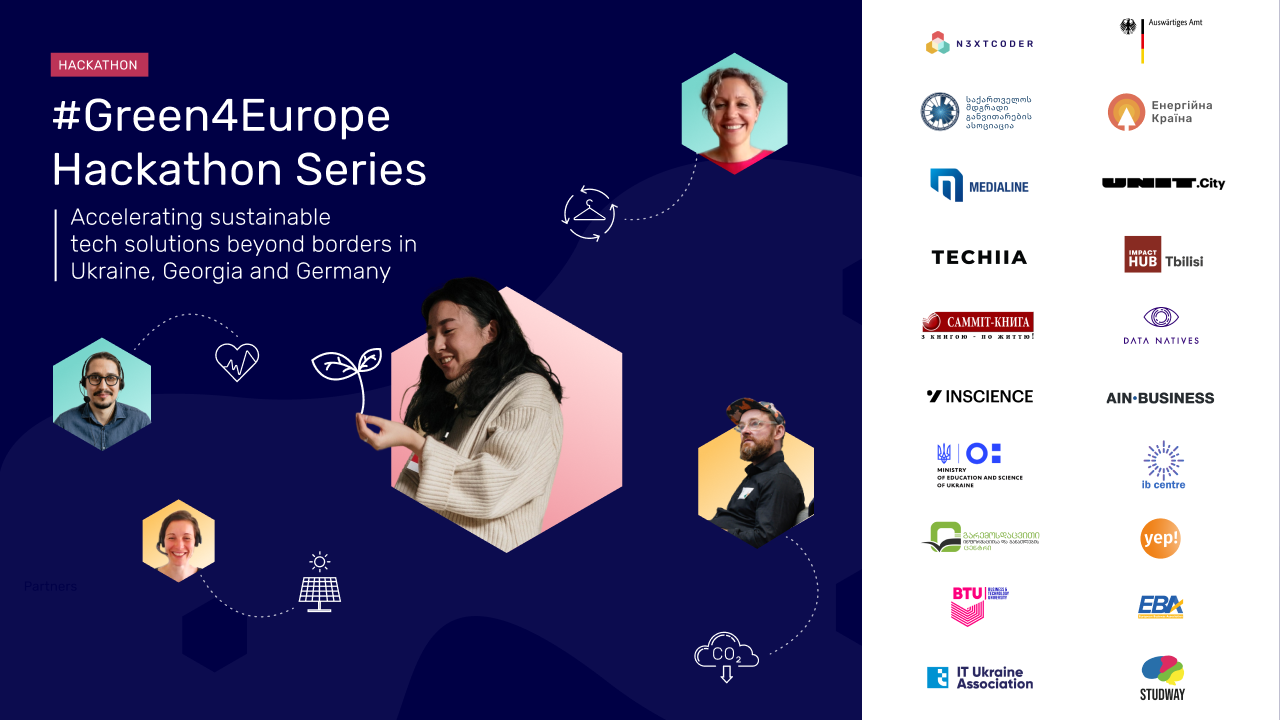 Hackathons will take place in Ukraine, Georgia, and Germany. During #Green4Europe, participants will look for new solutions that will help save the planet for future generations without compromising our needs. Three countries, three hackathons, and more than 300 participants that's what #Green4Europe is.
---
Developers, UX/UI designers, project managers, marketers, scientists, entrepreneurs, students, and anyone who wants to join in developing solutions that will have a positive impact on the planet is invited to participate in the hackathons.
#Green4Europe takes place online. The semifinals will be held in Georgia and Ukraine on November 24 and December 1, and the grand final is going to be in Germany on December 8. Participants will have 8 hours at each stage to develop and present an innovative solution that will address the real threats to the quality of life in Georgia, Ukraine, and Germany.
The prize fund for Ukraine is €500, as well as professional feedback, access to the NEST startup program, and the opportunity to take part in the final hackathon in Germany on December 8. And participants from Ukraine after the final will be able to meet at a special event in UNIT.City, discuss their ideas, and improve their networking.
The hackathon is organized by the NGO Energiyna Krayina, the Berlin Technical Center N3XTCODER, and Georgia's Sustainable Development Association with the support of the German Federal Foreign Office and with the assistance of international partners.
Among other partners is TECHIIA holding, as part of holding's commitments on the development of STEM education in Ukraine, which are outlined in a joint memorandum of the Ministry of Digital Transformation of Ukraine and TECHIIA.
"Not everyone is aware of the importance and potential of the UN Sustainable Development Goals. Therefore, the more experts, entrepreneurs, scientists we involve in the implementation of the Goals, the sooner they will become the norm for everyone. We are glad to be partners in the hackathon and give the opportunity to enterprising people from Ukraine, Georgia, and Germany to unite and find technological solutions that will make the world more responsible," said Yura Lazebnikov, the Managing Partner of TECHIIA holding.
Partners: Medialine, Ministry of Education and Science of Ukraine, TECHIIA Holding, UNIT.City, DataNatives, Summit Book, IBCentre, Studway, INSCIENCE, Ecological and Educational Center & Impact Hub Georgia, IT Ukraine Association, EBA, Ukrainian Startup Fund, YEP, AIN.Business, SPEKA.MEDIA, Ukrainian Hub, Hacklub Kyiv, Ukrainian Future.