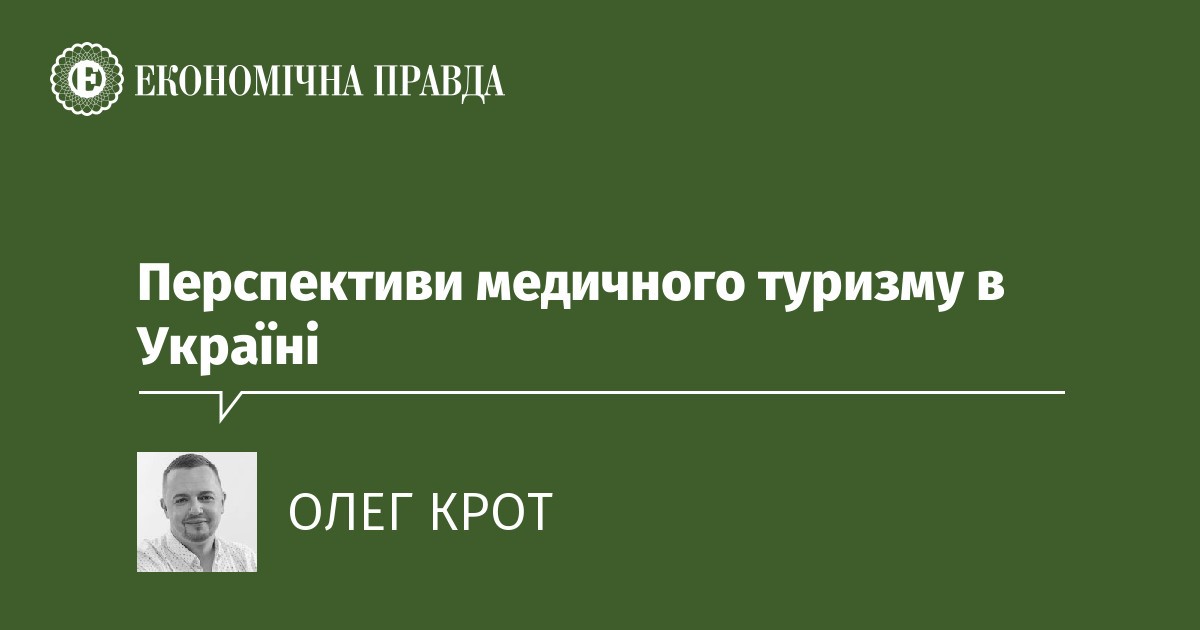 How much neighboring countries earn from medical tourism and how businesses can help Ukrainian medicine create a global brand.
---
30-50 million people worldwide travel to receive medical services outside their countries. It's like the entire population of Ukraine leaving the country for treatment and then returning.
If we imagine that the travels of this many people are evenly distributed throughout the year, it would be like the entire population of Lithuania leaving the Baltic region every month.
In terms of money, this amounts to $115.5 billion in 2022, and by 2032, the number will triple to $346.1 billion.
In these numbers, I am looking for Ukraine's place. Despite the Soviet legacy, our medicine has evolved and shows miraculous effectiveness despite everything.
This "despite everything" is perhaps the most important. I try to imagine the actions of the world's best clinics during a state of war. It's not an easy thing to do.
Why does Ukraine need a share of the world's medical tourism market? As a businessman from a family of doctors, I see this as one of the opportunities for post-war recovery.
The benefits are not just in terms of money but reputation, increased integration with Western neighbors, and a higher standard of living. The scale of success depends on the depth of the decisions made.
What efforts and in what areas should business people make to make Ukraine's healthcare system attractive to health tourists? The topic is vast, but let's consider the following:
what any healthcare system is based on;
the state of affairs in the medical industry of neighboring countries;
how Ukraine can present itself in the international medical services market.
Three Pillars of the Healthcare System
Countries' healthcare systems balance three components: quality, physical accessibility, and financial accessibility. The quality of service and its comfort are determined by what it offers. Physical accessibility is how quickly and easily a person can reach the service. Financial accessibility refers to whether a person can afford it.
Western Europe and the United Kingdom offer high-quality and almost or entirely free healthcare. However, access to it is restricted by bureaucracy and geography to concentrate money on quality and financial accessibility. The state covers many medical procedures but must be waited for and traveled far for.
Western Europeans mainly trust their system. If a doctor schedules a patient for a procedure in six months, it means that their condition allows for such a prolonged waiting period. If a person does not want to wait, they can use the services of private institutions or go to another country.
The Ukrainian healthcare system is built on physical accessibility at the expense of quality and financial accessibility. Examples where some people call an ambulance just to measure their blood pressure confirm my words.
You can see a doctor today, but whether the medicine will be available is a question. Before the start of the reform, many hospitals were underloaded. I won't even mention the possibility of being admitted to the hospital for a simple diagnosis.
If you need complex medical care, there are two options. You will receive quality service if you have the right connections, phone numbers, and budgets. Maybe even better than in developed economies. However, most Ukrainians cannot afford quality treatment. Every sixth family experiences a financial catastrophe due to medical expenses.
Corporate social responsibility projects can help strengthen regional facilities with equipment, supplies, and other assistance. We'll return to the types of aid later, but for now, let's talk about neighboring countries. What makes them an attractive destination for medical tourism?
Successes of Neighbors
Poland
Western neighbors assess the importance of health tourism differently. Poland has the Institute of Research and Development of Medical Tourism with an office in Gdansk.
In its report from 2019, the organization informs that in 2016, 10 thousand tourists visited their clinics for surgical operations. Separately, they counted dental patients, which is the largest group. In the same year, there were 75 thousand of them.
Officials associate such demand with the competitive offering of Polish specialists and the fact that in most Western European countries, patients have to pay a lot for dental services out of their own pockets.
The total number of medical tourists in 2016 was 155 thousand, in 2017 — 172 thousand, in 2020 — 378 thousand, and in 2021 — 422.9 thousand. Poles explain this growth by several factors:
promotion of Poland as a medical destination on the international market;
improvement of digital tools that facilitate foreigners' access to specialists and information;
high-quality services, including dental and surgical, and relatively low prices.
Poland entering the list of the Medical Tourism Index (29th place).
Hungary
Hungarians are less generous with open data. They do not have a separate institution that keeps statistics or provides explanations. Instead, plenty of online advertising articles invite foreign tourists for treatment or relaxation. And it works.
The city of Mosonmagyarovar, located 90 km from Vienna, hosts about 20,000 dental tourists from Germany and Switzerland. The travel time by car or train is an hour at maximum. From Bratislava, it is only 40 km away. It is called a dental city because it has the most dentists in the world per capita.
Most patients come from neighboring countries. For those who live further away, clinics offer transfers from Vienna or Bratislava airports. An American non-governmental organization specializing in dental consultations reports 60-70,000 annual patients from the United States who travel to Hungary.
Other popular services include plastic and orthopedic surgery, cardiac rehabilitation, infertility treatment, dermatology, obesity treatment, and eye surgery.
According to the data of the Central Statistical Office of Hungary, all services generate half a billion euros for the state annually. Before COVID, this amount was almost twice as high: 943.3 million euros in 2018 and 842.5 million euros in 2019.
Hungary ranks 23rd in the Medical Tourism Index.
Czech Republic
The country ranks 15th in the Medical Tourism Index, but no official state statistics on medical tourism exist. It is evidenced by the websites of official institutions and the scientific work of scholars from the Prague Economic University. An approximate idea of the situation can be gathered from international reports.
In 2019, the British organization World Tourism & Travel Council ranked the Czech Republic 13th among countries that earn the most from inbound medical tourism. It accounted for 3.8% of the country's total tourism revenue at that time.
In 2016, Czech doctors sold their services for $22 million. It does not include incidental expenses such as transportation, accommodation, meals, and entertainment.
Closing this section, it is worth adding that in 2020, the European tourism market was estimated at $4 billion. It is likely to grow by 11.6% from 2021 to 2027. One reason is a law that allows EU citizens to receive medical treatment in another country at the expense of their state budget.
In some cases, individuals have to pay for services themselves. It applies to non-emergency and unplanned cases as well as procedures related to aesthetics.
While Ukraine is not a member of the EU, we cannot claim a share of the budgets of partner countries. However, we can work with what we have.
How Business Can Help
The war has brought about many changes in the healthcare field in Ukraine. Medical professionals often work in extreme conditions, treating injuries that their Western colleagues may not have encountered before and converting basements into intensive care units, all working well.
In addition, most public hospitals receive equipment and consumables from international humanitarian missions.
The first thing businesses can do is find out about the needs of hospitals in the regions where they are present — investing in equipment, knowledge, and the professional development of doctors. You can take on both overloaded specialized medical centers and targeted programs for prosthetics and rehabilitation of seriously injured individuals. There is plenty of tasks for everyone.
The next level is to help doctors share their expertise. For example, to take on some of the work of building the personal brand of specialists and clinics.
The task is to speak competently about achievements. On the one hand, these words should be heard by experts, including international ones. On the other hand, Ukrainians should know about this to spread word of mouth because we still need to be better informed about the successes of our people.
With the medical staff you care for, create a list of international events they should attend. Participation is often paid, and it's costly. The company can pay membership fees and provide specialists with accommodation at professional events, followed by sharing knowledge with colleagues and coverage in the media.
An extra credit task. Together with the Ministry of Health, develop a strategy for promoting medical services, formulate messages, prepare visual materials, and select venues for placement. Launch a pilot project, analyze the results, make corrections, and launch again.
Very difficult. Find like-minded people and partners in the Ministry of Health, and together develop a strategy for promoting Ukraine as a medical tourism destination. I am skeptical about this stage, but it is inevitable for scaling up. It is unlikely until we have gained significant experience at previous levels.
In a few years, we could see results. One of the evaluation criteria could be Ukraine's inclusion in important rankings, such as the American organization Patients Beyond Borders list. They compile a list of medical institutions of various ownership forms worth trusting.
Institutions are selected based on the highest quality of services and affordability. The list includes the United States, Mexico, Singapore, and countries in the Caribbean basin. Among the European countries, Hungary and the Czech Republic are included.
Everything I suggested for the business may look like a transfer of state functions onto the shoulders of large taxpayers but think about this.
Firstly, the state is more than just people in offices. It is people who can and want to improve their country, including having a sufficient level of trust from society to control those who manage public goods.
Secondly, from our example and the examples of our colleagues, I know that big taxpayers are already helping as much as they can. Therefore, we need a new level of projects and synchronization. We have an idea of the strengths and weaknesses in the organization and promotion of medical services by neighbors. We know about the weak points in our system.
We must loudly declare our strengths, properly package them, and sell them to the world as an exclusive service. Because who else on the planet has such experience as we do?
Source: Ekonomichna Pravda.