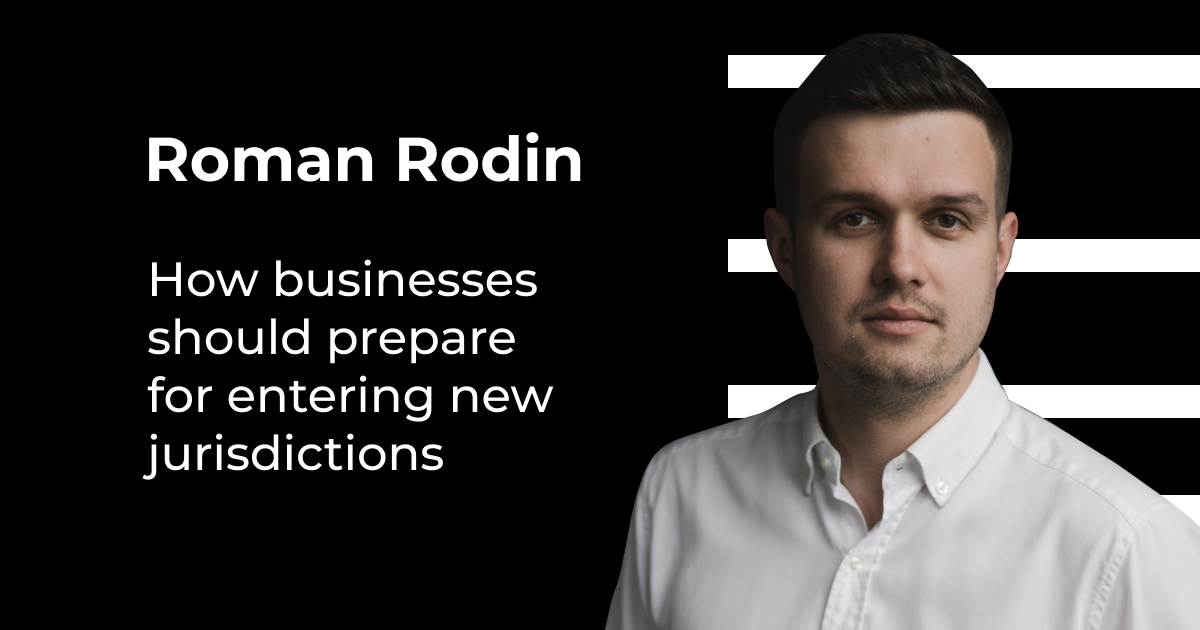 Roman Rodin, Chief Legal Officer of the TECHIIA holding, became the speaker of the II Business & Legal IT Forum organized by the "Legal Practice" publication. As part of the panel discussion "IT during the war", Roman presented a road map that will help businesses enter new jurisdictions.
---
"The task of a legal officer is to make the company's entry into new jurisdictions as painless as possible and to check whether this activity is allowed in the country at all. During this period, the legal officer turns into a cross-team manager. And that's why my most important advice before entering a new market is to study the new jurisdiction in detail and conduct thorough groundwork," advises Roman Rodin.
At the stage of preparation, Roman advises filling out a special questionnaire for entering new markets. It is important to involve other departments of the company in its formation - marketing, HR, and finance. In particular, it should contain the following questions: what regulates the registration of intellectual property rights, whether the CEO must be local, whether registries are open, whether the account can be opened remotely, how often reporting is submitted, whether a person must be officially employed or can work under a contract, etc.
The second stage is to find local colleagues because every legal officer is an expert in their country. The third step is the analysis of local legislation. "Tax and anti-money laundering laws are becoming more stringent. Pay particular attention to the issues of controlled foreign companies, reports in Ukraine will also depend on this. And be sure to research intellectual property issues: registration and renewal of trademarks and patents," advises Roman Rodin.
The panel discussion was also attended by Rasim Babanly, Head of the Department for Analytical and Legal Work of the Supreme Court, Maksym KUROCHKO, Managing Partner of MK Legal Service, Yuriy ZAREMBA, CEO of AXDRAFT, Serhiy PAPERNYK, Head of Personal Data Protection at PrivatBank JSC, Kostiantyn VASYUK, Executive Director at IT Ukraine Association, Yehor STEFANOVYCH, CEO at Public Union"Ukrainian Fund of Energy Efficiency and Energy Saving". The moderator of the discussion was Stron's Managing Partner of Oleg DERLYUK.
See Roman Rodin's speech by the link.