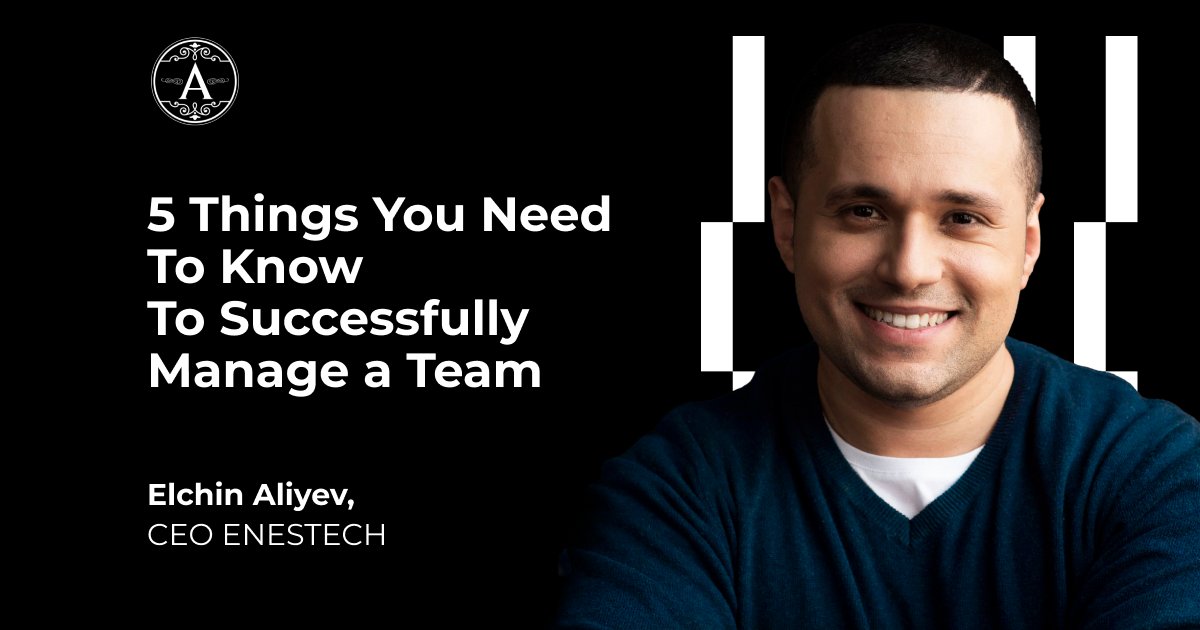 Interview with Elchin Aliyev, Chief Executive Officer at ENESTECH Software, for Authority Magazine.
---
Thank you so much for doing this with us! What is your "backstory"?
I have been living in Ukraine and developing the ENESTECH Software business there for a long time. But I was born and shaped professionally in my homeland – Azerbaijan.
Since the very beginning of my career, I've been deeply involved in human resource management. My first work experience was in HR, in the area of Learning & development at AT&T when I came to the USA on a student exchange program. Upon my return to Azerbaijan, I continued my professional growth in the Recruitment & selection division of one of the country's largest holdings. The company had 10,000 employees in total and a wide range of areas of expertise – from construction to banks and industrial production. My responsibility there was to perform executive search, that is, to recruit talent for the openings on top management positions, headhunting abroad to relocate specialists to Azerbaijan.
During those times, I was in continuous communication with amazing people who were heads of departments in various fields, who spoke several languages, had profound working experience, with strong hard and soft skills. Being in touch with such talented people motivated me to grow – it was imperative for me to speak with them as equals. I owe everything I have now to that experience and those lessons I got.
Now, it's been five years since I've switched the position of HR on CEO. But as a managing partner of our TECHIIA holding, Yura Lazebnikov says: "99% of the CEO work is managing human resources". And I absolutely agree – it is the duty of company managers to select the right people for tasks, delegate, unite, and motivate. In ENESTECH, for example, the team speaks seven languages, it's located on three continents, and does everything from the development of an international IT product, its technical support to its marketing and promotion. To manage such a team, I benefit from my previously gained HR skills.
Can you share the most interesting story that happened to you since you started your career?
Oh, I've collected many years of interesting stories :) It's difficult to choose one in particular. The turning point of my life is when I was offered the CEO position at ENESTECH. The company develops SENET – a SaaS platform for administering LAN gaming centers and cyber arenas, from booking and billing to budgeting and providing an automated tournament platform.
From the very beginning I understood that in SaaS the team comprises 80% of the product's success, so the team should be my main investment. A product develops only if people love what they do, so I started from there.
Although I relied on the HR experience and clearly understood the processes of large holdings, here, in a small startup it was at the beginning, I was facing a completely different level of goals and responsibility. I did my best to strengthen the foundation of the company, learnt how to sell our services to those who weren't too eager to buy them, motivated the team, and brought SENET to the global market. I also built cross-cultural connections within the team and sat down with angry clients when the software didn't work as they expected.
For example, once a gaming lounge, our subscriber, experienced a SENET shutdown during the tournament. Imagine, 150 participants and fans enjoying the venue, and then the computers suddenly go offline.
Turned out that our cloud provider had some problems, and SENET couldn't work because of it, as it's a cloud-based solution. I immediately took this case from our support team and started talking with the client myself. At the same time, I helped the team to communicate with the cloud provider, so that they would help solve the problem as quickly as possible. Everything ended well, eventually the tournament continued after a short pause. That client is still one of our most loyal subscribers.
Can you share a story about the funniest mistake you made when you were first starting? Can you tell us what lesson you learned from that?
I remember one of the first painful experiences.
We are constantly looking for new markets for SENET, and we found one we thought was a fit. It was Türkiye. At that time we made a lot of naive mistakes, which now seem ridiculous, yet still are important to remember.
By that time we already knew everything about gaming centers in Ukraine and neighboring countries, while had no clue about the ones abroad. As, for example, about this industry in Türkiye.
Gaming lounges in Türkiye are very popular, it is a big and interesting market. However, it operates by its own rules and has its own specifics of IT product usage. We misjudged the culture of doing business there and even tried to change it. In addition, we did not assess the payability of potential customers, entering the market with a quite high price.
The icing on the cake was the name: "senet" in Turkish means "bill" or "bond". Because of this, many potential customers smiled in surprise at our offer of cooperation. As a result, we had to change the name of the product for this market.
Basically, instead of deep learning, we, as a young business, moved by trial and error. Now we are introducing SENET to computer centers in Vietnam, Europe, and the USA. I did everything I can to avoid the same mistakes we had during the Turkish experience. And the team supported me.
Ok, let's jump to the core of our interview. Most times when people quit their jobs they actually "quit their managers". What are your thoughts on the best way to retain great talent today?
I have two main points on this matter:
Try to give employees what they need. At the stage of accepting a job offer from a company, employees have certain expectations. Salary, career growth, gain of experience, vocational training – I am ready to give it all to my team, so they feel content.
Talents stay with leaders who set an example with their work, not those who simply give out orders. For example, I work closely with SENET sales managers, learn how to handle customer objections with them, conduct demo calls, and train how to effectively close deals.
How do you synchronize large teams to effectively work together?
Our team is located on three continents: Europe, Asia, and North America. Without a collective synergy, we wouldn't have built an international company.
Synergy begins at the hiring stage. We select employees according to the company's cultural fit. It's important that the team shares the same values and work approach. If team members have different values, then they should complement each other. During the probation period, not only do we look at work efficiency, but we also analyze how a person gets along with the team.
Next, we set tasks as clearly as possible: we assemble a team, set end goals, define interim goals, get feedback on each stage of the process.
Finally, we spend time outside of work. In an informal setting, people find a common language and common interests way easier. Before the Russian invasion of Ukraine, we often got together for movies, table tennis tournaments, or played video games after work. Even while working remotely, we try to maintain out-of-work connectivity — for example, just a few weeks ago we arranged an online quiz-party.
Here is the main question of our discussion. Based on your personal experience, what are the "5 Things You Need To Know To Successfully Manage a Team". (Please share a story or example for each, Ideally an example from your experience)
The first one is to have proper communication. This is the key to management success. Without proper communication, I would not have assembled such a team. Even if people are not satisfied with something, we sit down to talk and find common ground.
Once we had an employee who struggled to work with the team. I got through to the guy only when he and I created an individual development plan for him. We wrote down professional and personal OKRs that combined our expectations from him and the tasks that he was excited to work on.
The second thing is to set tasks correctly. This is also a way of communication: through explaining what is needed and processing feedback, you establish a connection, like whales in the ocean through echo. At the beginning of my career, I was asking for something round and green, but the team was delivering something square and red, and not in two days, but in two weeks.
We recently were working on a new go-to-market strategy. I assigned a responsible project manager and gave him a target number of new clients. Together we created a Gantt chart with all the processes and identified task owners for each stage. This is how I know for sure that the task will be completed according to my expectations.
The third one is to cultivate love or passion for what you do. I interacted with hundreds of employees as a CEO and an HR specialist, and I saw how people who don't like their job, were forcing themselves to go to work, didn't show any initiative and growth. As a result, they left positions pretty quickly.
At ENESTECH, we always share the latest product innovations, showing how it grows and develops. Every quarter we host an all-employee town hall where heads of departments share interesting work-related stories. The marketing team often sends customer reviews to our work chat, where the team sees how SENET helps people in their day-to-day operations. This is how we fall in love with our product every single day.
The fourth thing is to keep the work-life balance. There were periods in ENESTECH when I immersed myself into work completely, had a lot of business trips, came home late. My kids saw me rarely, and I wasn'tt that effective at work. My team experienced the same as well.
The fifth one is to treat the employees the way you want them to treat customers. This is especially important for SaaS companies.
My team works directly with SENET users, so it is natural that the success of our SaaS product depends on the success of each team member. Just think about it, it is always a pleasure to come to a cafe where the staff is ready to help and always has smiles on their faces. I would definitely want to return to such a cafe and recommend it to my friends. This is exactly how we build relationships with customers. By the way, our Head of Customer Success, before working at ENESTECH, worked in the hospitality industry for 10 years.
And as a CEO I work according to the same principles: I am ready to help and answer any questions. My door is always open.
What advice would you give to other CEOs or founders to help their employees to thrive?
I will highlight three points:
Listen to your team and be able to put yourself in your employee's shoes to understand their needs.
Don't try to save money on team development. For example, this year we hired a coach for all department heads to improve their management skills. We also offer our employees to pay for training courses in case they are needed for work.
Lead by example and do not just give instructions.
You are a person of great influence. If you could inspire a movement that would bring the most amount of good to the most amount of people, what would that be? You never know what your idea can trigger. :-)
They say the grass is always greener on the other side. People want to emigrate to a foreign country and copy other people's ideas, but at the same time, they do nothing to change something in themselves.
I think I would start a movement that will help to see the advantages of the place where people live, to be proud of it. This will make the world a better place.
ENESTECH was born in Ukraine. Now Russia has unleashed a war there, many Ukrainians are forced to flee their homeland. One of the SENET users in Poland organized a center for Ukrainian refugees in their gaming center. This is a perfect example for my movement – people using resources at hand to make life easier for others, here and now, setting an example for others.
Can you please give us your favorite "Life Lesson Quote"? Can you share how that was relevant to you in your life?
What doesn't kill you makes you stronger. Before ENESTECH, I had no experience in the position of CEO, so it's no surprise that I've made mistakes. I hate losing, but life has taught me to accept things as they are. Just don't give up and stand your ground. Mistakes frustrate us, but they also teach, so when emotions are gone, it is important to draw your conclusions.
How can our readers further follow your work online?
Be sure to subscribe to ENESTECH Software's Linkedin page, as well as the SENET by ENESTECH Software Facebook page to discover more about our company and product.
Thank you for these great insights, and for the time you spent on this. We wish you continued success.
Thanks for your questions! It is very useful to make a brief summary of your experience from time to time :)
Original article: Authority Magazine.