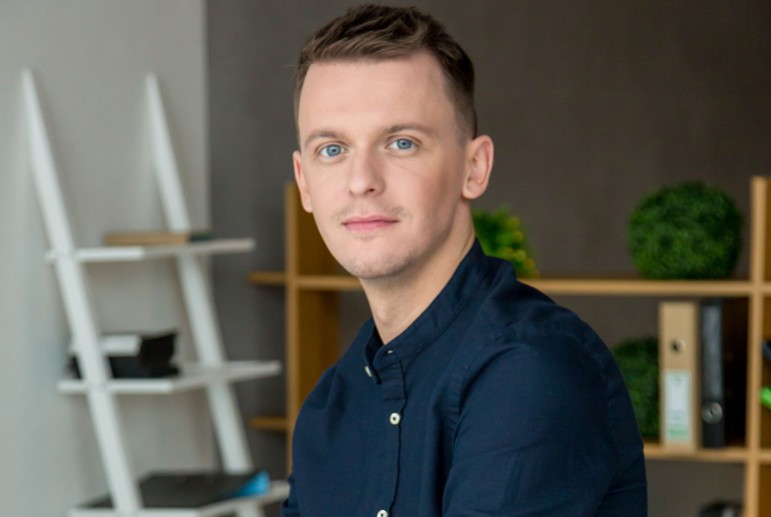 Denis Lavnikevich, a host of the podcast, discussed the creation of IT products during quarantine with Yevhen Kovalevsky, Chief Product Officer at TECHIIA holding. He guides the development and work of more than 15 products in holding companies that work in esports, media, cyber-center management, and IT services.
---
Denis Lavnikevich: How do you work remotely in the current situation and how does this affect the work of the holding?
Yevhen Kovalevsky: Most of the TECHIIA holding businesses are IT companies, so there are no problems working from home. Of course, we have online meetings with teams twice a week. We are talking about well-being, efficiency, and communication. Overall, performance has hardly changed. Moreover, during the quarantine, WePlay! Esports company, which is part of TECHIIA holding, held a Dota 2 charity tournament. Though we had to cancel LAN tournaments and a global event plan.
The most difficult right now is for Enestech, a software development company for computer clubs and esports arenas. Quarantine is a very painful moment for them. Their clients close or put their business on hold because of quarantine.
Denis Lavnikevich: Your position is Chief Product Officer. Meaning, that the company develops a lot of products. At the same time, one of the areas of activity is esports, but the company itself is not a game developer. What your products are and what do they look like?
Yevhen Kovalevsky: TECHIIA holding unites more than 10 companies, but not all of them are digital product developers. For example, WePlay! Esports has around 10 products. The main ones are a tournament platform for non-professional esports enthusiasts, a set of products to support our professional tournaments, as well as media where we talk about events and generate traffic for ourselves.
Denis Lavnikevich: How can I, as a user, look at your product? What will I see?
Yevhen Kovalevsky: The media will look familiar — a news portal in esports and games-oriented text format. Speaking of professional tournaments, you can see a page with information, in addition to the game you can watch it and enjoy, as well as products that provide game statistics. If this is a tournament platform then you can see the interface of your team creation, the search for the opponent, and the big start button.
Denis Lavnikevich: According to what principle a working team is organized? Is it formed specifically for each project or assembled from the employees of the holding?
Yevhen Kovalevsky: Due to the intensive growth of the company, we are simultaneously creating a prototype of the product with the holding experts and hiring a new in-house team to work on it. Next, we decide whether to return the employees to their previous positions or to keep them in the project. Usually, we recruit people from one company, because, in the initial stages of work on the project, work is very important.

Denis Lavnikevich: What does the creation of a new product look like? Who exactly generate ideas?

Yevhen Kovalevsky: I now coordinate about 15 products and most of the fundamental ideas are generated by the founders of the TECHIIA holding, Oleg Krot, and Yuriy Lazebnikov. They are our conceptual drivers. And our task, as teams and executives, is to test all these ideas, to bring them to life and to improve. Sometimes other people bring ideas to the founders of TECHIIA, and they forward those ideas to us. We are trying to work so that the first results of the idea can be seen within 3-4 months, including the formation of the team. If the team is ready, it will take 1.5-2 months.
One of the examples is the WeSave! Charity Play tournament. The idea came from our founders and was implemented in just 7 days. We invited the best teams in the world, the most famous commentators and analysts to work and play for free. We wanted to bring attention to the problem and provide people with all the tools we can to make charitable donations. So over the course of the week, we raised over $188,000 that was donated to two funds, CEPI and GlobalGiving, to develop a coronavirus vaccine and help vulnerable groups.
DL: How do you feel, is the dynamics growing? You have to run projects more often, or it's all way around, is there some kind of recession?
YK: We launch big projects every 6 months. The scale of the projects increases over time, so more resources are needed. And my job is to form the core of the team for each project. This team will support and develop the product and will have the resources to launch something new.
We have been launching new projects for the first two years, but for the last few months, we have been working on highlighting and isolating projects that need to develop their way. We promise ourselves that we will not recruit people or resources from these projects to work on new products so as not to prevent them from developing and growing.
DL: Does the holding have a company culture and how would you describe it with your own words?
YK: We realized that it was time to formalize the culture at a time when communication problems were beginning. This applies to people with different mindsets when people think and work differently. There are marketers, designers, and developers, they live in a kind of a common world. But there is also an esports department with people who interact with commentators, teams, and audiences, as well as directors, screenwriters, and producers. And they have a studio, cinematic approach, and a different schedule. And this is very much reflected in the internal processes. We wanted to solve all the problems on our own, applying human practices, defining the values of employees and the company. And then we faced reality because it is very difficult to make values common to all people at once.
We started having sessions with external advisors who specialize in formalizing company culture. We do have specialists in Ukraine and they are quite strong. At their workshops, they collected information from each manager directly on values and approaches to solving problems and will give us a ready scheme for formalizing the company culture for the holding.
It's not about creating a framework or trying to stuff them all into one template. First of all, it is the attitude to work, approaches to solving problems, and the response to problems. We want problems to be seen as an experience that people learn from.
DL: When you hire new people, do you choose those who are suitable in terms of values and culture or in soft skills? And how does someone get a job in your company?
YK: That's exactly one of the elements of culture. It is critically important for us that the person corresponds to the values because it is becoming more and more expensive and harder to change people. And to hire someone for several months to close important tasks in the project is not our thing. On the other hand, hard skills are also important because just being a good person is not enough for a job.
To get into TECHIIA, you need to start from our website. Take a look at the list of vacancies available, choose what is right for you, send us a CV, and our HR will contact you.
DL: Have you ever had situations when specialists cannot be found in Ukraine?
YK: It happens all the time because there can be specialties, which are very few, or they are in high demand. For example, we were looking for Front End Lead for 9 months. It was quite difficult, we hired consultants to help technically test these people. There are also specialists who work on programs that do not allow games to use cheats or malware. And such people are difficult to find in Ukraine and throughout the CIS.
Nevertheless, we always find the right specialists. And even now we have some new positions waiting for the best candidates. We have a lot of plans ahead of us, which I cannot reveal because it concerns the launch of new projects. But it will be a lot of fun!

You can read the original interview on the "Dsnews" website.