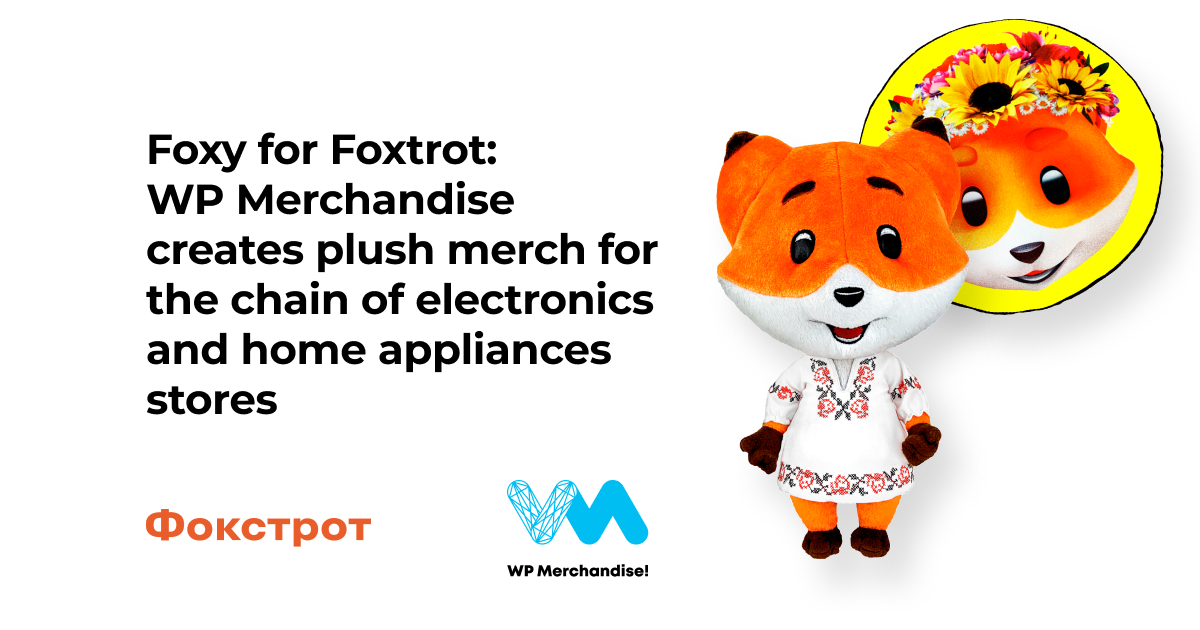 On the occasion of the Independence Day of Ukraine, new branded products appeared on the shelves of the Ukrainian chain of electronics and household appliances 'Foxtrot' - the "Foxy Ukrainochka" toys and "Foxy wearing a wreath" pillows. This high-quality plush merch is made by WP Merchandise, part of the TECHIIA holding company.
---
The toy fox is wearing an embroidered dress, and the pillow is decorated with Foxy wearing a wreath of sunflowers. This merch can already be purchased in online and offline stores.
This is already the second order from Foxtrot. WP Merchandise has previously produced signature foxes, plush pillows, and key rings for the chain of electronics stores at its factory in Kyiv.
"WP Merchandise goes beyond traditional esports merch and creates new collections in cooperation with Ukrainian brands. The new direction does not change our approaches to production - these are hypoallergenic materials and high attention to the smallest details. And that's exactly what Foxy is about. And I hope, it will lift the spirits and become real friends for little Ukrainians," comments Iryna Timina, CMO of WP Merchandise.
The Foxtrot emphasized that at the stage of the creation of corporate merch, the key focus was on domestic production. After all, the brand of the chain of electronics and home appliances stores is purely Ukrainian, so plush Foxy just had to be born in Ukraine.
"Foxy the fox is a 3D character created primarily for digital space. Therefore, shifting this image into a physical format, in particular, making a fox in plush, as identical as possible to the original, was not an easy task. But our partners - the WP Merchandise team of highly qualified specialists - managed to achieve a top-notch result and implement all our ideas, - noted Lesya Nikulina, the Head of the Trade Marketing Department of the Foxtrot chain. - It is significant for us to launch the second Foxy line right before Independence Day, and we strongly believe it to become one of the symbols of our spiritual strength and Victory!"
In the future, the partners plan to expand the branded line of plush products in accordance with market trends and customer requests.
Note
WP Merchandise is a manufacturer of plush merch based on video games, comic books, and movies. The high level of details, quality of materials, and tailoring make products from WP Merchandise collectible and in demand around the world. Today, the company's distribution covers Ukraine and European countries. The company's portfolio includes licenses from Warner Bros., Ubisoft, Valve, Bandai Namco, and others.
Foxtrot is an all-Ukrainian company with a 28-year history on the market, one of the largest omnichannel retailers in the electronics and household appliances segment of Ukraine, presented by the foxtrot.ua online store and 169 retail stores in 90 cities of the country. Since the beginning of the full-scale war waged by russia against Ukraine, more than 100 stores and an online site have continued to operate. The range of the network includes more than 100,000 product units, a partnership has been established with 200 suppliers of officially certified equipment and other popular products