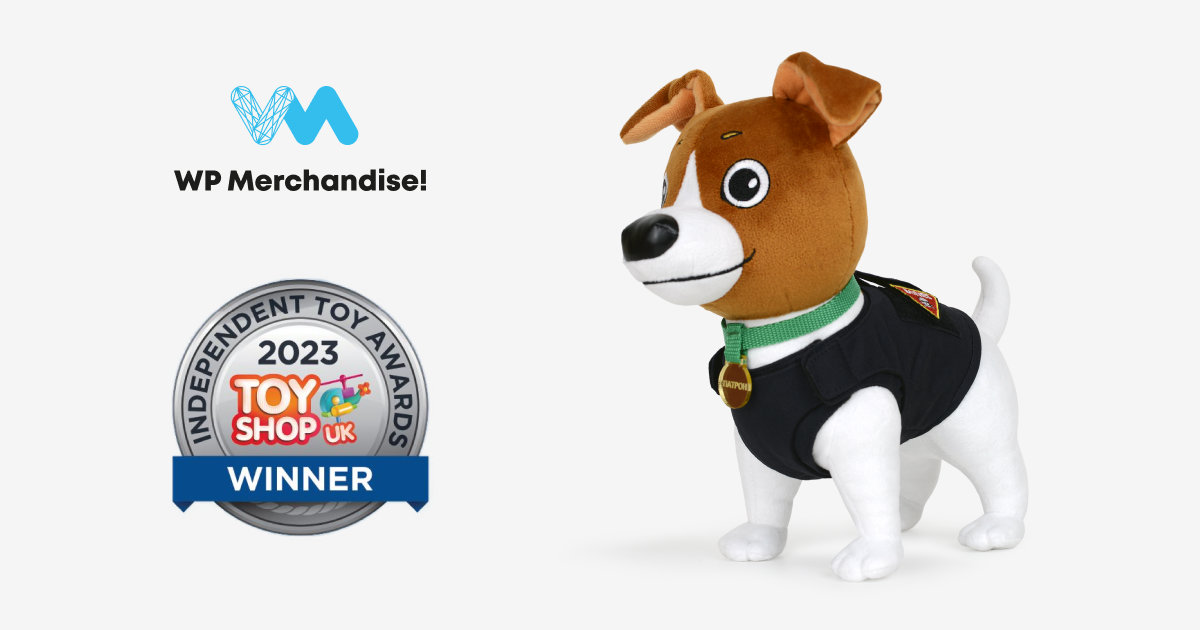 The plush toy "Patron Dog" created based on the comic book about the famous Chernihiv sapper dog, received the Silver award in the Soft Toys category at the prestigious Independent Toy Awards, which annually take place in the United Kingdom.
---
The collection, inspired by the comic book about Patron the Dog, created and produced by WP Merchandise, part of the TECHIIA holding, was developed at the end of 2022. The collection includes a soft decorative pillow with an image of the dog's face, a spacious felt bag, and a plush toy "Patron Dog" made from soft hypoallergenic fabric.
The dog is dressed in a combat vest adorned with embroidered patches on Velcro, which are easily detachable and repositionable. Each plush Patron comes with its own collar with a medallion. The size of the dog is 28 centimeters.
The Independent Toy Awards is renowned for its unique methodology in selecting the best toys, as it is voted on by market players – national independent toy retailers. This makes the award particularly valuable and authoritative in the industry. The holders of the Independent Toy Awards' Gold medals are considered examples of high-quality products. Well-known toy brands such as LOL, Bee Smart Toys, SES Creative, and Monopoly have been previous winners of this award.
"This victory is another confirmation of the high level of trust that "WP Merchandise!" enjoys among toy consumers. Attention to the smallest details makes our company stand out in the Ukrainian and global soft toy markets. We are especially pleased that the award was given to Patron, one of the symbols of the Ukrainian struggle for freedom," says Iryna Timina, Marketing Director of WP Merchandise!
WP Merchandise is a manufacturer of plush merchandise based on video games, comics, and movies. The high level of detailing, quality materials, and craftsmanship make WP Merchandise products collectible and sought after worldwide. Currently, the company's distribution covers European countries and Ukraine. In the company's portfolio, there are licenses from Warner Bros., Ubisoft, Valve, Bandai Namco, Film.ua, and others.
In 2021, WP Merchandise's Scorpion figure, licensed from Mortal Kombat 11 by Warner Bros., received the bronze award at the Independent Toy Awards 2021 in the "Collectible Toys" category.