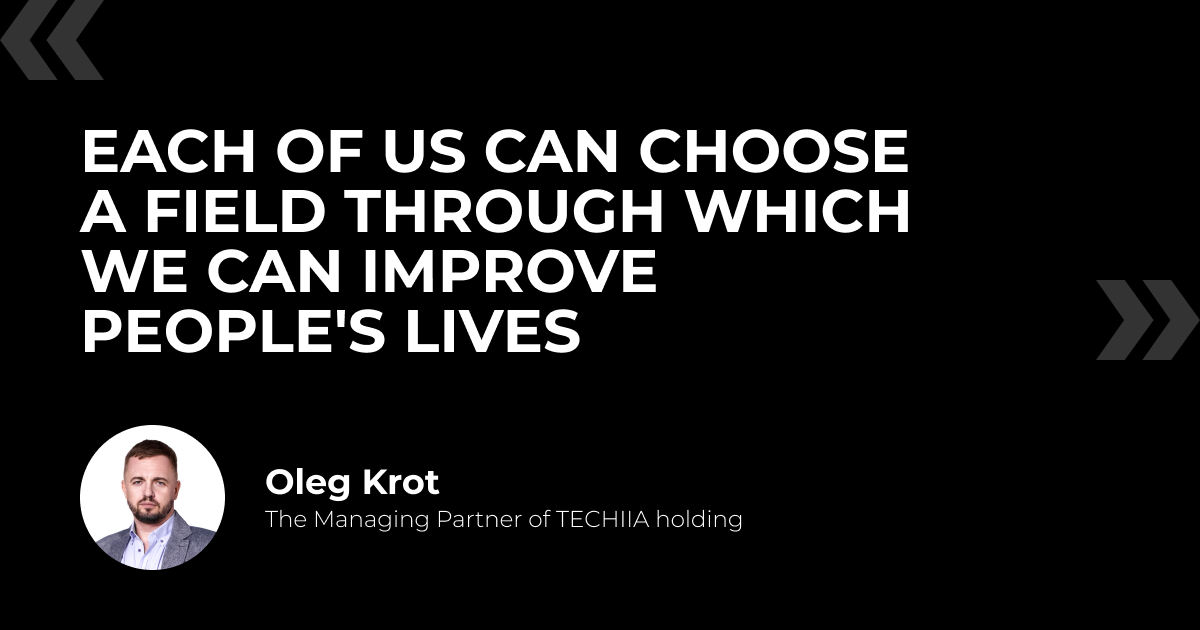 Oleg Krot, Managing Partner of the international holding company TECHIIA and founder of the "Techiia Foundation".

---
In the life of every company, there comes a moment when it can afford to do more for the community that benefits from its products or services. This is how CSR projects emerge, which under favorable circumstances, transform into systematic assistance to society.
However, many small and medium-sized companies struggle to decide where to focus their efforts. Billion-dollar businesses have the luxury of supporting multiple directions. The current political and daily agenda strongly encourages environmental care. Internal justice pushes for assistance to vulnerable population groups. So, what should one choose?
Here are a few ideas that may inspire you to find Your Path to meaningful charity.
1. Little Island in New York
"What was in my mind was to build something for the people of New York and for anyone who visits — a space that on first sight was dazzling, and upon use made people happy," quoted American media mogul Barry Diller on the Hudson River Park website. He was referring to restoring the hurricane-damaged Pier 54 in Hudson Park.
When local officials approached the businessman with a proposal to finance the restoration of the area, he declined. He didn't like the idea of a straightforward project. Barry Diller spent about a week pondering over the pier. Then he returned with an ambitious proposal that significantly exceeded the initial budget. But the visual and functional characteristics were much better.
The businessman and his fashion designer wife, Diane von Furstenberg, funded the revitalization of the area. The construction cost was $260 million, and maintenance costs were $120 million. Now, the multi-level area, held up by tulip-shaped supports, has become a favorite recreational spot for New Yorkers.
This is not the first public development project by this influential couple. In 2011, they allocated a $20 million grant for the development of the High Line.
This example of philanthropy teaches us to be attentive to our surroundings. It's not necessary to save the Amazon rainforest if you're not involved in that area. You can improve the public space in the city where your company operates, even if it's just a neglected park.
2. Subaru's Animal Initiative
It may sound strange because a business involved in manufacturing and selling cars is not directly related to the realm of abandoned animals. However, the automobile giant Subaru proves that it doesn't matter. If you want to change the lives of your community for the better, you can focus on any aspect.
"Each year, approximately 6.3 million companion animals enter shelters," says the Subaru website. The company aims to help as many animals as possible. Along with its partners, including retailers, Subaru has allocated $42 million for assistance. Grants have been given to national and local organizations that provide medical treatment, rescue, and find homes for animals. As I write these lines, the number of animals helped has reached 350,000.
This initiative has been in effect since 2015. Subaru's "dog-focused" approach is explained by the fact that 60% of the brand's car owners have dogs. This non-core social project from the automotive giant teaches us to be attentive to our service consumers. The best ideas for improving community life come from the people themselves.
3. Prosthetic Limb Rehabilitation
Here, I would like to mention the initiative of the Techiia Foundation. The social projects of our holding company have always been focused on Ukrainian healthcare. This is my personal priority, as I grew up in a family of doctors and have firsthand knowledge of the issues in the industry. Therefore, the Foundation started by providing state hospitals with high-quality equipment. Later, we began funding a rehabilitation center for children after oncological treatment and with severe diagnoses.
The year 2022 brought us new challenges and tragedies. Due to Russian aggression, Ukraine needs even more attention to the people and their health. Among them are military and civilians who have lost limbs as a result of hostilities.
In 2023, we launched a prosthetic rehabilitation project. People who, for various reasons, do not qualify for government or other programs can seek assistance. Whenever possible, we, along with our partners, provide them with the type of prosthesis that best suits their needs. Typically, these are costly devices.
The first person who received a quality prosthesis is already undergoing rehabilitation and counting the days until their return to service. Based on our resources and allocation to other projects, we have set a modest goal of providing prosthetics to up to ten individuals this year. And then we'll see. Perhaps, like our other initiatives, this project will become ongoing. Because there are many people in need of this kind of assistance. So many that the Ukrainian Ministry of Social Policy is not ready to disclose such data.
Our project does not change the course of history or have a global impact, but it can restore freedom of movement to specific people. And for them, it will be more important than scientific discoveries or global achievements.
The three examples I have provided have different scales and budgets. There could have been thirty, three hundred, three thousand such examples. Each of us can choose a field through which we can improve people's lives. It is important to look at social responsibility more broadly and not be afraid to take on a direction that resonates with your heart and wallet, even if it is not loudly proclaimed by the international media.
Source: Obozrevatel