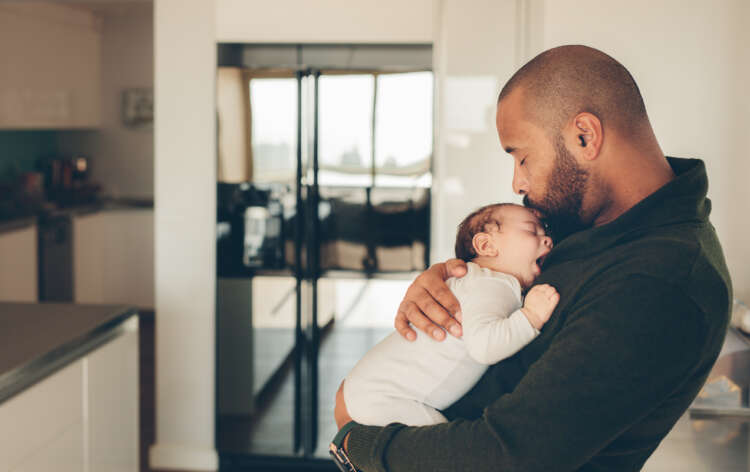 By Oleg Krot, an investor, the Managing Partner of the international holding TECHIIA tells about stereotypes and economic benefits of paternity leave.
---
In 2012, Sweden passed a law allowing fathers to take 30-day leave during the first year of a newborn baby's life while the mother is already on maternity leave. Further research showed that women who gave birth to a child after the adoption of the document felt better than those who went on maternity leave before that. Thus, the number of hospitalizations for young mothers decreased by 14%, the prescription of antibiotics – by 11%, anti-anxiety recommendations – by 26%.
We in TECHIIA holding were looking for a middle ground between world experience and post-Soviet experience. In the countries of the former USSR, a woman could go on 3-year maternity leave, if at this time she became pregnant again, then the vacation period was doubled. For a person missing a long time on the job market, it was almost impossible to have a painless return.
On the other hand, countries with developed economies are not always ready to "let go" of an employee for many months.
Although I myself have never been on paternity leave, it seems important to me that every employee has the opportunity to devote enough time to all aspects of his/her life. In addition to the logic of common sense and human relations, there are very specific economic benefits to this. But let's start with concerns.
Parental Fears of Young Fathers
Speaking of paternity leave, I mean the still unaccustomed phenomenon of the father of a newborn baby going on vacation. According to McKinsey, 90 out of 187 countries are already offering rookie dads a paid vacation. Moreover, four out of ten organizations (38%) offer longer paid leave than their country's law requires. The same options are available for LGBT+ couples and adoptive parents. But less than half of men use this option.
In July 2021, Volvo Cars USA published a study that explains why fathers-to-be and rookie fathers take the minimum number of vacation days. It turns out that an unspoken corporate rule does not recommend that a man take parental leave. More than two-thirds of American fathers surveyed admit that taking as little vacation as possible is a sign of honor.
Other important numbers are as follows:
90% of respondents reported that their employer offered them paternity leave for less than 12 weeks, but 63% of men planned to take less than half of the allotted time;
62% of those surveyed admit the unwritten rule that men at work should not take full parental leave;
59% say no one in their company takes full parental leave.
67% feel pressured to return from parental leave as soon as possible;
58% fear that six weeks of parental leave will negatively affect their career.
"Men who take paternity leave do tend to be stigmatized and viewed as less committed employees," words of Rebecca Glauber, professor of sociology at the University of New Hampshire as quoted by The New York Times.
At the same time, 71% of respondents think about changing jobs in favor of a company that offers more loyal family conditions. 83% are convinced that parenting experience allowed them to get better and faster at work.
The parenting experience helped me as well. When the first child was several months old, I sent my wife on vacation for several weeks – she was exhausted by the complicated birth and round-the-clock care of the baby. So in addition to documents, negotiations, and instructions I had diapers changing, feedings, and walks. The texts of the contracts were working perfectly as a lullaby for my daughter, however, they were putting me to sleep much faster.
It was a period of dramatically increased workload, which made it clear that it is very important for parents to be able to find a balance.
Later, I was also taking my child for a walk from time to time, giving my wife time to rest. I liked the feeling during and after such leisure. I perfectly understand 60% of respondents in the study, who state an increase in the level of happiness and satisfaction from leisure with children. These feelings carry over to work.
Economic Component
In addition to emotional warmth, parental leave has a tangible side. It narrows the wage gap in families by increasing the wages of mothers in the short term and helps to improve the overall financial well-being of the family in the long term.
Research by The Institute for Evaluation of Labor Market and Education Policy (Sweden) found that mothers' incomes increased by about 7% for every month a father spent at home on parental leave. Scientists monitored 9,000 families from one year before childbirth to the time when children were, on average, four years old.
Scientists from the Grattan Institute (Australia) went even further and found that paying for maternity leave costs the state budget at least $600 million a year. However, thanks to this step, the country's GDP is growing by $900 million a year.
The Federal Commission of Family Affairs (Switzerland) states that an increase in the number of working mothers by even 1% is enough to finance 18 to 20 weeks of paternal leave.
In Ukraine, where part of our team is located, maternity leave is traditionally provided only to mothers. This introduces some gender imbalance – after all, in the modern world, it is not necessary for a woman to sit with a child. Therefore, we at TECHIIA have gone further. Each of our employees, regardless of gender, has the opportunity to go on maternity/paternity leave for 16 weeks, retaining 100% of the salary. A longer period is possible but without salary payments.
It seems to me that in the case where there are no difficult circumstances, taking a longer vacation makes no sense. Most of our companies offer remote work, the ability to take additional days off, and sick leave – this will help all employees to correctly organize their work so that they can do everything in time and not lose their earnings.
I believe that the task of any employer is to offer an employee maximum freedom and support when they have a child. In return, we will get a loyal and diligent employee, and "along the way" we will reduce the incidence rate among young mothers. Good result for one small solution.
Original article on financedigest.com