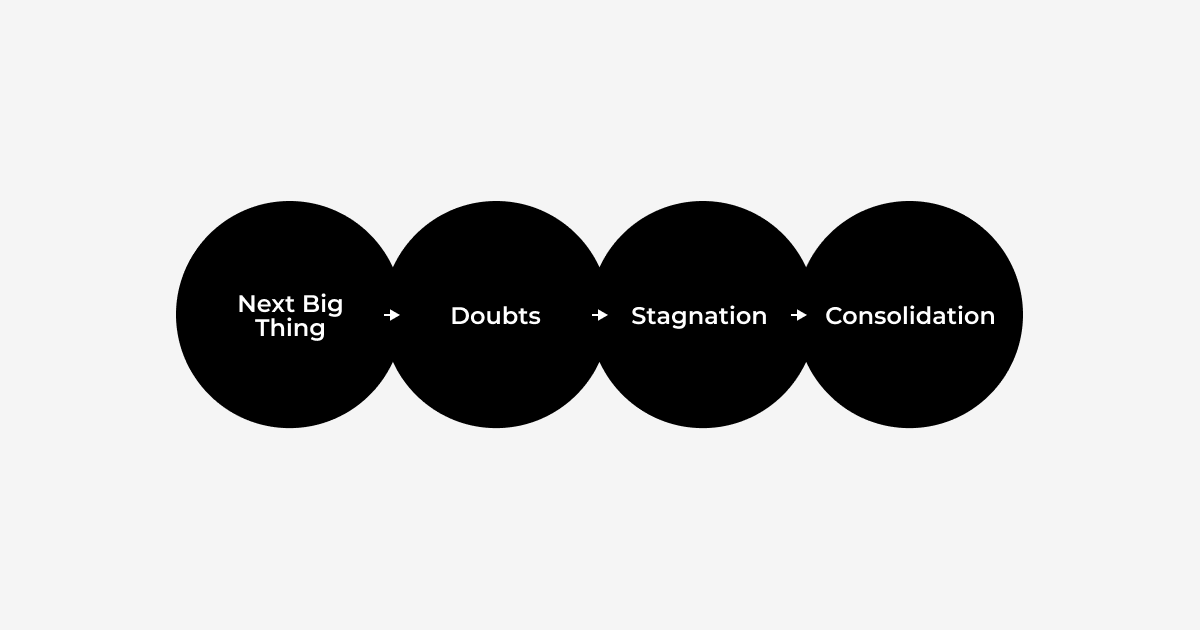 Yura Lazebnikov, investor, Managing Partner at TECHIIA.
---
Our holding includes many technology businesses from various industries. However, the most common question I receive from friends, investors, and the media is about the esports industry. What stage of development is it at? Is it worth investing in? Where specifically should the money go? The reason is simple: one of our earliest assets operates in esports. More precisely, not just in esports anymore.
I will share my vision of how the industry is doing now, which predictions have yet to come true, and what we should patiently wait for.
From Next Big Thing to Doubts
Many new developments go through the journey from being hailed as the Next Big Thing to those who fall from the peak of hype and fail to capitalize on the trust credits.
Take, for example, artificial intelligence. Since the 1950s, despite significant investments, developers struggled to create consistently working algorithms. After 30 years, investors grew weary and nearly stopped funding. The mid-1980s were the "winter of artificial intelligence." If investors hadn't regained their senses and the "winter" had persisted, we might not have had this year's boom in generative platforms.
Another example is blockchain. 2017 – the first Bitcoin frenzy occurred: the coin's price soared from $2,500 to $20,000. At that time, everyone in the media was writing about blockchain, major companies were sharing implementation plans, and venture capitalists eagerly bought into cryptocurrencies. Six years later, only specialized media outlets discuss blockchain. This year's first-quarter figures show the lowest investment volumes in the past two years.
The history of esports resembles these cases. During the 2020 boom, experts collectively promised a bright future for the sector. However, esports faced such a severe setback last year that investors began questioning the feasibility of continuing funding.
From Doubts to Stagnation
Like any high-tech industry, esports heavily relied on investments. Sponsorship accounted for approximately 60% of the revenue for sports organizations. The segment was growig, but generated significantly less money than received from sponsors.
Investors were expecting profits that never materialized. Due to the worsening economic situation, they began reducing their funding.
Factors contributing to stagnation in the esports sector also include:
1) Decreased advertising market. Since advertising ranks second in esports revenue structure after sponsors, organizations didn't receive substantial funds.
2) The bearish trend in the cryptocurrency market and the bankruptcy of major players who supported esports. The most notable case was the support of Team SoloMid by the cryptocurrency exchange FTX. After the exchange's collapse last year, the $210 million deal had to be forgotten.
3) Consumer fatigue with esports content following the pandemic period. It led to decreased interest in esports events on platforms like Twitch.
4) The inability to objectively assess the esports market size. Before the crisis, some experts estimated the market at $1 billion, others at $25 billion, while some warned of the possibility of a bubble. All of this confused potential investors.
5) Fear of missing out among investors led to market overheating and high expectations.
6) Unpreparedness of most investors who jumped on the hype train to play the long game.
7) Lack of understanding of market specifics. For example, game publishers who sanction championships are not concerned about the loss-making leagues. This business approach is unpleasant for investors but advantageous for publishers: even loss-making championships promote the game and generate revenue for the publisher.
From Stagnation to Consolidation
The esports industry failed to meet the expectations of investors who believed that the growth rates of 2020 would remain constant. Instead, they witnessed a decline in viewership during the spring season of the United States' League Championships Series, and the threat of FaZe Clan, a publicly traded esports organization, being delisted from Nasdaq.
Interesting things happen after such events. Disappointed investors divest themselves of illiquid assets. Optimistic ones adhere to the "Buy the Dip" principle acquiring companies to enhance their efficiency. Consolidation begins.
Over the past two years, esports has witnessed unprecedented M&A events. Savvy Gaming Group, owned by the Saudi Arabian government, acquired independent tournament operators ESL Gaming and FACEIT. Later, ESL FACEIT Group acquired technology and infrastructure provider Vindex. Microsoft is persistently moving towards acquiring Activision Blizzard.
If investors viewed the FaZe Clan incident as a worrisome signal, these events, with a combined budget exceeding $70 billion, indicate that esports is entering a new development phase. Market consolidation is a positive signal for investors. They will undoubtedly return for new opportunities.
And there will be opportunities, even though the level of hype around esports cannot be compared to 2020. However, for professional investors, hype is not an important criteria. They pay attention to other indicators, such as user numbers. For example, this year, the number of concurrent players in CS:GO reached a record high of 1.8 million.
Here's how I see it: by attracting new players, the audience is returning, which in turn influences the arrival of investors and sponsors. Money from the Middle East is a positive sign for the market.
The revenue model of esports has not changed for now: the industry heavily relies on sponsorship. However, the perception of how esports teams or organizations function is changing: everyone is learning to generate profits and adapt to new conditions.
Our esports asset, for example, has scaled up. Previously, it organized and broadcasted purely esports tournaments. But with well-developed content production skills in one industry, we felt confined. Now the company is a true media holding, encompassing a wide range of entertainment content creation, including esports.
The esports market continues its recovery. I see the main driver as the growing competition among streaming platforms. According to forecasts, revenues will continue to
grow
, and by 2029, the capitalization of the esports market will reach $5.5 billion, almost quadrupling. There is now competition not only in developments but also in big money, and the outcome will determine the fate of esports for the next 10 years.