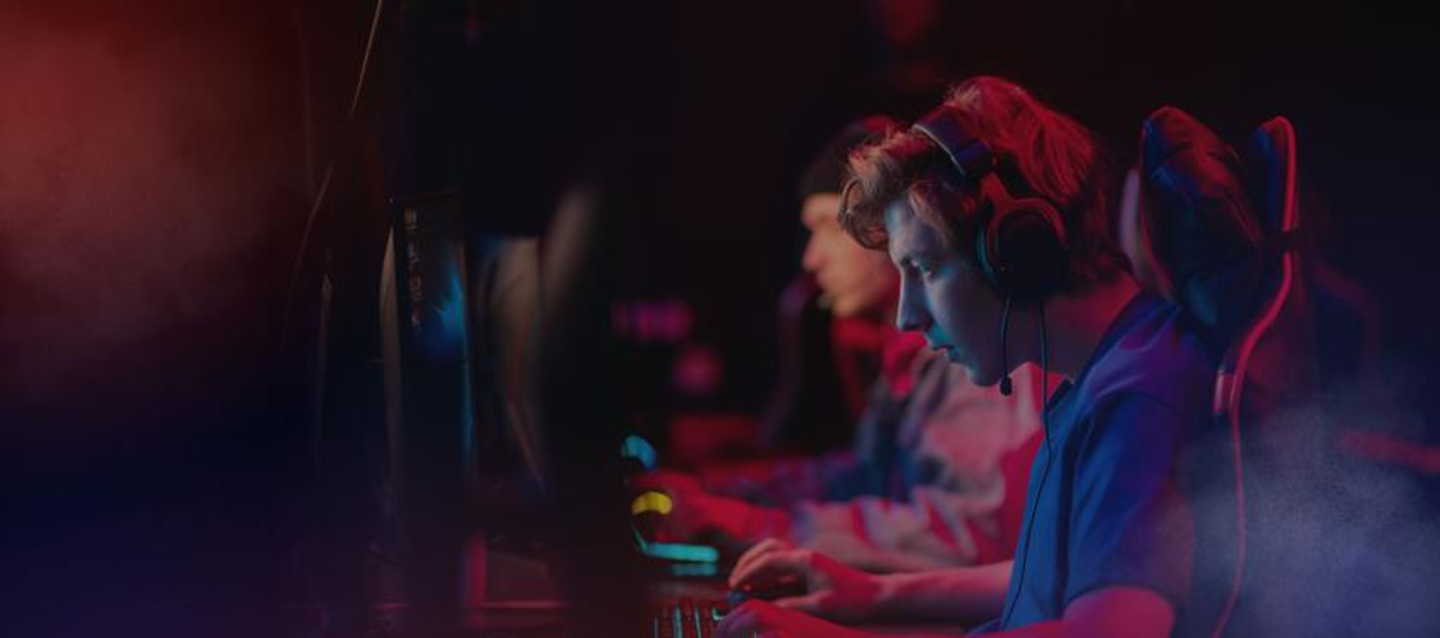 Interview with Volodymyr Onoprienko, Head of Revenue at Senet in Enestech Software.
---
There is a company in Ukraine that has not only created a tool for managing computer clubs but is also working on creating industry standards for the whole world. They utilize the Senet ecosystem, which assists club owners and players. Owners can control computers, update drivers on all PCs, and access analytical data about their clubs without leaving their seats. Meanwhile, players can order food and drinks, reserve a computer or console, accumulate points for extra game time, have their own rankings, and compete with other players without having to leave their computers. Overall, it provides a comfortable environment to enjoy gaming. Volodymyr Onoprienko, Head of Revenue at Enestech Software (part of the TECHIIA holding), responsible for sales and marketing of Senet, shared with the gg editorial team details about how Senet works, why the decision to launch in Vietnam was made, what new technologies are being implemented, and more.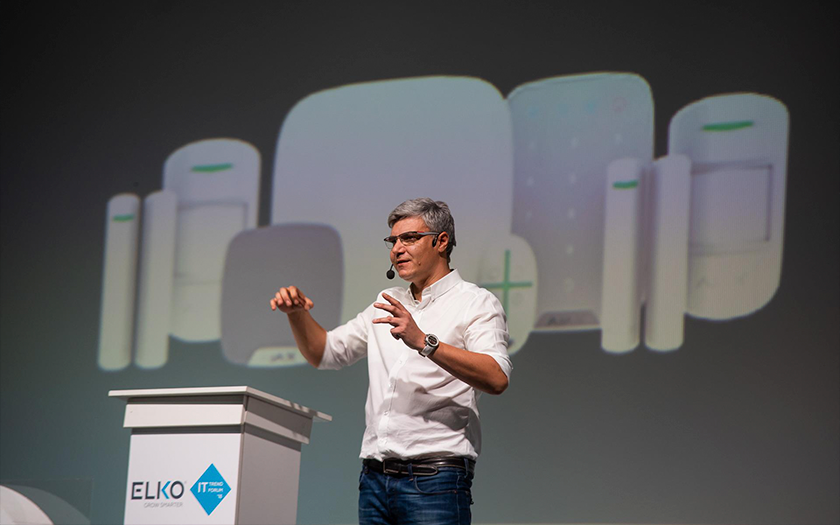 gg: Can you explain what Senet is for those who are completely unfamiliar with it?
Volodymyr Onoprienko: Senet is a comprehensive ecosystem. We provide clubs with the ability to organize and manage their gaming businesses. Because a computer club is not just a network of computers connected to the internet, it's about providing players with quality equipment and stable internet to play new games and use various applications. In other words, a club, in the traditional sense, is a place where interested people gather and play. Senet allows you to manage this business. On the one hand, club owners and administrators have the convenience of managing the establishment. On the other hand, players have a comfortable environment where they can not only play but also access services related to being in the club. They can order tea, coffee, and food, reserve a computer, and make remote payments.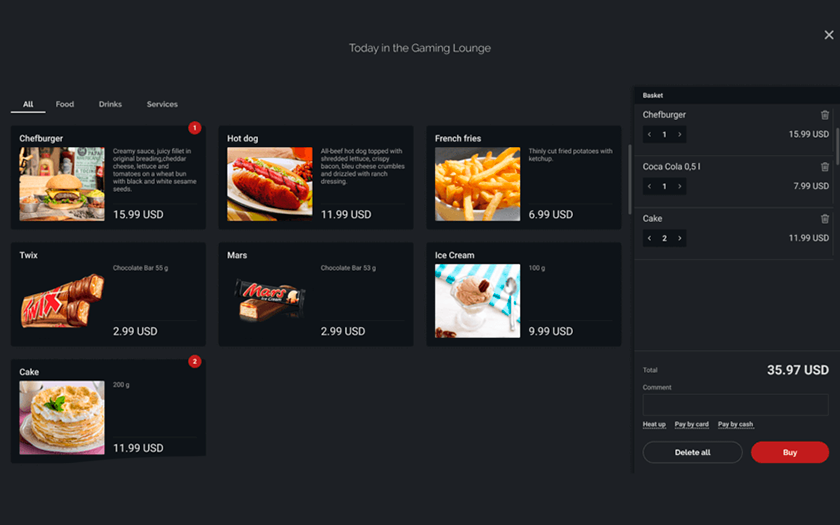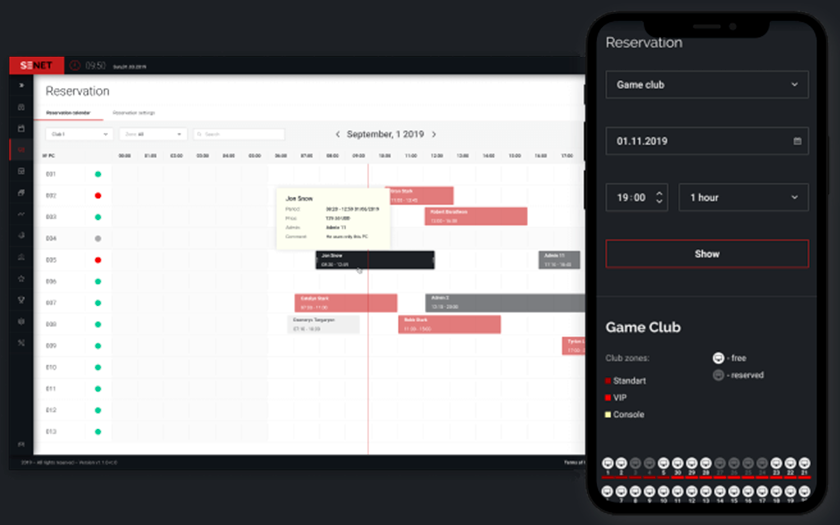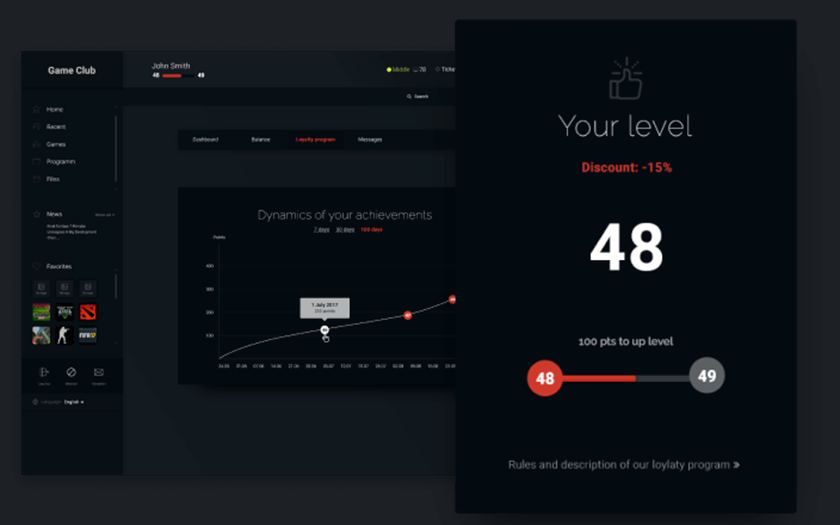 gg: Why did you choose the name Senet?
Volodymyr Onoprienko: The name comes from an ancient Egyptian game that existed over two thousand years ago. It was a strategic board game where players had to move pieces across the board. Senet translates from Ancient Egyptian as "passing" or "transition." The rules of the game have not been preserved, but it was something similar to chess. There is even a certain philosophy behind it because we are creating an industry where the rules are yet to be established. Through the qualities of our product, we not only meet the market demand but deeply understand how the gaming industry is evolving and what opportunities exist within it by tailoring specific services.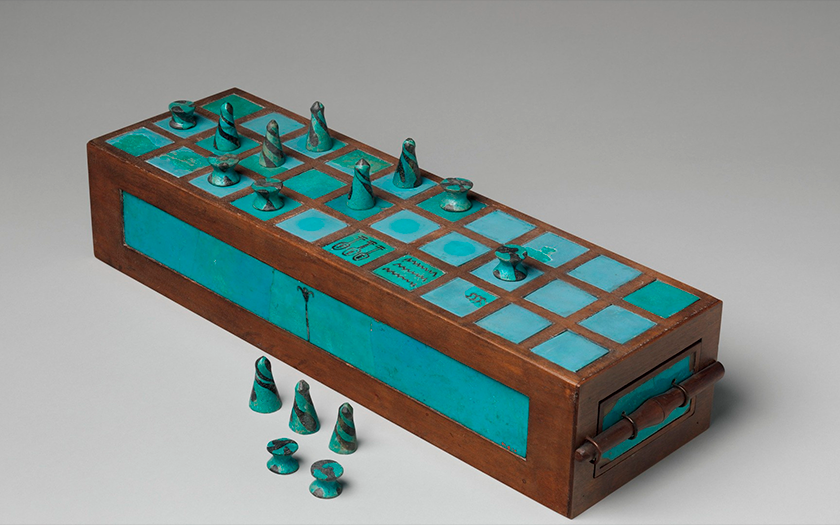 gg: Speaking about the essence of the business, there's a trendy term such as "Copilot." Can we call you the Copilot for businesses that manage clubs?
Volodymyr Onoprienko: Yes, you can. We don't adapt to the business processes of club owners. Instead, we provide a tool to make those processes flexible and meet the club's requirements and tactics while offering more opportunities to grow the club's business.
In other words, it's a synergy between the desires of players — the club's visitors, with their expectations for service and comfort and the improvement of the club's business processes in terms of workload, resource utilization, and marketing opportunities to promote club services.
Therefore, by using Senet, starting from the top level, club owners have the opportunity to enhance the business component of their clubs: making it more stable and predictable, reducing risks, and attracting players to spend more time in the club, utilizing various tools such as special offers or communication capabilities.
I can confidently say that we are creating this industry.
gg: In 2022, you exited the markets of russia and belarus but intensified your global expansion. Did you manage to compensate for the loss of more than 1,300 clients from the aggressor country?
Volodymyr Onoprienko: The conscious decision to cease operations in the countries involved in this war had a significant impact on the development of our business. Now I can say that we have restored the growth rates we had. The russian market was significant, and primarily, we lost momentum in the development. However, we were able to recover thanks to our global development strategy in international markets and in post-Soviet countries (excluding russia and belarus).
gg: How has the landscape of the Ukrainian market changed? Did you experience any losses or, on the contrary, attract new clients? And what is the customer structure in Ukraine in terms of geography?
Volodymyr Onoprienko: The business in Ukraine is going through difficult times associated with the overall mood and redistribution of expenses. People prefer to allocate their expenses to the military instead of entertainment, and gaming is precisely about entertainment. Therefore, we are witnessing a decrease in club activity, but we haven't seen a sharp closure as during the COVID-19 pandemic. Nevertheless, there are still negative consequences.
gg: What is the customer structure in Ukraine in terms of geography?
Volodymyr Onoprienko: I am pleased to note that computer clubs are popular not only in major cities in Ukraine. There are good clubs with their own audience, even in small towns.
However, the leaders are Odesa, Kyiv, Kharkiv, and Dnipro.
Regarding the pricing structure for Ukraine, we haven't made any changes to it; we couldn't do it otherwise.
gg: Speaking of pricing, you have three tariff plans. What is the difference between them?
Volodymyr Onoprienko: Senet operates on a SaaS (Software as a Service) business model. We sell subscriptions, and we have three subscription templates: Basic, Business, and Premium. Naturally, the Premium version offers the most benefits to the client, and we always explain what precisely the client will receive with the Premium version. When it comes to the Basic subscription, it has limited functionality, so we make an effort to convey to the client that the Business and Premium plans are the most advantageous. However, we will keep the Basic plan in countries that are less financially capable.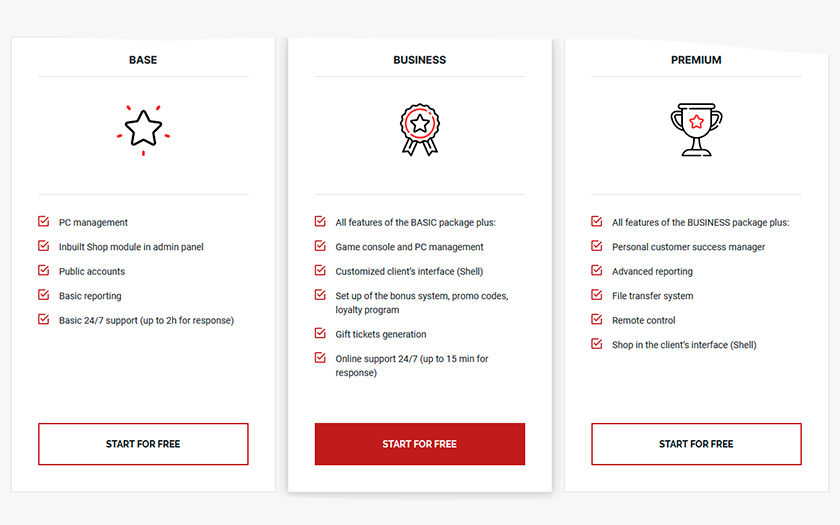 gg: What are the plans for the global market in 2023?
Volodymyr Onoprienko: There are significant and appealing markets for us in many countries, and we are developing a separate strategy for each of them. In this regard, key markets for us are the strategic markets of North and South America, particularly Brazil. We are also currently forming a strategy for Europe. Another important market for us is Vietnam and Southeast Asia. We have already developed a working strategy for Vietnam, but we are just starting to work on the toolkit for entering the markets of Malaysia and Indonesia.
gg: Why did you choose Vietnam specifically?
Volodymyr Onoprienko: We have precise data on the market size and its growth prospects for specific countries such as Vietnam, China, and South Korea. These markets have a high degree of business organization and a significant number of registered gaming clubs. However, the markets in South Korea and China are highly closed, regulated, and highly competitive, and mistakes there can be very costly. Despite this, we are preparing to enter these markets, but the decision to take active actions has been postponed. Therefore, all efforts were focused on Vietnam, where there are over 15,000 clubs and quite a competitive environment. We feel that with the existing product-market fit (when the product or service fully meets the needs and requirements of the market in which it is located and receives sufficient demand and profit — editor's note), we can aim to position ourselves as a technological leader in this country.
We are still in the market entry stage, but we have already signed a cooperation agreement with the largest franchise in Vietnam, which includes more than 700 clubs. Gradually, step by step, we are transitioning these clubs to SENET.
Additionally, we want to have technical support staff present there. This is a key factor for success in this market. We have technical specialists who can provide assistance to club owners or administrators in offline mode. Overall, Vietnam serves as a testing ground for innovations, where we can observe the effects of business development that we can achieve.
gg: How is the decision to launch in a new region made? What precedes it, and under what conditions is an office opened?
Volodymyr Onoprienko: The process and logic behind the decision to enter a specific market are as follows: Firstly, we assess the market potential using information from all available sources. We evaluate the number of clubs using open statistical data and study the business economics of specific countries. For example, the price for one hour of gaming in a club in the USA will be nine times higher than in Vietnam.
Based on this, we assess the monetary potential of the individual market, taking into account the number of clubs and the number of computers in these clubs, evaluating the level of competition, and analyzing lead generation (search and attraction of potential customers — editor's note). After considering all these factors, we determine if the market is worth concentrating our attention on.
Regarding lead generation, one of the key factors in market potential is the cost of lead generation. We understand that no matter how much we invest or how active we are, specific limited markets, such as Uzbekistan or Armenia, will not provide us with the economic impact we can expect from Brazil or Vietnam.
Next comes the evaluation of product-market fit: how well our decisions and services align with the internal processes of our potential clients.
Finally, I would like to add that sometimes there are local competitors we may not see at first glance, and we need to be prepared for that. However, this applies to any business.
gg: It would also be interesting to know which establishment has the highest number of PCs serviced by Senet. In which country is it located?
Volodymyr Onoprienko: Here, we need to go back to Vietnam.
We all imagine it as a jungle, but even in the jungle, there has always been 5G internet service for me.
Everything the Vietnamese do, they do well. And there is the largest club, one of the franchises we signed an agreement with, which has 250 computers. They are also planning to open an eSport arena with 400 PCs.
gg: What new developments have you implemented in the past year?
Volodymyr Onoprienko: We have implemented a program for the development of diskless solutions. There are two types of gaming club architectures: traditional, where the club consists of a network of interconnected personal computers with full configuration, and diskless, where all individual computer data is stored on a server, and a new player who sits at the computer receives a disk image, and after the session ends, the data is closed. For example, in Kazakhstan, if we had introduced the diskless system earlier, our position in that country would have been twice as strong.
The diskless system is the next generation in gaming club architecture development, which allows for precise administration and eliminates the risk of network configuration breaches or hacker attacks. In other words, this solution enables the high-quality organization of work processes in large clubs with 20-30-50 or 100-200 computers.
For this, we have a solution called Senet Boot. It is our diskless solution for clients, which is currently the leader among similar products in the markets of Kazakhstan and the USA.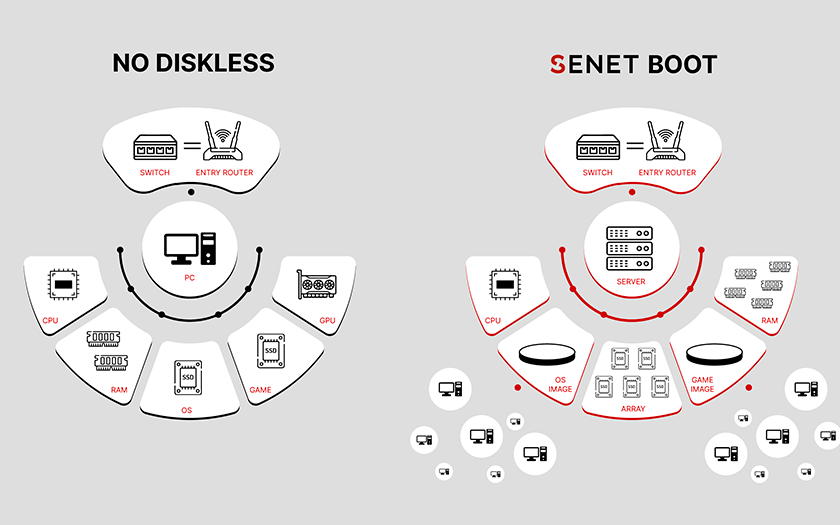 gg: How long does all of this reboot take?
Volodymyr Onoprienko: The session closes in a matter of seconds. Senet reboots the machine and loads a fresh image. And I want to clarify that this is not cloud gaming — this technology works on regular gaming PCs.
Overall, we take pride in this development as a team. SENET Boot is not a simple module; we wrote it, developed it, and are currently fine-tuning it. We also implement automatic updates when new drivers or other updates are available, so the club administrator doesn't have to run around and install everything manually. Currently, it's going through testing, and along with that, we have gained unique attributes for high competition.
gg: On your website, it's mentioned that you can control consoles. But how does that work? You can't install third-party software on them, right?
Volodymyr Onoprienko: There are two options: the first is traditional, where a special controller, Enestech, is connected to the TV, which simply turns the TV on or off. That era has already ended. And there is a new option — we have created a separate application for AndroidTV, Samsung, and we are registering it with LG. This will allow club owners to control the TVs from the Senet administrative panels.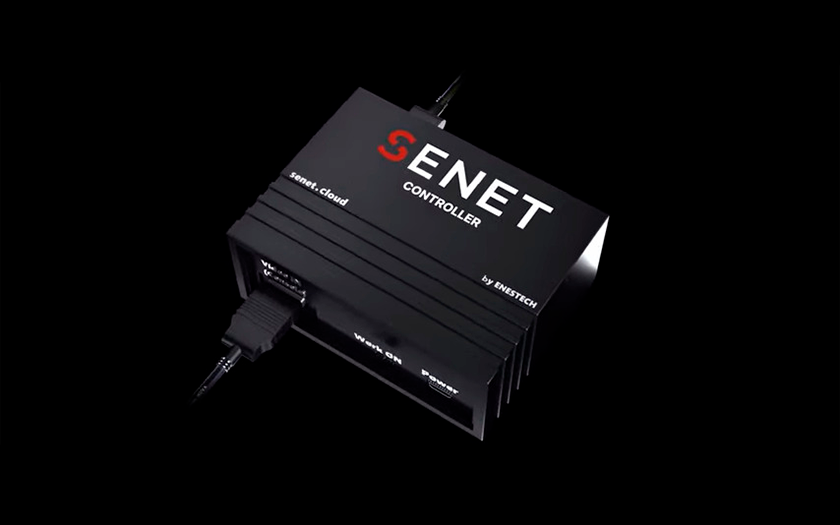 gg: So, you can't turn off a hypothetical PlayStation through the panel?

Volodymyr Onoprienko: Unfortunately, no. The console is always on, and only its display (the TV) is controlled.
gg: How else can Senet be used besides controlling PCs and TVs?
Volodymyr Onoprienko: In some countries, like Africa, they say, "Give us the ability to simply turn on and off computers." But we want to create a comfortable environment for gamers using Senet because we have modules that allow for administration, ordering drinks and food, and even reserving PCs. In the future, it's possible that we will also sell mice and keyboards.
Currently, we are still testing tournament organization so that players can communicate with each other, compete, have their own rankings, and receive bonuses.
gg: SENET automatically generates financial reports and collects analytics on visitor activity. How did you implement this?
Volodymyr Onoprienko: We have accumulated a significant knowledge base on how business processes in a club should be properly structured: which monitoring checkpoints and performance indicators should serve as a basis for making business decisions. This allows us to understand the trends that are used daily or weekly. We offer this to the client as a separate service, and there was no AI involved. Our solution is built on understanding a properly organized process, checkpoints, and indicators. It consists of separate reports and economic charts of the club.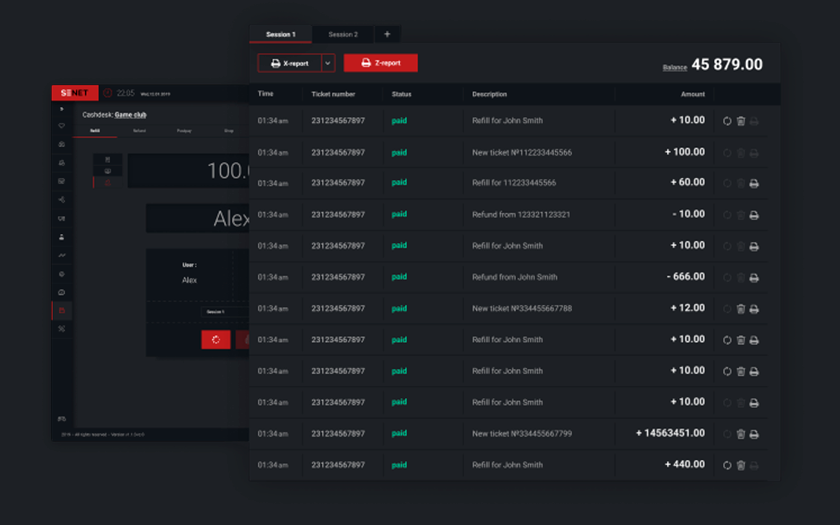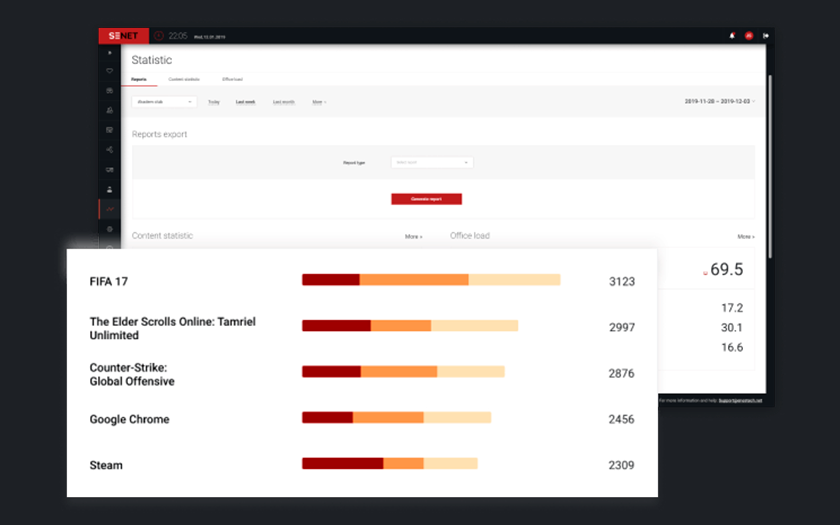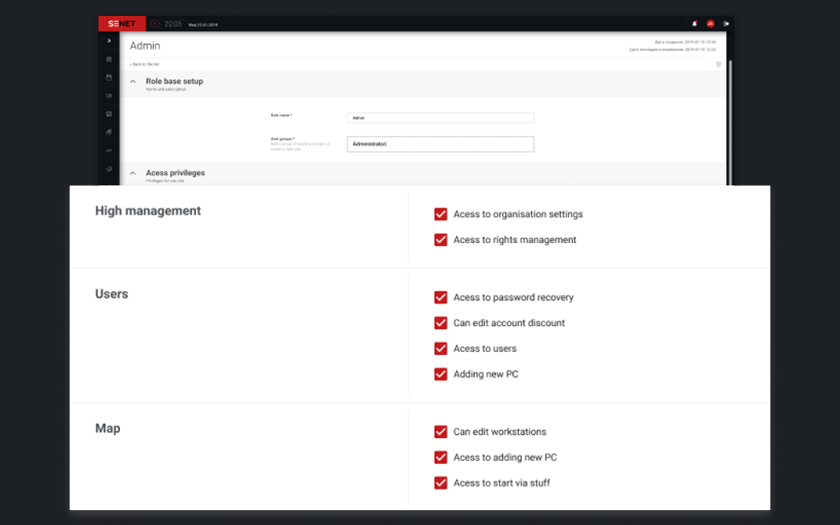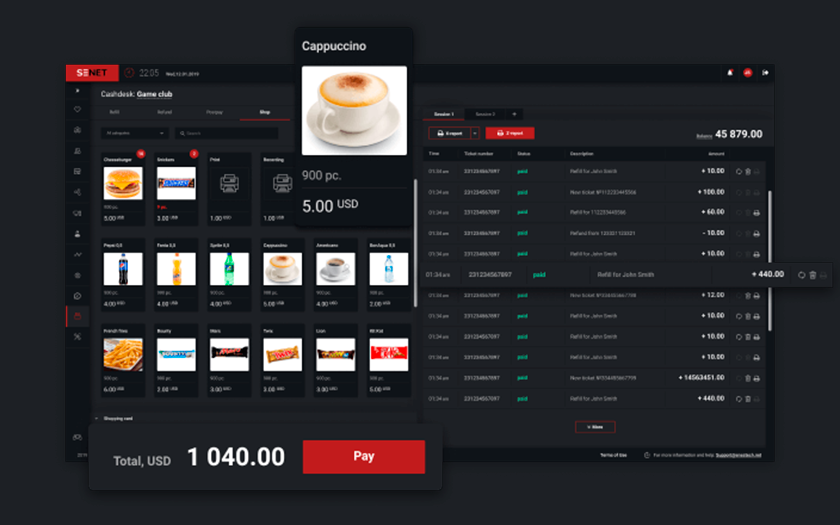 gg: Last year, the company opened two new directions — universities and airports. Do you see prospects for creating similar locations in Ukraine? What is needed for this — sponsors or assistance from the government?
Volodymyr Onoprienko: To answer this, we need to delve into this vertical market because it is not just a customer typology. Higher education institutions and educational establishments, in general, are typical examples of a vertical market where a separately constructed business process can differ from general practice. And we see significant potential in this because, for example, there is a classical understanding of a library where you cannot talk, and there is a modern understanding of a library as a place of access to knowledge in all its forms. Considering the global practice of organizing the learning process and the complete digitalization and administration of information as a resource through PCs, this is a significant and very attractive sector for us.
We particularly look at esports. Many educational institutions in Europe, the United States, and Canada are actively moving towards developing this direction. Esports is even taught as a discipline.
And in this, I see tremendous potential for development in Ukraine.
This requires attention, and it should be a comprehensive government program. When we win the war against russia, we will return to this issue. We have the resources and an understanding of the industry, and we are ready to involve government institutions to improve this development. In Ukraine, there are many highly qualified enthusiasts with professional education who can drive all this forward, and we are ready to provide assistance.
gg: Your team takes pride in its customer orientation, and last year you considered 765 proposals from clients. What were these proposals about, and which ones did you implement?
Volodymyr Onoprienko: One of the requests that we liked was the ability to accumulate bonus points that could be used to purchase game time. This is a case where the request "I would like this" adds a new product to the service, enhancing its competitiveness. And the owner can use this to attract more players to their club.
gg: And finally, do you currently have any job vacancies, and what specific professionals with experience and skills are you looking for?
Volodymyr Onoprienko: We always have job vacancies. We need specialists in sales, especially in international sales, with knowledge of English. We also constantly need experts in Python and backend development.
Source: gagadget.com