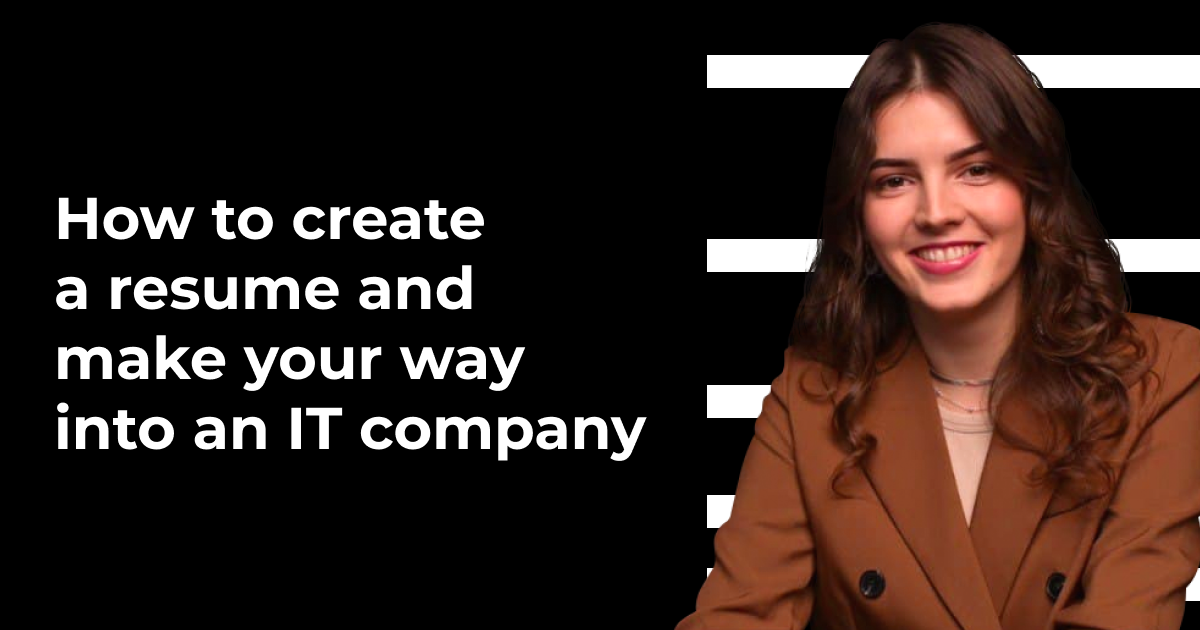 A detailed guide from JMIND's Lead of Recruitment Natalie Petrash.
---
According to a study by the career site Ladders, recruiters spend 7.4 seconds on one resume. We at JMIND read each CV in detail so as not to miss the right candidate, but the truth is that the first impression is formed as soon as you open the file.
Here is a guide to help you get your dream job.
The main parts of a resume
Summary. Describe your strongest work skills and why you are applying for the vacancy in two or three sentences.
Contact Information. Your first name, last name, email, phone number. Make sure the data is correct and looks properly. For resumes, it's best if your mail is your first and last name, rather than a school address like supergirl96@somemail.com or magic4-5@somemail.com spam mail.
Portfolio links. If you are applying for a technical vacancy, attach a link to GitHub/Bitbucket. Dribbble/Behance/Tilda will be appropriate for creative vacancies.
Experience. Start from your last place of work and move in reverse chronology. I suggest the following structure: company → time intervals → position → responsibilities → additional info (framework, technology stack, tools).
Tell about each project in 2-4 sentences. If you worked under the NDA, describe in general your tasks and industry.
Education. It is not important for all vacancies what specialty and in which university you got, but for some positions, this is critical information. Also in this block write about language skills, completed courses and training, attach certificates.
Skills. Divide them into hard and soft skills. Depending on the position, indicate those that you find useful for the vacancy.
Hobbies and interests. They will help the recruiter understand how to help you adapt to the team, as well as highlight colleagues with similar interests. Three points are enough — do not write about interests more than about work.
Motivation letter. Write why you want to join the company, what interested you in the job. It will help candidates with little skills or experience.
Now let's look at the most common questions about resumes
How to design a resume, what kind of design and format to use?
Yes, recruiters pay attention to the design of your resume. This does not mean that you should run to buy the "Become a designer in 24 hours" course, because the main thing here is the structure, aligned text without errors, a concise calm design that does not interfere and does not make your eyes bleed.
Also, be careful with resume sites. There are three problems with them:
The site looks different on different devices, browsers, and OSs, sometimes it does not even open;
Animation often freezes;
If you do not upload such a resume to the CRM system, the recruiter will have to rewrite the information to send it to the hiring manager.
The best format for a resume is a PDF. It can be opened on all devices, it always looks the same on any of them, the information will not be deformed, as it can be in .docx.
I recommend services that create resumes automatically. One of them is flowcv. It's simple and secure, and there is no need to register.
Another option for this service is Google Docs: use templates or create a structure yourself.
Please, mind carefully checking the correctness of contact information. Sometimes it is impossible to contact a person due to an error in the phone number or email. My team and I use all the resources, but there are recruiters who text only via Telegram or call without prior agreement — a person simply does not pick up the phone during working hours or from unfamiliar numbers. So the candidate loses the chance to communicate with the company of dreams.
Also, follow the timeline in the Experience section so that your jobs are consistent.
I recommend reading the resume and checking the spelling through the services available. A simple and competent resume is better than perfect design and mistakes in words or punctuation.
Before the welcome-call stage, texting is the main communication tool, and having a call with a recruiter depends on it. Use it to the fullest.
A real-life case. There are candidates who take the resumes of their acquaintances or relatives — friend, brother, mother — and adapt them for the candidate's own needs. Once we received a resume from a guy who applied for the support position mentioning his Advanced English level. Here's the dialogue that took place at our interview:
— I can see that you speak English at the Advanced level, mind having a chat in English?
— (10-second silence) Well, it was my friend's resume that I've adapted, my English is on Elementary level.
The English level was critical for this vacancy, and it turned out that the candidate and the recruiter just wasted time. We would understand at the stage of consideration that we do not suit each other — and this would save the energy of both.
Should I add a photo and age to my resume?
It is not necessary to add a photo, because first of all, professional skills and desire to work are important.
The same is with your age. Your age is not a confirmation that you can or can't do something, hard and soft skills are better for it. Moreover, the recruiter may engage in subconscious subjectivity, which may influence the decision to invite you for an interview.
In what language to write a resume?
Create your resume in the same language as a vacancy you're applying for. In IT, in more than 80% of cases, it is English.
How to name a resume file?
Name the document in Name_Surname_Position format. So the recruiter will just find it among others.
What if I don't have work experience yet?
1. Tell a recruiter how you prepared for this job. For example, tell him/her about online training, courses, lessons you've had, specific books you've read. These can be free courses because if a person is studying at the university, he/she often has little money, and the only source of income — a scholarship or parents' money.
2. Google everything about the company and possible responsibilities. Read in detail what the company does, what corporate values it has, in which countries it operates. The same goes for responsibilities — if something sounds very complicated or incomprehensible, learn from experienced people.
3. Write about participation in competitions, training, leadership programs. If you have been active in all possible initiatives at school and university, if you were in a leading position — do write about it. After all, almost any work can be explained with simple words and actions we performed during our school years.
What to write in the cover letter and who is it for?
A cover letter for trainee and junior specialists is a must. It will also be useful to middle-level ones, who understand that not all requirements of the vacancy can be met. Be sure to tailor it to a specific company. Do not send the template to everyone — this is a mistake that is immediately apparent, and the result will not change from spam in the mail. An individual approach and personification are important, and the time invested in the cover letter will pay off.
A person may simply not have experience, but he/she has read everything relevant from the Internet, taken several courses, investigated — and this can be demonstrated in a motivational way.
A real-life case. I know a case when a girl applied to a recruiter position but made mistakes in the test. She was rejected. A week later, she wrote to the same company: "Hey, I read how to do the test, and corrected mistakes. Please review the edits." And after that, she received a job offer.
What to do if there was a break in work during quarantine?
It happens that a person was fired from his/her previous job due to quarantine. Then a piece of chronology falls out of the resume. Write down what you did during this period: took refresher courses, went to retreats, got sick. Fill in this gap and the recruiter will not ask awkward questions.
Of course, this does not apply to women who have given birth, or to men who have taken paternity leave. Simply specify the Maternity/Parental leave in your resume.
And several life hacks
1. In a separate column after each job, indicate your achievements in the company:
raised sales by 30% in 1.5 years.
solely created a project used by thousands of the company's business clients.
created a design system that the company still uses.
wrote 100 articles in blogs and media.
2. Send the resume to someone who will be critical of it. Better a poor horse than no horse at all.
3. Carefully read the feedback from recruiters if you are rejected. This is a growth zone. Remember that finding a job is additional training. And every step brings you closer to a better job.