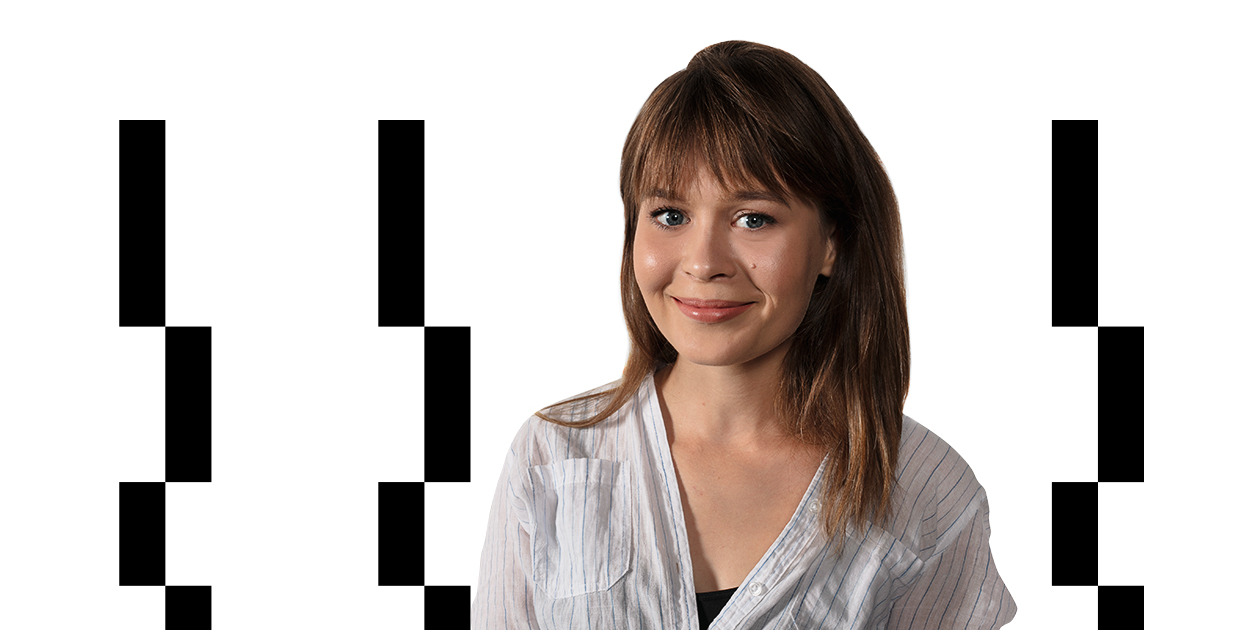 Everyone who is even indirectly related to the work of HR knows how much time and effort is usually spent on paperwork. Fortunately, this problem has long had a solution and it's called HRM systems. They allow you to systematically conduct fundamental processes, such as personnel records, administration and preserve the history of the employee's time in the company.
---
The topic is in great demand, so there are a lot of similar systems on the market. But the vast choice brings another problem to the table - where to start? How do you implement something that will really solve the pain and help your business grow in the future?
In recent months, these questions have been popping up in the HR community more and more. Therefore, I would like to share my experience of choosing and using an HR system in our holding.
Why do you need such a system in the first place?
All company reports, all links, and public documents can be stored in one place using a single program that, besides, can create analytical reports in a dashboard format.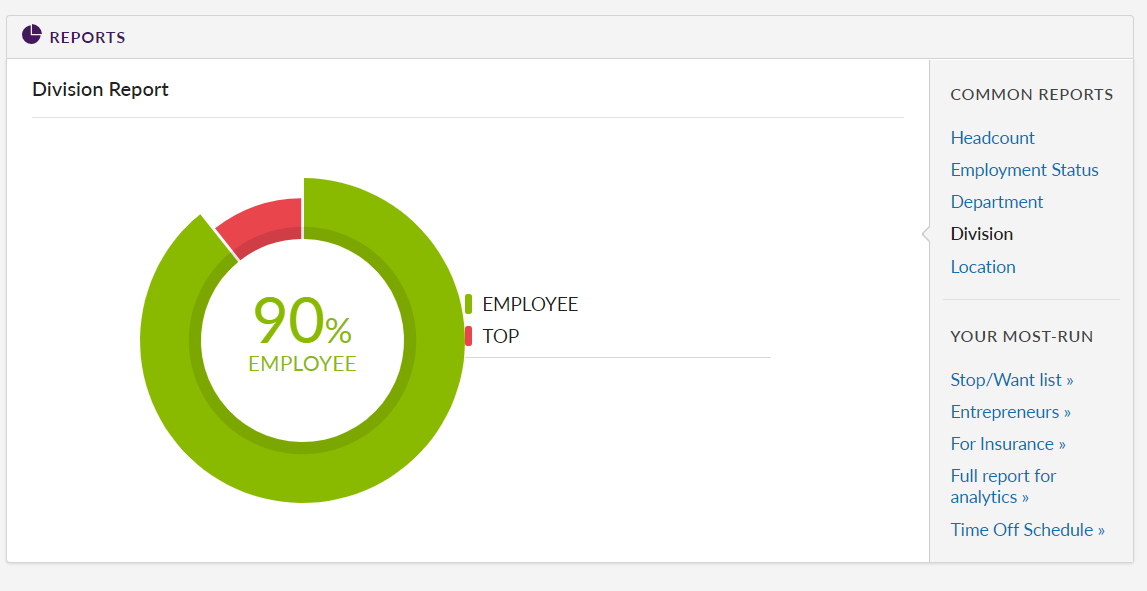 Most HR departments in Ukraine continue to work the old-fashioned way, instead of specialized services, they use systems like Trello or Mega, creating a system of folders on Google Drive with information about each employee. These proto-HRM solutions are very popular today. But you cannot go far on such Frankenstein systems, it is difficult to maintain, as well as to teach new colleagues to work with it. Moreover, the data security issue. Imagine how many files you need to give access to when the new employee comes on board.
An evolving business needs other, more flexible services.
At TECHIIA, we have a simple principle: what a machine/program can do should almost always be done by a machine/program. This will allow not to increase the staff with no need and remain focused on the direct people-to-people communication within the company. Instead of shifting papers and unnecessary clicks, it is better to devote time to workflow efficiency, motivation, and growth.
The holding has been rapidly evolving for several years. You never know what information might come in handy. For example, we did not keep statistics on the movement of personnel within the company, but once we decided to do analytics of internal rotations, such an option became crucial for us.
How to choose a system?
When I joined the company in 2018, we were growing by seven new employees every week. It was necessary to urgently update the administration system. Even then, it was clear that neither Excel, nor Google Docs, nor Workplace from Facebook was suitable for our needs.
Having compiled a list of required functions, we began to study HRM systems. You need to do high-quality market research once and choose the top 2-3 products in different price segments. After that, you can consider options with management, discussing the pros and cons of each system.
We were guided by the following criteria when choosing the system:
- cost and payment option (subscription per account, cost per user, one-time purchase with or without support)
- the number of years on the market of the developer company
- customers who are already using the system
- the ability to quickly adapt the system for us / the Ukrainian market
- the complexity of implementation, the need to attract additional technical specialists
- security
- simplicity
- quality and speed of support by the development company
We have selected three systems that met the requirements of our department: Zoho, Workable, and BambooHR. Also, we negotiated with the young Ukrainian project Hurma System. They have an interesting product with a perspective, but we chose a product that has already proven itself in the market. Namely, BambooHR.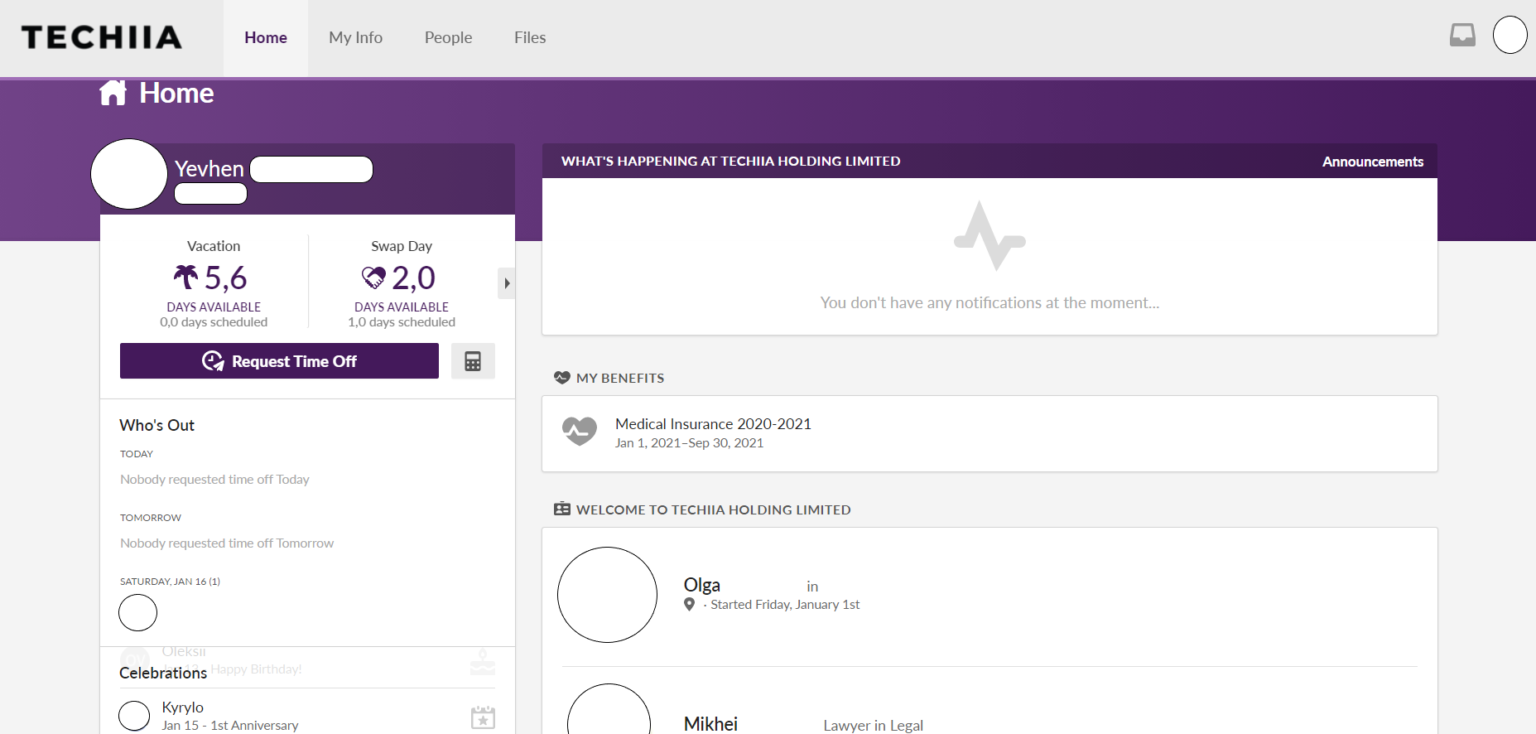 In addition to functionality, I paid attention to design. An innovative company should have an HRM service with a nice, friendly interface. Therefore, systems like Jira, where the visual design is too "old-school" and might be understood only for a part of the employees involved in the development, did not get into my top 3.
Product's pros and cons.
Here are a few key points helping us out in our work.
1. Comprehensiveness.
The system automates all HR processes, from submitting an offer to conducting regular job satisfaction surveys. It knows how to collect documents from a new employee on its own, prepare all the necessary papers for transfer or dismissal, inform the team about absences from work, birthdays, new pieces of training.
2. Fast and quality support.
This one is essential. The software needs to be continuously improved and updated. Many companies have a manager at the sales stage, but after buying a product, he/she simply vanishes.
3. The ability to add new functions to the system.
The product is American and fully adapted to the US market, therefore, we simply do not need to keep track of much data of the standard configuration of the system. For example, our employees do not prepare reports on compliance with the code of professional ethics and we do not monitor changes in the racial structure of the company, although our holding is multinational.
Customization allows you to disable these and add other functions that we really need. The HRM service is used not only by the HR department, but also by lawyers, financiers, and system administrators. They also collect additional statistics from time to time, and for this, it is necessary to make changes to the software.
The following features were also important for our company:
- customizable access for different roles and levels of employees;
- automation and transparency in absence policies - you can set up any principle for accumulating and spending vacation/time off/sick days for employees of different groups and locations, as well as adding non-standard types that are relevant to you;
- customizable levels of approvals for documents and employee requests;
- the ability to store all the necessary links and public documents;
- automatic analytics of basic HR indicators in the dashboard format and the ability to build reports in different sections;
- proper storage of important documents with access settings;
- automatically customizable company satisfaction survey.
Unfortunately, there is no perfect HRM system. We could not sort some difficulties out.
First, we were not satisfied with the Performance Review feature, it is too centralized, and its abilities to perform in the system are limited.
Secondly, it is impossible to display a matrix management structure specifically in BambooHR, when an employee can have a line and functional leader. Now all the companies of our holding are switching to this format. In the system, an employee can only have one manager.
Therefore, specifically for these tasks, we had to implement Lattice - another HRM system. There are both Performance Review and OKRs (Objectives and Key Results - a method of synchronizing team and individual goals). And we solved the issue of displaying the matrix structure with the help of an additional table.
Finally, the main disadvantage of the system is that the cost is higher than the market average. I'll talk about the financial side of the topic a bit further.
How do I launch the system?
We started the implementation with WePlay Esports. In our case, there were two options: to involve the Integration Manager or to act independently with the provision of all the necessary materials and webinars. We chose the first option. Albeit for an additional fee, but under the control of the developers.
The whole process took three weeks. We regularly called the American team, asked as many questions as we wanted to get the most perfect custom solutions specifically for our company. In general, integrating an HRM system with a good technical support service is as easy as shelling pears.

We learned the deployment of the HRM system so in-depth that all subsequent accounts for the rest of the TECHIIA holding companies were able to set up solely just within a week.
What to expect after launching the system?
The benefits are felt instantly. Take the absence reporting, for example. The program has a function that allows employees to independently mark sick leave and vacations. After filling out the form, the supervisor receives notifications and confirms them in a couple of clicks. Since switching to the HRM system, I have never done these documents manually, although many companies still do so.
This decision makes life easier not only for HRs, all employees can see when a person is absent and can plan work more efficiently.
We also actively hire new employees and we wanted to improve the notification system for newcomers just before they start. In any growing company, this is a serious problem. Each new person needs help with paperwork.
Now we have the system that takes care of all the document-related issues. It performs onboarding, sends the offer, and all the information about the employee's first day - where to come, who to contact, how to behave with colleagues, etc. On this, we save hours and days.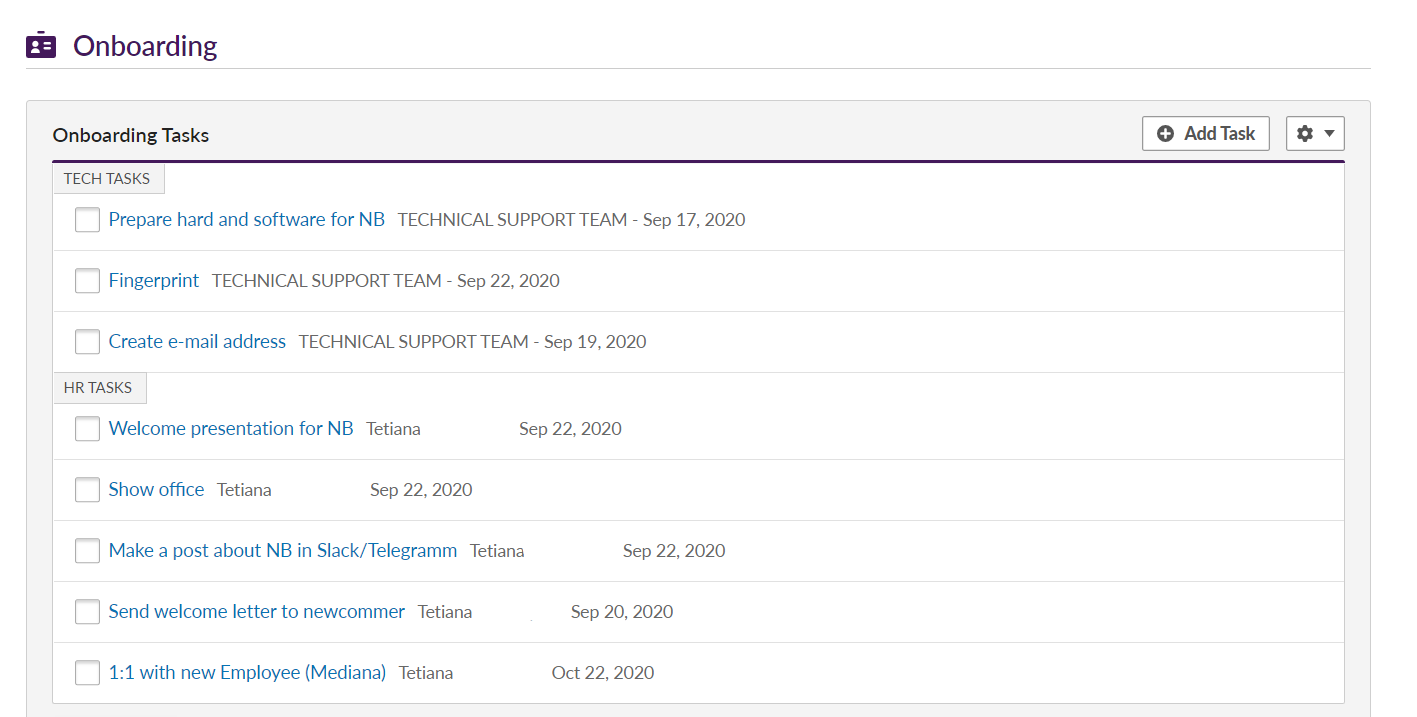 How much does the system cost?
When thinking about using an HRM system, estimate the budget. If the subscription cost is higher than the risks of operating a company without a system, it might be worth the wait. If it's the other way around, most likely it's time for HRM integration.
You need to calculate carefully, because a product that is more expensive at first glance may turn out to be more effective and will allow the company to save money in the future.
For example, when choosing an HRM system, these were my calculations: one HR-admin "costs" $600-900. Soon the team will grow so large that it will take two of them to maintain all the documentation, and the most they can do is create a complex and ineffective folder system.
At the very beginning, we received a 25% discount so that with 100 employees the launch was justified. Today, with 400 employees in WePlay Esports alone, the subscription price per employee is even lower. One HR-admin and three People Partners work with this company. So we save on time, we do not need to hire additional personnel, whose efficiency in this work would still be lower than that of the system.
Another important point: when there is an intuitive interface, a manual is enough for new employees to interact with the system. Therefore, our HRs have more time to solve other problems - to increase the efficiency and motivation of employees.
Should you consider creating your own system?
Different companies solve the issue of launching similar services in different ways. Someone keeps using proto-HRM, someone buys an ultimate product. And some are trying to develop their own service from scratch.
The latter approach can be justified for a large company with more than 2000 employees. The development of such a system is quite expensive. This will require experts, R&D, a product team, and a lot of time for development, testing, and implementation.
Usually, such systems operate with constant failures due to a lack of proper technical support. And dozens and hundreds of people work on products with a reputation, who are constantly improving the program.
If you do not have the resources for maintenance and revision, it is better not to get involved in this. Without understanding their own abilities, some companies continue to work on the project, even if they understand that it is going badly. It turns out a typical situation of "Pricking themselves and crying, the mice kept on eating the cactus through", which is still better not to fall into.
What to do with HRs after the system is launched?
Today the market of HR optimization systems can offer you any solution you wish, with different prices, functionality, technical support, and design.
HRM is an evolutionary leap that makes you no longer want to come back to creating tons of folders and getting confused about granting access. And colleagues who have freed themselves from shifting pieces of paper will always find what to do. Finally, they will be able to focus on purely inter-human issues and other more important tasks that machines (yet) do not understand.
Original article on happymonday.ua