Andriy Onistrat drove to the new WePlay Esports Kyiv Arena to sort out esports for himself and his viewers. In this, he was assisted by Yura Lazebnikov, the Managing Partner of TECHIIA holding and WePlay Esports media holding.
Read the main figures and facts here. And then watch the full live conversation, there are many details about business from Ukraine, the popularity of esports in the United States and China, and the nuances of the industry that many are silent about.
---
ON THE WORLD OF ESPORTS IN NUMBERS
There are a lot of marketing agencies trying to evaluate esports. Someone counts only the prize money, someone counts takeover and merger, someone adds betting there. In general, the estimate of the pure industry by turnover, but without mergers, is from $1 to 2 billion.
Plus, marketing agencies never count betters. Betting market valuation is well over $10 billion.
The cost of player transfers is approaching a million dollars. I know for sure transfers that cost $250-300 thousand 1.5-2 years ago. We do not have current metrics, because there is no open base, like in football.
A top Dota 2 and Counter-Strike player can make millions of dollars a year. Most of the prize money is shared among the players. Salaries are measured in tens of thousands of euros. But if the team is successful, then salaries are far from the main part of income.
ON THOSE WHO WATCH ESPORTS
According to various estimates, the audience is divided into two large types:
- people who are constantly involved, for them esports is an occupation and consumption of content
- casual viewers who watch some kind of World Cup once a year (as many people actually watch football).
About 600 million people are currently involved in this process. The figure is very floating, because there is, for example, a figure that speaks about people playing computer games. And this figure is more than 2 billion people. Can anyone who likes to play computer games watch the broadcast of the game they like? I think so.
On open metrics, the industry's average growth rate is 24%. It fluctuates from 21 to 27% annually.
The most popular Dota 2 broadcast online is watched by about a million people. Counter-Strike peaks reach 400-500 thousand people.
The industry is super young, the market is very fast growing. This is one of the markets where the audience will grow naturally. There is room for everyone here now.
ON DOTA 2 AND COUNTER-STRIKE SEGMENTS
The Dota 2 audience differs from the Counter-Strike audience in much the same way that the football audience differs from the baseball audience. There's a ball in both of them, there is a competitive component in both of them, both are interesting to watch, there is green grass, a field, a ball, people are sitting around ... The general pattern is observed.
But these are completely different audiences, by age, by interests, by potential manifestations of sponsors. Although they may overlap.
Let's take it roughly: Counter-Strike is watched by men with an average age of 35. Dota 2 is watched by men with an average age of 22-23. It is clear that if a sponsor is building his own strategy, he is interested in this or that audience to a greater extent. If a Counter-Strike viewer is willing to buy a car (for an example) in a price range of about $ 50-60 thousand, then to a Dota viewer you can sell maybe a desire to buy a car at this age, and not use Uber and other things from the share economy.
ON HOW TO HELP YOUR CHILD GET INTO ESPORTS
Teams announce recruitment regularly, teams look at the best newcomers to join their teams. Many teams now have the 2nd squad, and sometimes even a 3rd squad of young teams, from which players can move to the main squad. This all needs to be monitored daily. Personal connections and recommendations can only shorten the path, you don't have to queue up in chats, forums, and submissions, but ask the teams to pay attention.
But esports isn't just about players. It's just that the content revolves around them. In WePlay, where we have 400+ people, we don't have a single esports player, because we do not own teams, but we are engaged in another business. But at the same time, I and all the people who work in the company definitely relate to the industry.
I think the situation is the same, for example, in football, where a big machine is spinning around 11 guys, which ensures the functioning of all this.
ON THE CHAOS AND THE INDUSTRY RULES
The rules are now being created. This is often the subject of criticism that we face when trying to negotiate big contracts with sponsors. Because there is much more chaos and misunderstanding in comparison with other industries that produce content.
The sponsors have an understanding that the topic is lively, the audience is interesting, and we need to work. But at the same time, the budgets that are of interest to us are the budgets of large companies. Large companies try to be modern, but at the same time budgets are coordinated once and for a long time. It turns into something like the following:
We: Here we have an agreed schedule of tournaments.
They: Oh, yes ... And our budget was agreed 4 years ago for all this. Let's think ... For example, we saved a lot of toners, we can rewrite the budget from printers for the next 7 years to esports.
We: It's funny, it's not an acceptable budget.
They: Okay, we'll look elsewhere. Next year we will be able to allocate the budget. Can you guarantee these 8 tournaments next year?
We: Well, yes, (actually, no) it is "usual" for our industry to guarantee 8 tournaments next year with specific dates ...
So, in principle, this ball is now rolling around the field. It will certainly come to the point that the industry will become transparent and understandable, with clear rules that will simply force all players to live by them. Because everyone wants money anyway. And until there are rules, there will be less money.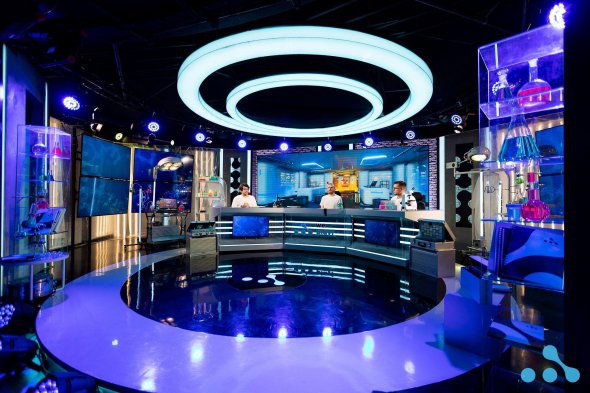 ON THE BENEFITS OF BUSINESS IN UKRAINE
We were born here and our roots are in Ukraine. We understand the country, the psychological, historical features of work, the speed of implementation of ideas. Plus, since we started the business from here, the team is formed here.
It is no secret that in terms of generating the cost of business, Ukraine is a very likable region. This does not mean that our people are underestimated, it means that a specialist for the same money will receive a conditional standard of living here higher than he could get in Germany, the USA, or elsewhere.
Therefore, we are investing quite a lot of funds in order to make Kyiv the WePlay flight control center. The arena, technology, staff training, education of new staff - everything happens here.
ON THE KYIV ARENA WORKING FOR THE WHOLE WORLD
The Kyiv Arena serves the entire planet from Ukraine. If we cannot bring teams, then we can place commentators, analysts here, And if we can, then we bring plates from different countries to Kyiv, and a tournament of world teams is taking place here.
For tournaments, the arena will be open 4 days a week. Monday, Tuesday, maximum Wednesday are the days when rebuilding the scenery and adaptation are taking place, and the rest of the days are for broadcasting content from different leagues. The arena will be open every day. There is an area for visits, there are merchandise products, and a schedule, you can meet players.
We will also hold qualifying tournaments, give the opportunity to get on the professional stage for guys who are interested in esports, participate in tournaments on the tournament platform in the disciplines that we will cover.
ON THE ARENAS IN THE USA AND CHINA
In terms of physical presence, of course, we need to be present in the States, Brazil, China. If you are doing a regional tournament for large rich markets, then it is necessary and insanely important to be present in this region for the growth and evaluation of your business.
We will make an arena in China. Now we are in the final stage of negotiations with the regional authorities of the province, where we will build it. It should be a big arena. The Kyiv Arena is like a hall for online tournaments, where 150-200 people can be accommodated. And the Chinese arena will be for thousands of people, we are now agreeing on its size.
In Los Angeles, the arena is similar to the Kyiv format, which allows you to make tournaments of the same capacity, with an orientation to the North American market, to the North American leagues. Qualification, selection, work with universities, colleges on the spot.
ON THE ESPORTS PROSPECTS OF UKRAINE
For 400 years it has been discussed what a good geographic position Ukraine has. Why do esports not earn on it if everyone else makes money on it? We are the bridge between Europe and Asia. Many of our geopolitical problems are related to this, but also our competitive advantages in business are related to this.
Esports is very decentralized. It needs freedom. And it's not for nothing that the most respected tournaments are held every year in different cities.
So far, I don't see a single factor that could not make Kyiv or any other city competitive in terms of esports. Of course, Kharkiv, Odesa, and Lviv are also interesting. The main point is the site. If there are good venues that are able to host the events that we talked about, we can have a conversation.
In winter we did a Dota tournament in Bukovel. We did it in a hall that is several times smaller than the arena where we are now. And to some extent, it was a feat: to give a picture that gives a sense of scale. There was enough room for the needs of the resort: an artist came out, sang, a couple of hundred people watched. But when you bring 8 world champions and you have 200,000 people at the peak of your broadcast, many people want to come and see it live, but there is no such platform.
What do we need? An arena is an object designed to work with an audience. So we need the proper height of the ceilings, the presence of a certain number of convenient entrances and exits, good parking, transport interchange, preferably a metro nearby. The possibility of arrival and departure of freight transport is required to load the scenery. It would seem that these are quite simple requirements, but they still need to be looked for.
ON WEPLAY ESPORTS INCOMES AND TAXES
The company is developing by investment. We do not show the profit from year to year, we show growth from year to year. If we talk about large tournaments, the cost of which is from $1 million to $1.5 million in the organization, earnings on them are quite normal - from $500,000 to $800,000.
Any money earned is invested in business expansion, because in an industry that is growing at such a pace, in my opinion, not developing is equal to death. If you start making a profit now, then in 2 years there will be someone who did not receive it, who will come and buy you, who has become 10 times more during this time.
We reinvest all income, we 100% fulfill all obligations for indirect taxes. All the equipment that we purchase, all the people who work for us. From all these costs, the budgets of the countries in which we operate receive everything in full. This is hundreds of thousands of dollars a year in every region.
ON THE IPO AND OTHER INVESTMENT FUNDS
IPO is nothing more than one way to raise money. Not the easiest, not the cheapest. As many examples show, it should already be some kind of final goal after you were able to swing capitalization with private investments and bring it to the level where you can go to the IPO with 9-11 digits of valuation.
From a business point of view, this is interesting, but now the goal is to bring the company to such estimates with the help of investment funds and private investors.