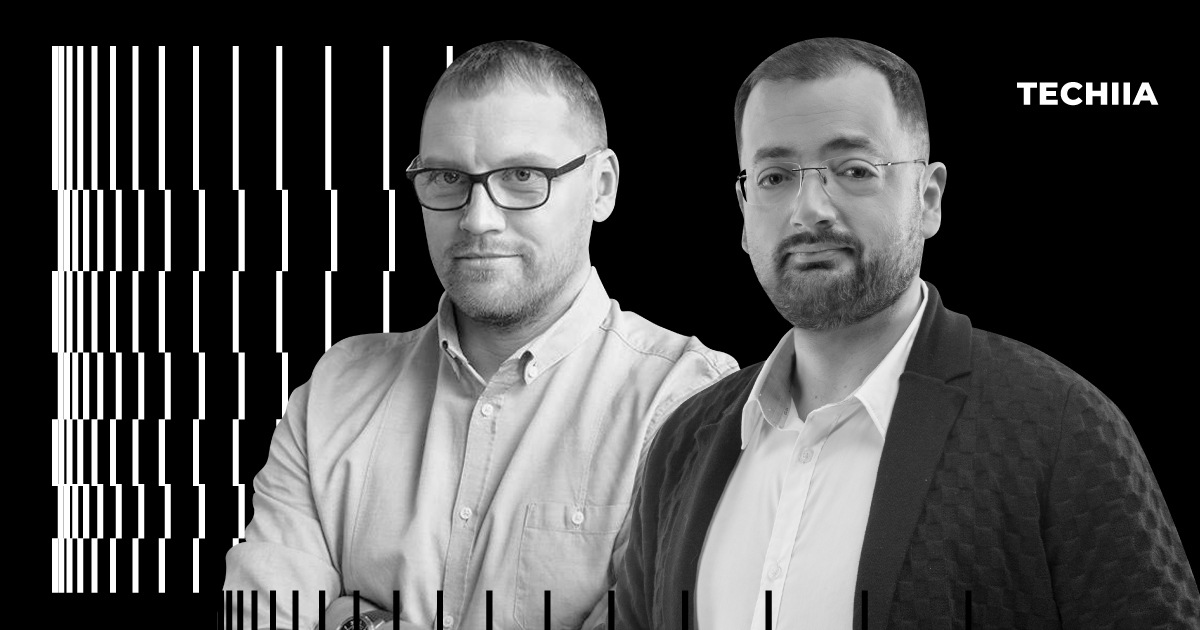 As soon as we begin to lock ourselves in the local market, we will immediately be uninteresting to people around us.
Andrey Fedoriv came to visit Yura Lazebnikov, the Managing Partner of the WePlay Esports media holding and the TECHIIA technology holding to personally discuss the prospects for the development of the esports segment.
The meeting took place at VDNG, where the construction of the Kyiv WePlay esports arena is almost finished. In addition to the deadlines for the completion of the object, the earnings of tournament operators, Harari's books, and the wristwatch of the British queen were also discussed.
---
ON ARENA, DREAMS AND UNNECESSARY BUSINESS LITERATURE

—How much did you spend on the construction of the arena in Kyiv?
—We plan to invest around $5 million. The construction began in March. I think that in November we will completely finish the construction of the store, shop windows, visitor-welcome area. The store will sell esports merchandise produced at our Kyiv factory. We sell this merch all over the world, and now we will sell it in our arena as well.
—What is your personal philosophy? What is your big dream, what is the purpose of all that you do?
—It is the very process of growth, the realization that you can create new directions. This road gives me a personal life buzz. Not the goals you achieve, they only give you a short-term feeling of happiness. But this road, path, the feeling of growth, the feeling of embracing some goals that you previously could not imagine when you were a student or schoolboy. This is what I enjoy.
—How do you expand your horizons?
—I don't have any instructions, I just love to learn something new. For example, I wanted to know about the history of the first wristwatch creation. I was just sitting, having my cup of tea, and suddenly I got interested. I don't know why I needed this information, but I just read it. It turns out that for a very long time wristwatches were an exclusively female accessory, not intended for men. The fact is that the first watch was integrated into the bracelet of the Queen of England. It was a woman's fashion for a long time. By the way, on the first wristwatches, there was no minute hand, only an hour hand. Men began to wear wristwatches only after World War I, it was inconvenient for soldiers to use pocket watches.
—What got you hooked on from what you've read recently?

—Everything by Yuval Noah Harari. His latest book, 21 Lessons for the 21st Century, touched me the most, although many consider it his weakest work. I really do not like business literature, all these instructions for achieving success. I like pop-science more like 'Guns, Germs and Steel', Harari, and authors that talk about what is happening with our society.
—How can you run a fast-growing international company and not read business literature?
—To manage such a company, a special team is needed, consisting of proactive specialists who are in love with their work. I have such a team and it is this team that generates most of the breakthrough ideas. Our main resource is time, and we have learned to win it. To lose time is incredibly expensive. It can sometimes cost you a market share.
ON INTERNATIONAL BUSINESS SPECIFICS

—How would you recommend starting the digitalization of the business?
—With getting your infrastructure prepared. We would not be able to work with billions of dollars in markets if we did not have a well-functioning support system, in the development of which we invested about $400,000. We started to create it from scratch when we had if I remember it right, 13 clients. Have we started building infrastructure later, we could have wasted time and the project would not have been so successful.
—When did you realize that the whole world is your market?
—To be fair, I've never had another vision. I have always dreamed of starting a multinational, global company, even when I didn't have the opportunity. I have always had such ambitions to go beyond the local market.
—What are the peculiarities of international business?
—You need to understand the game rules, local rules, and the rules of common decency, as well as be aware of the local ethics of doing business. This requires several years of physical rather than a nominal presence in a particular market. Yes, now, without leaving Ukraine, you can register a business anywhere. In Delaware, for example. But they still perfectly understand what kind of American you are.
If you want to build a multi-billion dollar company, you cannot be somewhere in the back, you need to be in the middle, where everything happens, where you can succeed. We chose the registration of our American business precisely according to this principle because Los Angeles is the world center of entertainment content production.
ON INTEGRATION AND INVESTMENTS IN ESPORTS
—Imagine that you are a Marketing Director of some FMCG brand. How would you start your esports integration?
—You always need to start by finding the right competencies. Companies often choose the wrong people for this, who, however, can convince everyone that they have a certain gaming background. But if a person plays online poker, this does not mean that he or she understands esports.
Today, esports experts are the people who came out of this sport. They are ready to share their experience. You need to listen to them, and not impose smartbooks on them. The next question is how much it might cost. This is a question for marketers. I think that these questions are answered well by the Nielsen statistics service, which calculates how much advertising banner across the table costs for 47 minutes of broadcast with a peak audience of 423 thousand. And if an esports company is willing to offer a 20% discount off Nielsen's weighted average price, I think it's worth giving it a try and getting in.
—How much should Ukrainian business representatives expect to spend in order to integrate into esports?

—In fact, these are small numbers. Several tens of thousands of dollars are enough to enter the local market, start promoting yourself and track audience conversions. These are far from the amounts in the UK or US markets. $30-40 thousand is an absolutely adequate and sufficient amount.
—What is the interest of the esports sector for investors? In what exactly can you invest money?
—In infrastructure and community. You can invest in players and teams. There are companies that organize tournaments, the tournament operators. They create events, shows, organize broadcasts. Next, comes the large television networks of China, Europe, Latin America, and the United States. These companies buy game content and, by rebroadcasting it, make the audience even bigger.
Besides that, there are tournament platforms, these are tools that make it possible to go from an amateur to a professional gamer.
—How quickly do esports investments pay off?
Computer centers have a return on investment of at least 20% per year. If you take that business seriously, if you offer gamers not only the opportunity to play, but also have a rest by opening a good bar there, this figure can easily be doubled.


ON WEPLAY BUSINESS
—How much does your income depend on advertising?
—This is one of the main sources of income, along with sales of media rights, when you get paid to act as a contractor. We earn money by organizing tournaments, leagues, various events; by attracting an audience to the tournament platform; by developing the B2C business; by dividing the tournament platform into premium and non-premium segments, which imply different levels of access to content.
—Is it possible to use targeting when broadcasting a tournament?
In 2021, we will be ready to provide the customer with an audience selected according to the language principle. For example, you are interested in Peru. I think that from February-March we will be able to sell their audience to Peruvians.
—What direction of WePlay is the most profitable?
—Selling tournaments, improving their quality, attracting an increasing audience. The world's largest brands and government representatives of different countries are starting to contact us, they ask us to organize events and tournaments for them. We are talking about millions of dollars for each tournament.
They are willing to pay because the industry is growing. People start writing about esports something good or bad, but the hype topic attracts the audience. In addition, esports tournaments look very impressive for viewers by having a lot of screens, special effects, computer graphics.
—How do you see WePlay in 5 years?
—I see it as a Number One company, that's for sure. We see ourselves as a company associated with creating premium products, a company trusted by big brands that are interested in our audience. We will set trends and continually improve the quality of our broadcasts. We want to be interesting for both advertisers and our audience. That's what the esports arena we're building in Los Angeles is for, it's important for us to be where our audience is. Even if it costs more for us than building an arena in Kyiv.
—When is the Los Angeles arena to be open?
—I really hope that this winter we will be able to invite journalists to the LA-Arena press tour. Visually, it will differ from the one in Kyiv, but the essence is the same, the viewer who sees this arena on-air will understand that this is the WePlay arena, even if we remove our logo from the screen.
—In 5 years, will you live in Los Angeles and remember your years at VDNG with a smile?
—I already spend most of my time in Los Angeles. We have many projects there, both the construction of the arena and the development of the American market. But we are very interested in developing Ukraine as well. It is profitable to do business here. The quality of Ukrainian specialists for this money is just great. I don't know how is it in other industries, but speaking of content production, merchandise production, the development, I will say that we have no competitors. Therefore, it is very profitable to produce something in Ukraine and export it all over the world. This is what we will do and develop this direction.
—How can parents teach their children to see the world in the same unusual way?
—No need to teach children that, teach yourself. Children will still grow up to be like you.
—And how do you teach yourself?
—You need to be interested in life and constantly strive for knowledge, success, money, everything that is available at the moment. You have to be a constantly working piston pushing yourself forward. Many people write books on how to become successful. Some people even purchase these books, but I don't know a single person who became successful after reading such instructions.
—What would you like to wish to our young and ambitious viewers, who are just over 50 and still have their whole lives ahead of them?
—So that everyone, opening a coffee shop, would take it as if he owns Starbucks.