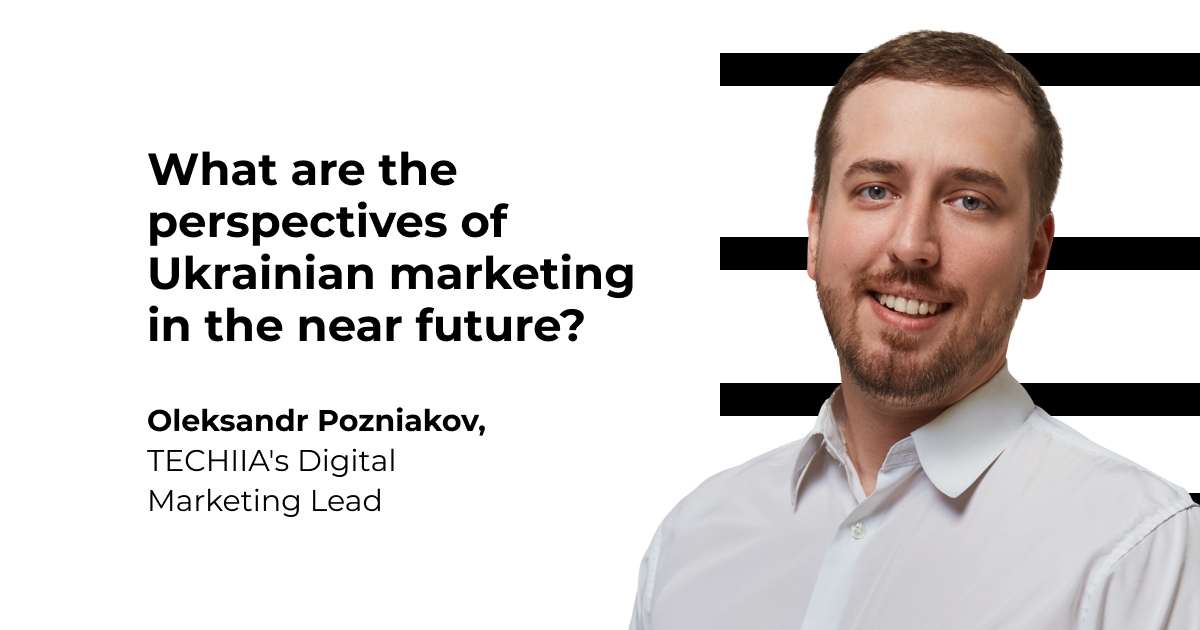 TECHIIA's Digital Marketing Lead Oleksandr Pozniakov told about the Ukrainian marketing perspectives to Marketing and Advertising magazine.
---
What indicators point out the current level of development of marketing and advertising in Ukraine?
The growth of CPM highlights the direction of marketing development.
Companies are making more and more systematic CSR programs, they are an integral part of marketing strategies.
The marketing, sales, and PR departments are transforming and merging in different configurations.
There is a high demand for marketing professionals on the market — that is, there is an increasing demand for the effective use of the advertising budget and an analytical approach to marketing in general.
"Metauniversal" trend — the supply of AR/VR in MarTech projects is growing.
What marketing challenges and opportunities did 2021 bring?
Among the challenges is the introduction of VAT for online services of non-resident companies. Facebook, Netflix, Steam, Apple, Amazon, Upwork services will have to pay 20% tax, but in fact, this tax will be paid by the Ukrainian users. For marketers, for example, this means an increase in the cost of advertising on social networks. Several companies have already notified Ukrainians about the increase in the cost of their services from January 1, 2022.
As for the opportunities, platforms are developing Server-side tracking, which works in parallel with the pixel and will allow you to properly track user actions, neutralizing the consequences of the iOS 14+ update. Besides Facebook with its Conversions API, TikTok is also working on its Event API.
What trends will be relevant for Ukrainian marketing in 2022?
In the wake of the introduction of VAT for Facebook & Co, businesses will look for opportunities to optimize the payment mechanisms for advertising in social networks, etc. I expect an increase in the number of agencies with registration in areas where you do not need to pay tax.
The pursuit of ROAS (Return on Ad Spend) performance will continue.
What are the main challenges for marketers in 2022?
The rise in the cost of advertising and the fall in its effectiveness, in particular, the flood of content. Due to banner blindness, you will have to increase the frequency of impressions. Content marketing costs will also rise as it becomes more and more difficult to stand out from others. The cost of SEO promotion is growing, but the importance is falling.
What are the opportunities for marketing and creative advertising in Ukraine in 2022?
→ Offline media advertising (TV and billboards) will hold its position due to the growing cost of digital ads (including the VAT factor).
→ The return of concerts and festivals to our lives is also a great opportunity.
→ New people in the creative industry, graduates of Projector, KAMA, Skvot, etc., increasingly creating their own solutions, and not just adapting the ideas of Western colleagues.