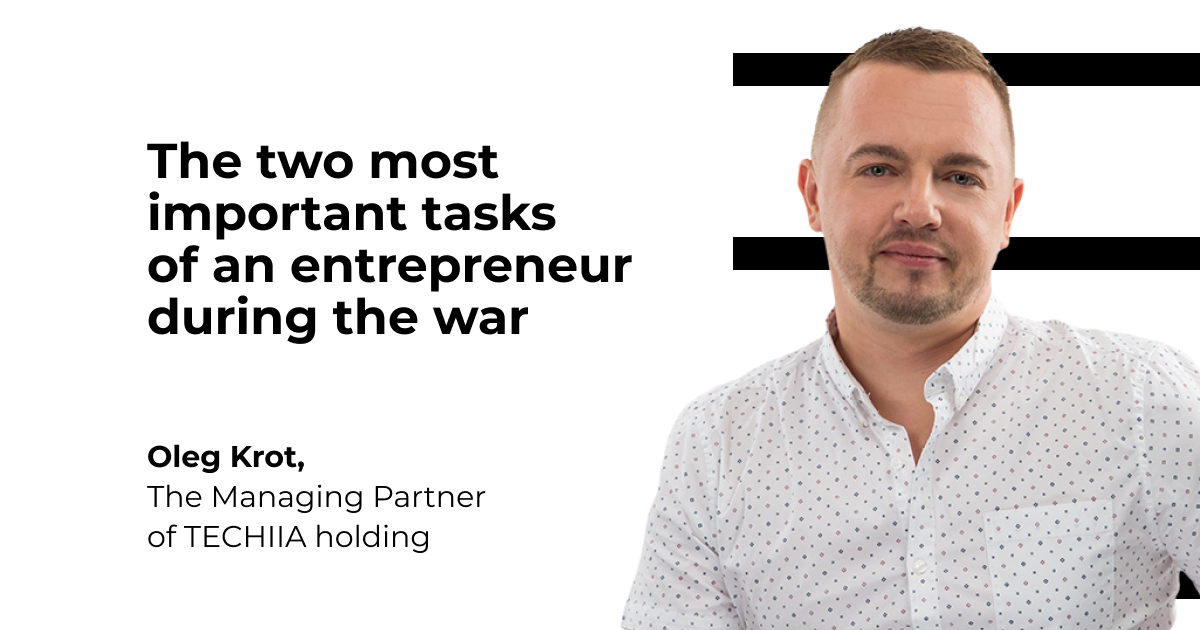 This text could be packed into two short theses "Do what you do best" and "Believe in the Armed Forces". But I want to make a few more specific points.

---
As a result of the war started by Russia, the whole world has changed dramatically, and the Ukrainian business even more so. The service provision time has increased while incomes have decreased, employees have found themselves in different parts of the world, and the state has been generating new rules every day.
We all have to solve a lot of problems and make decisions while keeping a cool head, abstracting from heavy emotions. In addition, businessmen are struggling daily with social pressures, which include the incompatible "boost the economy" and "go to war".
I want to talk about the two priority complementary tasks of the Ukrainian businessman.
Task 1 - help Ukraine
After the attack of Russian troops on Ukraine, my schedule, like all businessmen, changed dramatically. I used to work twelve hours a day, now I work twenty. The lion's share of time is spent on resolving issues that do not directly concern the company. Because if we do not help Ukraine get out of the horrors of war today, Ukraine itself may not exist tomorrow.
For the first three weeks, I didn't do any business. I used my skills to adjust the processes of assistance. My role as a leading partner is legal structuring, entering new markets - that is, continuous cooperation with partners. So I did what I do best, only this time the task was to raise funds and supply ammunition and equipment to our defenders.
Yura Lazebnikov and I made the first contributions ourselves - we provided over UAH 200 million of our funds to set an example. We have been practicing this charity principle for many years and have never asked whether anyone wants to join our charitable initiatives. Such requests make a person uncomfortable. But the Russian invasion changed my position.
I used different ways to raise funds. For example, once I invited several partners to a zoom conference attended by journalists. I don't know how billionaires would have responded to the call for help if we had spoken without witnesses. And so they understood that the results of the meeting could be published, so they donated some big numbers.
Normally I would never have done that, but the war abolished many of the usual rules - tens of thousands of lives are at stake. After each meeting, I was apologizing but emphasized that the donations help save many lives. I think many have been through this.
Since the beginning of the invasion, many Ukrainian businessmen have assisted the army and civilians. They involved all their skills and contacts. Yes, they would look spectacular with a machine gun at the checkpoint, but then hundreds and thousands of other soldiers would not receive bulletproof vests and helmets, let alone thermal imagers and drones.
An international business has a special role. During the war, it became one of the few channels that still keeps attracting funds to Ukraine - given how many of our officials do not know English.
No one can even estimate how many lives were saved by Ukrainian businessmen who shook out of their pockets and raised millions of dollars through humanitarian partners for humanitarian initiatives.
But there is a danger. Many Ukrainians faced it. Those, who in the first days, weeks, or months ran all possible reserves out, at some point realized that there was nothing to replenish them with. So I decided not to go the same way, as I would have nothing to provide aid with.
TECHIIA currently has an independent team of 30 people involved in supplies, aside from volunteers, some of whom live in Europe. Yes, even today, I sometimes work as a humanitarian: because of bureaucracy, problems with transfers, or errors in documents that lead to delays at customs. But my key competence is to generate business ideas, set the development vector, and saturate companies with money. This leads us to the second point.
Task 2 - save the business and increase its efficiency
I would like to emphasize that I deeply respect and support the decision of fellow entrepreneurs to defend their country with weapons in their hands. What I do not support is mass calls to leave everything and go to the frontline. Especially if the fate of tens, hundreds, or thousands of employees depends on you.
During the war, the business shifts to the same rails as the army, strengthening vertical control, rapidly reacting to changes and reactivating reserves (if, of course, you have any). The owner is the commander-in-chief, and the top managers are generals. Together, they form the backbone of the business, strengthen the team, and set the direction for it, even in complete turmoil.
This is what we in the holding did at the beginning of the invasion - we adjusted the system to this turbulent reality. Some key specialists have had to be evacuated, such as those liaising with the banks. This was difficult because some did not want to leave. It was necessary to explain that the work they do is crucial, and remaining under fire, limited in action, they will work inefficiently.
Efficiency is the most important characteristic of a specialist and a company during the war. What kind of efficiency can there be when your emotions run high and people around you die? In such moments, it is necessary to remind people what their superpower is so that they stop feeling guilty and start doing what they do best. The same goes for you as well.
You can stimulate efficiency in different ways. Someone needs a calm environment to work to the fullest, someone needs to be sure the loved ones are safe. Everyone has a clear understanding of their place in the chain of benefit.
We saw the result instantly. For example, our CFO used to talk to foreign banks in Kyiv, but now he meets with them in person abroad, speeding up and simplifying account opening, and international transfers, including humanitarian aid funds that go through our NGO Techiia Foundation. So due to the circumstances, we managed to embody the Know Your Customer principle to the fullest.
We all have a task to support the capacity of companies as much as possible and thus bring the war closer to an end. A self-sufficient business generates taxes that finance the Armed Forces. Pays the salaries that employees spend on supporting themselves and their families, pouring into the local budget, donating to a thermal imager for a friend, or rescuing abandoned pets.
It is widely believed that patriotism is manifested in the ability to sacrifice oneself for the sake of others. In my opinion, this is by no means a comprehensive definition. Self-sacrifice is a quality that can help win a battle, but not a war. To win, you need the coordinated work of people who know how to do their job great.
And after the victory, we still have to rebuild. We need to think about this now. About how to create infrastructure, develop the economy, and accumulate investments. In cooperation with the authorities to develop new tax mechanisms that would allow us to quickly bring in funds from around the world.
If you think that after our victory we can sit and relax while the whole world starts flooding Ukraine with money - well, think again. Only a strong partner is respected and supported. Strong both militarily and economically. The first point has already been proved by our Armed Forces. The second point is to be proven by entrepreneurs and businesses in general.
Original article on epravda.com.ua