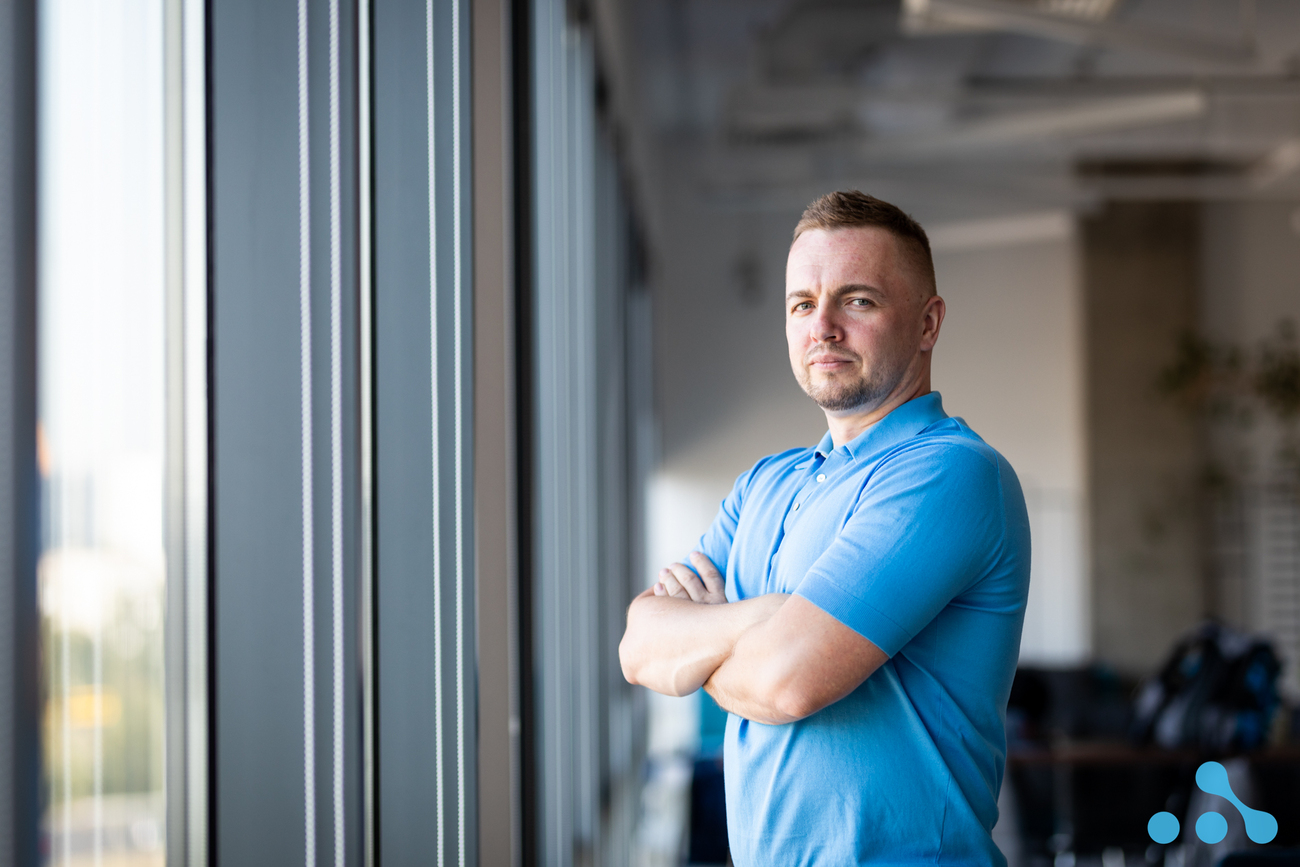 The Managing Partner of WePlay Esports media holding, Oleg Krot gave a detailed interview to Sport.ua, in which he spoke about the evolution of esports in Ukraine, the impact of the pandemic on the industry, and also shared the studio's plans for the nearest future.
---
- At the end of 2020 you became partners with Oleksander Usyk. What do you plan to create with him in 2021?
- Our main plans for joint products with Oleksander Usyk in 2021 are the growth of WePlay Ultimate Fighting League (WUFL), holding tournaments in various fighting disciplines in the offline and online format.
At the end of 2020, we announced the start of a joint company with Oleksander, which will specialize in organizing and conducting fighting tournaments within the newly created WUFL league. Now we have held only one league tournament - Mortal Kombat 11 WePlay Dragon Temple, which we have chosen to "know more" about this direction.
And recently we announced the first season of WePlay Ultimate Fighting League Season 1 with a $150,000 prize pool. This time, besides MK11, we also chose SOULCALIBUR VI and Tekken 7 games. We are sure that WUFL Season 1 will amaze esports fans even more than WePlay Dragon Temple.
- During the pandemic, esports was only gaining popularity. How has the pandemic affected WePlay Esports?
- It made a positive impact, to be honest. We were able to adapt to new realities in no time and transform our activities in accordance with quarantine restrictions, we transferred everything online: both the operating activities of the media holding and our tournaments.
When the quarantine was just introduced, no one had an idea of what would happen next. However, everyone was united by one desire - to do anything in order to quickly return to normal life. That's when we got the idea to run the WeSave! Charity Play online marathon, which raised $188,879. We divided these funds equally and donated to CEPI and GlobalGiving, charity organizations that helped doctors and funded the creation of a vaccine against COVID-19.
This marathon is a clear example of what a team nited by a common goal and mindset is capable of. We created the concept of the tournament ten hours after we came up with the idea of holding it, and seven days later we had our first broadcast of this tournament.
It was obvious to us that esports was the only sport that remained in the spring of 2020. Therefore, we did our best to support WePlay Esports and the esports community in general.
In terms of specific numbers, since March 2020, we have hosted six online tournaments and generated 4,035 hours of unique content during this year. To compare, over the past year, 2019, there were 1,659 hours of unique content. Also, thanks to the pandemic, we even managed to save a little on the construction of our arena at VDNG due to the fact that we did not speed up the process, but steadily built and created what we wanted from the very beginning.
We tried to turn this undesirable pandemic situation in our favor, to minimize its negative impact on business and the world. And, to my mind, we have succeeded.
- How would you rate the evolution of esports in Ukraine in recent years? What are the prospects for esports in our country?
- Esports in our country is growing at the speed of light. Moreover, this happens at all levels: at the state level, at the business level, and in society as a whole.
The recognition of esports as an official sport in Ukraine is an important step towards changing people's perception of the industry. Now esports is perceived not only as entertainment but also as a sphere that can influence and provoke changes in society.
More and more brands are turning to esports as an effective communication channel with their consumers, many companies even have "esports departments" that act as intermediaries between the brand and esports.
Esports education is actively growing. Universities create specialized courses in esports and related disciplines. For example, our Director of PR and Communications Alena Dalska-Latoshevich recently finished giving lectures on PR and journalism in esports at the National University of Physical Education and Sport of Ukraine. In addition, we announced the launch of the Computer Graphics Film Director course together with the Kyiv National I. K. Karpenko-Kary Theatre, Cinema and Television University. Maxim Belonogov, the General Producer and the Chief Visionary Officer at WePlay Esports, will be the youngest course master in the university's history. The teachers will be members of the WePlay Esports media holding studio team.
This is the first directing course in Ukraine, that was developed by an esports company. Students of the course will study for four years and receive a state-recognized bachelor's degree. In that way not only we will educate first-class specialists, but the most talented of them will be invited to work with us at WePlay Esports.
I am sure that esports in Ukraine will continue its rapid evolution and in the next five to ten years our state will have every chance of becoming one of the industry leaders. And historically, there are many talented people in the country who help esports evolve. Take NAVI or StarLadder for example.
- WePlay Esports stands out from other Ukrainian and Russian studios in its style of conducting tournaments. Brightly designed studio, each time a different tournament style (WePlay! Clutch Island, WePlay! Pushka League). Why did you choose this lighting style and how much does the audience like it?
Because we are used to jumping above our own heads, not to mention other people's heads. It may sound a little arrogant, but really, the goal of our company is to do things differently. That is why every time we create unique concepts for each tournament, come up with an exclusive story, according to which we create identity, decorations, costumes (for our talents, for example), and everything else. We like to be different, to do in a new way, in our own way.
Our tournament WePlay! Bukovel Minor broke the mould of usual esports events. Having chosen the Ukrainian Carpathians as a location for the tournament, we wanted to create a New Year's fairy tale and integrate Ukrainian flavor into everything related to the tournament in full. We invited a folk choir, created a winter SFM video featuring Dota 2 characters.
At the MK11 WePlay Dragon Temple tournament, we decorated the arena in an oriental style, invited stuntmen to the final (they performed at the pre-show).
Also, using AR technologies, we created a video where Scorpion (the game character) plays the "Still lovin' you" by Scorpions. And one of the most striking collaborations of the tournament was the fight between Oleksander Usyk and Shao Kahn (MK11 game character).
And of course, our #madmoontruck on WePlay! Dota 2 Tug of War: Mad Moon, by which players drove to the stage in the last days of the tournament, is still remembered to this day.
We and the esports community like this approach to organizing tournaments. We always communicate with the audience, ask their opinion on our next trick and keep our finger on the pulse.
- What CS: GO and Dota 2 tournaments will WePlay Esports cover in 2021?
- Today the organization of tournaments is a top priority for us comparing to their coverage. We have big plans for both games, CS: GO and Dota 2, but I don't want to open our cards yet. Wait for announcements in the near future, it will be hot!
- Your competitors have the broadcasting rights to top CS: GO tournaments, such as BLAST, ESL. Are there any plans to redeem these rights in the future?
- WePlay Esports also hosts top tournaments and sells broadcasting rights. In the future, we would be interested in buying the rights to cover the tournaments of other tournament operators, if they do not overlap with our tournaments.
The primary task of our holding, on which we are focused, is to create our own esports events.
Over the past year and a half, we have achieved great results in Dota 2, which we are very proud of. We believe that this year we will amaze everyone not only with tournaments in this discipline but also in others that are popular among the Western and CIS audiences, such as CS: GO or fighting games within the WUFL.
- How would you generally assess the competition between CIS studios? Does it help the evolution of esports?
- Of course, competition is always about progress. All players in the esports market adhere to ethical standards, so we do not have "dirty" competition. But a healthy competitive spirit is never superfluous.
- In which disciplines do you see the greatest prospects in the next 3-5 years?
- Popular Dota 2, CS: GO will keep their recognition, and in the near future, we do not plan to leave them aside. At the same time, I am confident that new disciplines will emerge on the market, such as VALORANT in 2020, which will have their advantages and interesting perspectives.
We will actively develop the fighting-games direction with the help of WUFL. We will show the Ukrainian community that MK11 or Tekken 7 tournaments, for example, can be no less thrilling than Dota 2 tournaments.